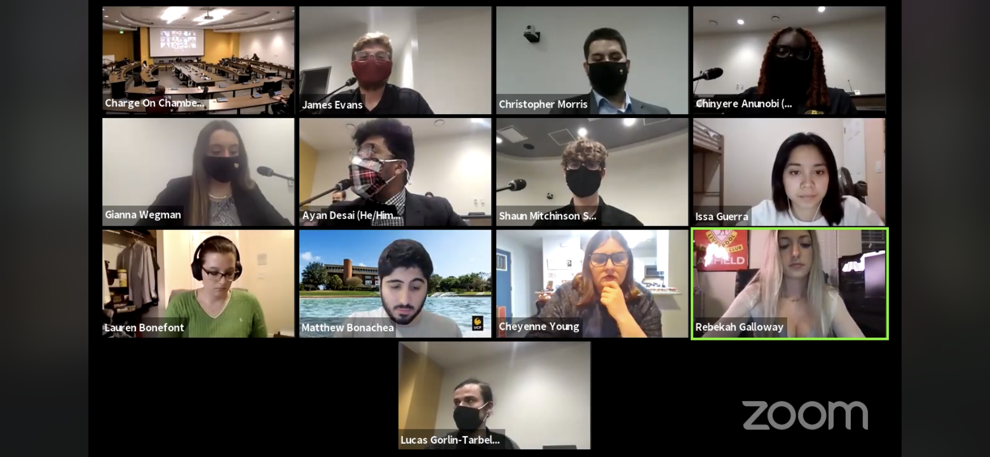 UCF's Student Government Senate passed a resolution Thursday advocating for the protection of the Bright Futures Scholarship Fund from further depletion.
Resolution 52-68 passed unanimously during Thursday night's senate meeting. In the resolution, the SG Senate states that the Florida Legislature "should protect the Bright Futures Scholarship Fund from further depletion and support legislation that provides all students with additional opportunities to receive financial aid awards."
During the second reading of the resolution on Jan. 21, student body advocacy chair Ayan Desai said that Bright Futures helps many students get into college and that the Scholastic Aptitude Test should not be an admission requirement.
"Whenever you look at lower-income areas, they generally have lower SAT scores," Desai said. "So by raising the requirements for SAT you're now eliminating a large margin of students." 
The Florida Bright Futures Scholarship Program awards scholarships to Florida high school graduates based on academic achievement. The Florida Academic Scholars Award provides 100% of tuition and fees at a Florida post-secondary institution, and the Florida Medallion Scholars Award provides 75%. 
For the 2020-21 academic year, the Florida Academic Scholars Award requires an SAT score of 1330 and an ACT score of 29, and the Florida Medallion Scholars Award requires an SAT score of 1210 and an ACT score of 25, according to the Bright Futures student handbook. The 2019-2020 SAT score requirements for the two awards were 1290 and 1170 respectively, according to the Florida Prepaid website.
One of the clauses in the resolution states that an increase in qualifying scores for the Bright Futures Scholarship program will further limit the number of students who qualify. 
Less than 20% of high school graduates who took the SAT qualified for Bright Futures in 2020, according to the College Board annual report. The percentage of students who took the SAT in 2020 was down by 2% from 2019 due to the coronavirus pandemic.
Freshman marketing major Demetrios Inmon said that he thought raising the minimum requirements for Bright Futures was unfair since they were already high.
"It was hard for me to get up to those test scores," Inmon said. "But you have brilliant people who deserve a scholarship like that, and they were prepared to meet the previous set of requirements. It all goes down the drain."
SG senator Dernica Amboise said that the deciding factor of students choosing to go to a post-secondary institution often relies on the amount of financial aid they receive, whether that is determined by merit or need.
"Over the past seven years, post-secondary tuition has increased by over 35%, which obviously leads to a greater need for financial assistance," Amboise said. 
Senior human communication major Zoe Bruhn said that if she hadn't received Bright Futures, she would be drowning in debt.
"There are people in worse situations than I am," Bruhn said. "Raising standards is taking a step backwards in getting secondary education for people who have lower socioeconomic statuses." 
Freshman biomedical sciences major Alaina Easterling said that receiving Bright Futures helped her family not worry about undergraduate tuition costs and gave her opportunities to do more with her undergraduate degree.
"If I didn't get Bright Futures we would have more stress over paying the difference for school," Easterling said. "I was concerned about taking out loans for undergrad, but now I can focus on what I need to get done for grad school."
Upon passing the final vote, the resolution will be sent to all members of the Florida Legislature at least 30 days prior to the start of the legislative session on March 2.