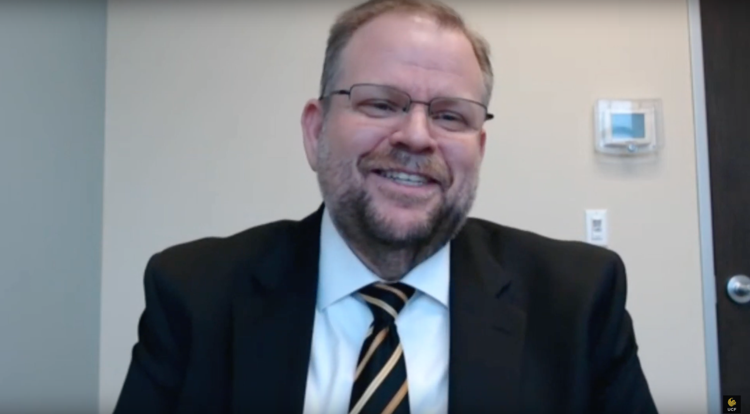 UCF's president-elect Alexander N. Cartwright, chancellor at the University of Missouri, shared his first steps he will take once he arrives to UCF.
Cartwright was unanimously chosen over the second search finalist, Cato Laurencin, the professor and former dean of the University of Connecticut's school of medicine. Both finalists got to host virtual open forums with students, staff and faculty as well as an hour-long interview with trustees on Friday.
"I'm excited about the opportunity to be a part of a university that looks like the future of America," Cartwright said. "This is an opportunity to build on a metropolitan research university with an ecosystem of industry partnership and a diverse student body of almost 70,000 students."
At the news conference after the Board of Trustees meeting on Friday, Cartwright was asked about his future plans for the university and his first decisions as a new president. He said among the biggest challenges the university is facing is the COVID-19 pandemic, which has pushed UCF to put all classes online through the summer semester.
"The immediate thing is to focus on what is happening with the pandemic, how is it impacting the finances, how we will think about the future in the summer and fall with our students and how we engage," Cartwright said. "There is a lot of work that has to be done."
During his interview with the board, Cartwright shared his experience as a chancellor at UM and a former provost and executive vice chancellor for the State University of New York system. 
Throughout his time leading MU, Cartwright said he has guided the university through including enrollment declines, layoffs and a budget crunch due in part to reduced state funding. He also said he introduced student success and affordability initiatives, sought to boost investment and funding, and oversaw the transition to a new budget model.
"I think in Dr. Cartwright's case, we have a candidate who has led the university that all of us would be proud to have a diploma from," Trustee Ken Bradley said.
The board members said they were impressed by Cartwright's experience in top administrative roles, his relationships with faculty and staff, and his direct style of communication. 
"He is a succinct speaker and communicator, no fluff from what I can pick up today and also my communications with him," Trustee Joseph Conte said. "We don't need a president that's fancy. We need a president that speaks succinctly." 
If approved by Florida Board of Governors on Wednesday, Cartwright will replace Interim President Thad Seymour Jr., who is leading the university temporarily following UCF's fifth president Dale Whittaker resignation in February of last year. Whittaker resigned because of a controversy related to illegal spending scandal centered around the construction of Trevor Colbourn Hall.
"I can't express enough how happy I am and how excited I am to be part of this great university," Cartwright said. "I look forward to working with all of you, I look forward to being a Knight."