In honor of World Heart Day, the Environmental Health and Safety department of UCF launched the first annual initiative to train hands-on CPR to as many students as possible.
"We have a plan today to train, you're the first ones believe it or not, to train maybe as many as a thousand or more people in CPR," said CPR + AED Foundation Director Jef Walker to his first group Thursday morning.
Across three sections in a divided Pegasus Ballroom sat either 80, 65 or 55 CPR-training mannequins. Every 10 to 20 minutes, the volunteers would filter students in one of the rooms for a quick 15 minute training session.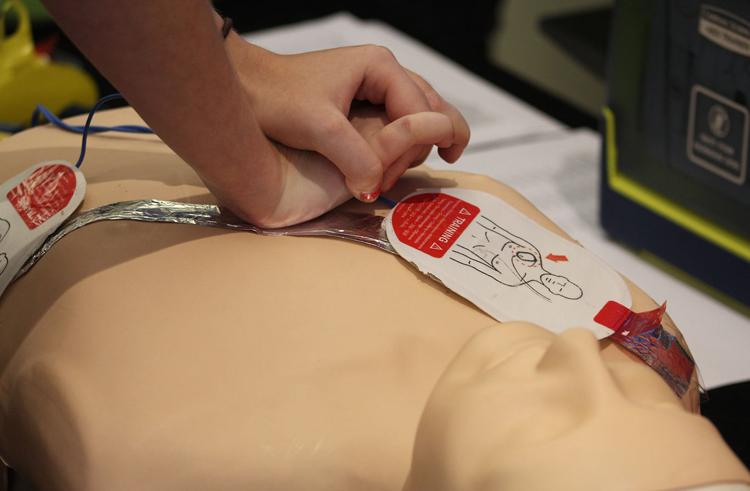 "We're just one of several locations throughout the Central Florida area that have decided to celebrate," said Environmental Health and Safety Assistant Director Jose Vazquez.
The idea was to give potentially life-saving techniques to students in a short enough period of time that they could stop by between classes.
"I was walking through the Student Union and this young lady told me 'hey, we're offering to teach you CPR' which I never learned so I thought why not, I could save a life," said junior psychology major Ahmad Felo.
Felo was in one of the first sessions of the morning. He even took advantage of one of the automated external defibrillator demonstrations at a table outside the ballroom.
"I definitely think this is a thing that should be advertised more because like [Jef Walker] said, 'Every minute you don't give CPR to someone going through cardiac arrest, their chances of survival decrease by ten percent,' so they only technically have 10 minutes to live," Felo said.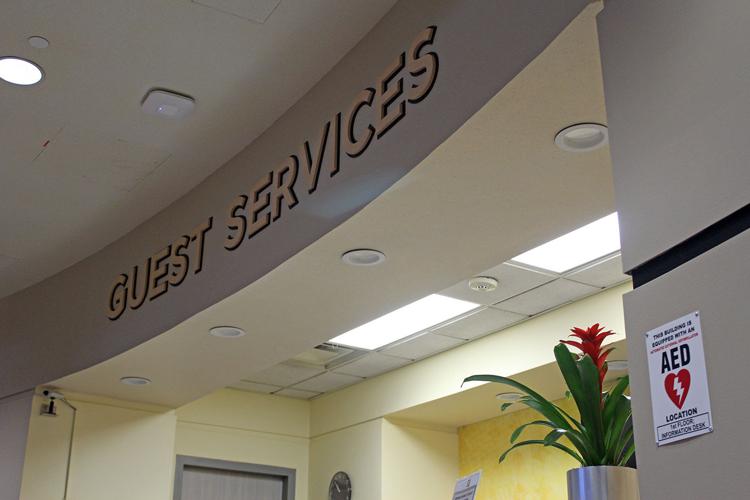 This enterprise is in part a reaction to the death of UCF student Michael Namey, who died in September of last year due to sudden cardiac arrest.
"My son was in class and a student, Manny Orozco [Ballestes], he started CPR on him, but nobody knew where to go to find an AED, so that's my thing," Connie Namey said. "I want everyone to know where the AEDs are located here."
Michael was an 18-year-old freshman studying software engineering.
"You don't think of a young person having a sudden cardiac arrest, but now I know that lots of young people do," Connie Namey said.
Since Michael's death, UCF is at more than 100 AEDs in every building, with signs on the walls pointing to the nearest AED, and one inside every campus police vehicle.
"We had been planning on [adding more AEDs] for a couple of years, you know location, do you put one in a build, do you put two, or five?," said Senior Fire Safety Engineer Marcel Fernandez. "So logistically it had been put in the works for quite some time, but I think that when the unfortunate incident happened with that young individual, we kicked it into overdrive." 
Fernandez said that sometimes there has to be a reaction to the action.
Last year wasn't Connie's first time dealing with the threat of cardiac arrest in the family.
"My father suffered a sudden cardiac arrest quite a few years back and a bystander started hands-only CPR on him and a defibrillator was on him quickly and my father survived and he's still with us today," Connie said. "Quick intervention can definitely make a difference."
Throughout the sessions, each instructor stressed the importance of calling 911 first and then performing the proper techniques.
"If you never use it, you know, you lucked out," Fernandez said. "But if you ever do need it and you're able to do this and that you save a life. I've experienced how great that feeling is and, it's huge." 
Story originally published Sept. 30.