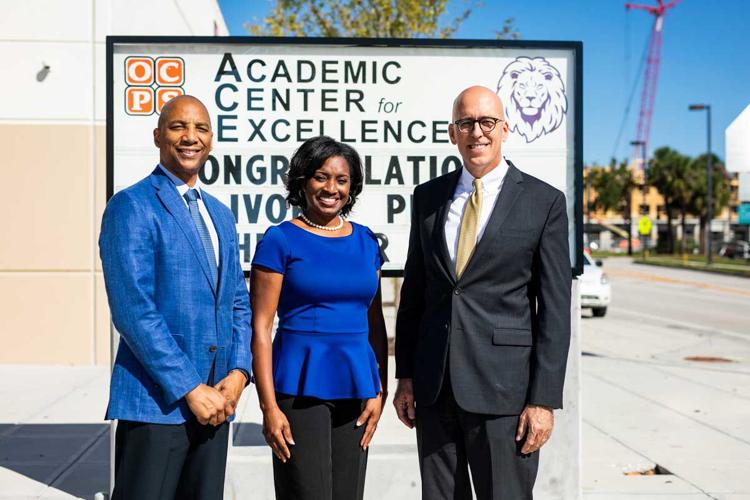 UCF is extending its health resources and services into the Parramore community thanks to a $600,000 grant from the Florida Blue Foundation announced Jan. 16 in a video released by UCF.
The mission of the Florida Blue Foundation is to help people and communities achieve better health, according to their website. The grant will be used to continue funding health services through UCF to the Parramore community, including nutrition, weight management and stress management classes.
"It's really about just trying to create a 'healthy community model' that's based on components of individual health, civic health and community health," said Jamie Giller, director of communications and marketing for UCF Downtown.  
Giller said the healthy community model looks at ways to improve the overall physical, mental and environmental health in a community. Parramore is located less than two miles southwest of where the new UCF campus will stand in downtown Orlando.
Areas of need in the community were identified through surveys, evaluating present resources and extensive discussions with community members and organizations, said Nancy Ellis, who retired as the director of the UCF Center for Community Partnerships in October, but played an integral role in securing the grant.
She said the best way to serve children and families in Parramore was to bring the community into the conversation and see where UCF's resources were needed.
"This is an example of the effort UCF is putting into coming in as a resource to support the community as well as supporting a campus for students," she said.
Ellis said the grant is part of a complex partnership that UCF has been developing over several years with the Florida Blue Foundation and numerous organizations within the Parramore community. 
"A lot of organizations and people had to come together to make this grant happen," she said. "There were lots of combined meetings as we strategically developed the goals and mission of the grant."
She said one of the main goals of the grant is to coordinate and expand on the programs and services that are already going on in Parramore. 
Tasha Robinson-Banks is the senior service director at the Levy Hughes Branch of the Boys & Girls Club of Central Florida, which provides services for children ages 6-18 who reside in the Parramore area. Robinson-Banks said those services include programs, coaching sessions and workshops that focus on life, career, character and leadership development.
Giller said UCF nursing students have been providing health education services at the Boys & Girls Club, including nutrition classes and cooking demonstrations. 
Robinson-Banks said the club has been working with UCF for many years which has provided opportunities for students including campus tours and scholarships, in addition to the health services.
"All of these things have really changed the lives of kids at the club and given them a different view of UCF," she said.
The grant will also be used to continue funding programs at Shepard's Hope, an organization that provides health care to uninsured patients in the area, such as diabetes education classes and first-aid kits provided by UCF nursing.
Robinson-Banks, who's been managing Boys & Girls Clubs in the area for 18 years, said she's seen numerous shifts in the community.
"The Parramore-Heritage area was one of the strongest African-American communities with doctors, lawyers and educators coming from the community," she said.
Things have changed as time has gone on and now poverty, prostitution and violence are present, but "the community is getting stronger and stronger," she said.
"I love that we get to be a part of the solution to providing the wraparound services that the kids need," said Robinson-Banks. "I know definitely that this will enhance the kids' lives to help us have a stronger community in the future."