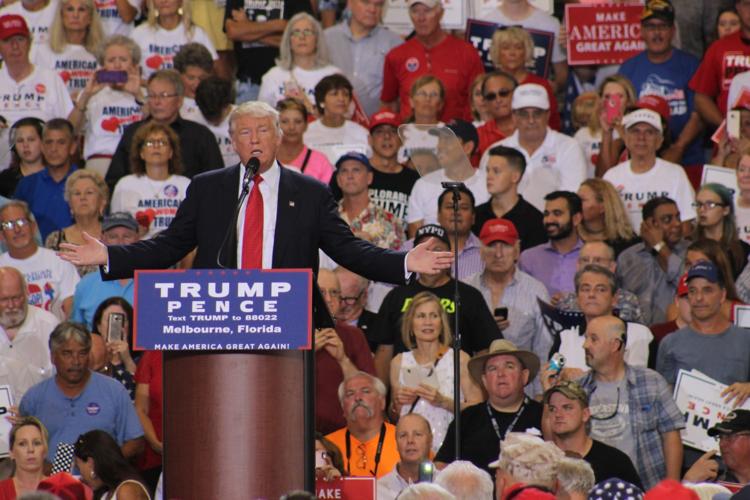 House Speaker Nancy Pelosi, D-Calif., announced to the nation on Sept. 24 that the House of Representatives will move forward with an official impeachment inquiry of President Donald J. Trump.
Trump is undergoing an impeachment proceeding after a whistleblower's complaint regarding a phone call with recently elected Ukrainian President Volodymyr Zelenskyy was brought to the attention of Michael Atkinson, inspector general of the intelligence community. 
A whistleblower is someone who reveals something covert or who informs against another.
John Hanley, a UCF lecturer whose research areas are Congress, Constitutional Law and Public Opinion, explained how the impeachment process works.
"The [impeachment] process, in brief, is that the House has to develop 'articles of impeachment' ⁠— charges ⁠— that are voted on by the House and then tried in the Senate," Hanley said via email. "The president can be 'impeached' but succeed in the Senate and not be removed. The threshold in the Senate is rather high; two-thirds of the chamber."
Hanley continued to explain how the House will set up a special committee to investigate, with Pelosi picking the Democratic members for that committee. There will be no time limit placed on the investigation.
"[Pelosi] plays an important role leading the Democrats and so it is significant that she has gotten on board with impeachment now after having held the party back before," Hanley wrote.
Rep. Carlos Guillermo Smith, who represents House District 49, which includes UCF, said it is a very important and serious step for Congress to open this impeachment inquiry.
"He has really demonstrated his lack of commitment to the U.S. Constitution, his lack of commitment to the American people, [and] his inability to put the priorities of Americans first and above his own personal interests," Smith said.
Smith said he thinks the House of Representatives will vote to impeach Trump and will pass it over to the Senate for a trial.
"We are seeing the American people are starting to move in our direction in favor of impeachment in a very short period of time," Smith said.
A poll released by Quinnipiac University on Sept. 30 found American voters were split evenly on impeaching and removing the president, 47% to 47%.
This closed a 20-point gap from a week ago when voters were not in favor of impeaching and removing the president, 57% to 37%. The poll also found a slim majority of registered voters do approve of the impeachment inquiry opened by the House of Representatives 52% to 45%. 
"An impeachment inquiry has grown among Democrats, Independents and even Republican voters and it is because they understand what the president is doing is not right," Smith said. "It is bad for America and he has to be held accountable."
The poll also showed a slight increase in the amount of Independents who did not agree the president should be impeached and a slight increase in the amount of Republicans who said Trump should be impeached.
Evan Caldwell, freshman political science major and College Democrats at UCF member, said he does not see citizens caring about the impeachment. 
"I think we are heading down the Clinton '98 path where the impeachment just is not a big deal to most Americans because they care more about what he [Trump] has revealed, than the way he did it," Caldwell said. "I see that definitely hurting the chances of Trump losing his re-election bid in 2020."
Brandon Franketti, College Republicans at UCF member and junior political science major, said he does not think Trump will be removed by the Senate.
"I do not believe statistically there is enough of the support for impeachment on either Democrats or Republicans and so I do not think Trump will be impeached," Franketti said. "You need at least a three-fourths majority and there is clearly not a three-fourths majority."
Democrats from the House most recently subpoenaed the White House on Friday Oct. 4. The subpoena, addressed to acting White House Chief of Staff Mick Mulvaney, requested documents and communications pertinent to the Trump impeachment investigation. 
Rep. Carlos Guillermo Smith said this impeachment is long overdue.
He said, "I was thinking it is about damn time that Congress holds this criminal, unethical president accountable."