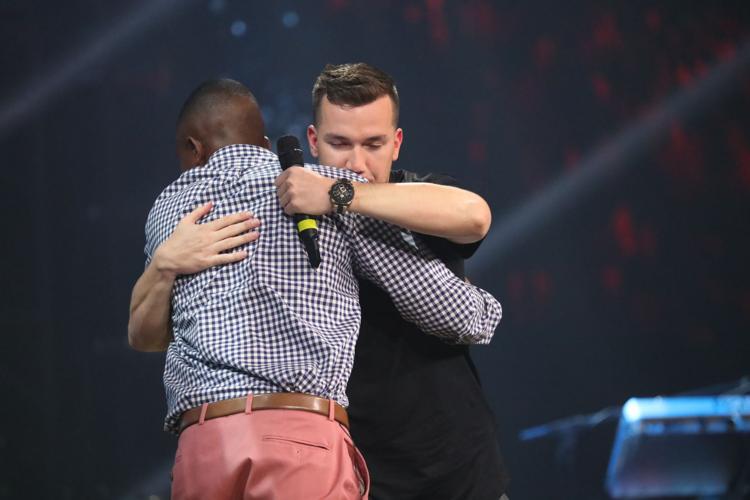 After former USF Bulls cornerback Mazzi Wilkins delivered a tackle that caused UCF quarterback McKenzie Milton's devastating leg injury in November 2018 — a tackle that changed both players lives — the two sat down face-to-face for the first time since the rivalry game that Black Friday.
"I was nervous [to meet Wilkins off the field for the first time], you know, but it was cool to put a face outside of the helmet," Milton said. "It was cool to have closure with this."
The Better Man Event XV, hosted by Better Man Ministries, was held at Addition Financial Arena to "equip, encourage and engage men to become better," according to a press release.
Over 7,500 men were in attendance, according to the release. The event had six guest speakers: Brad Stine, Evander Holyfield, David Green, Rev. Anthony Thompson, Milton and Jonathan Cain.
"Brian Buckley, the founder of this event, told me a statistic," Milton said. "Seventy percent of kids that go to college lose their faith, and that was me."
Buckley founded the Better Man Event in 2004. He said he felt like he had to bring Milton and Wilkins together Saturday night after reading about Wilkins receiving death threats and being bullied on social media following his November 2018 incident with Milton.
"I just felt like something within me saying, 'what would it look like if we could bring these two together at the Better Man Event, and show reconciliation and forgiveness on the stage?'" Buckley said during a press conference. "And when that happened, I reached out to Mazzi [Wilkins], he took my call and he said, 'I'm in,' from the start."
Milton was the fifth guest speaker to take the stage. While on stage, he discussed football, his injury and his faith with UCF Athletics emcee John Evans.
Evans asked Milton about how he felt about his current relationship with Wilkins. The cornerback had been receiving backlash on social media after the game on Black Friday last season.
"First of all, there's no ill will here," Milton said. "Like I said, we're football players. We're warriors out there. And I'm sure just like I was playing — I was playing my heart and soul out every play — Mazzi [Wilkins] was doing the same."
Wilkins joined the two on stage, making this event the first time he and Milton have seen each other since the game.
Wilkins said he feels as though he and Milton are brothers.
"It was just a bang, bang play," Wilkins said. "But it's all love out there. We're all out there trying to feed our family."
After the event, Milton and Wilkins discussed their relationship, the event and what the future holds for both of them. 
"I really felt for him because he had a lot going [on]," Wilkins said. "He still has a lot of potential and a lot of stuff going for him, but you don't ever want to block somebody's blessings. I just wanted to meet him and be genuine with my guy. I've got a friend now. I can finally say I've got a UCF friend."
Former #USF cornerback @mazzi_inc and injured #UCF QB McKenzie Milton talk about the tackle by Mazzi during the #WaronI4 rivalry game last season that led to Milton's devastating knee injury during #TheBetterManEvent #BMEXV @NSMtoday pic.twitter.com/4P0lEBWMRw

— Meg Turner (@megnturner_) April 14, 2019
Milton said the event helped with creating closure for the two of them.
"It was cool to have a USF Bull here and a UCF Knight coming together and becoming friends," Milton said. "That's the kind of stuff football can do."
Ben DiLecce, sophomore sports and exercise science major, said the church he attends advertised the Better Man Event, and he attended with his father.
"McKenzie Milton and what he was speaking about was very powerful towards the ministry," he said. "The thing that resonated with me the most was the fact that he didn't have any ill will towards Mazzi [Wilkins], and he felt very bad about what was said about him."
While Milton may not be able to hit the field any time soon, he said he leans on God and uses people's harsh words to motivate him to make a comeback.
"It may sound crazy, but I'm grateful for this injury," Milton said. "So I could lean on my faith in hard times."
Photos: UCF QB McKenzie Milton, former USF DB Mazzi Wilkins reconcile at Better Man Event