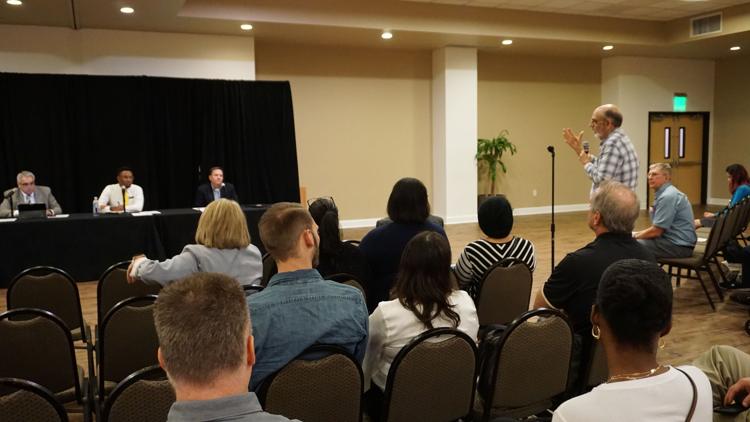 The Presidential Search Committee prepared a list of qualities for UCF's new president at the Fairwinds Alumni Center on Thursday.
Since Nov. 5, the Presidential Search Committee has met with faculty, student representatives and supportive trustees to share what they are looking for in UCF's next president.
Alberto Pimentel, the representative of executive search services firm Storbeck/Pimentel & Associates, attended and finished the last round of open forums and listening sessions.
Pimentel said the most concerning issue for people was the lack of vision or direction that the university currently has.
"There is a need for someone to come in and help the university collectively engage in the conversation that would lead to a bold and compelling vision for UCF," Pimentel said.
Pimentel also pointed out that one of the qualities people want the future leader to have is transparency with the faculty and staff members — people want to be informed and involved in major decisions made by the next president. 
"The area that was discussed regularly was the need for an individual who has experience in labor and staff relations," Pimentel said. "Someone who could come in and 'rally the troops' and get them excited about the new direction."
Because of the illegal spending scandal centered around Trevor Colbourn Hall in 2018, the faculty and staff said they want to move past how the public has been picturing UCF the last couple of years.
"They feel that the real university narrative gets lost in these more negative stories and that it takes away who they are as an institution," Pimentel said. "They want to move beyond how public perception has been displayed in the last year and a half."
Some professors also shared what they want to see in the future president and qualities our new leader should have at the meeting.
M.J. Soileau, professor of optics, electrical and computer engineering and physics, came to the open forum as a faculty representative to share his opinion on what expertise UCF's next president should have.
"Find us a scholar president," Soileau said. "We need to have a scholar that understands what the faculty member does every day and how we serve our students."
The next step for Storbeck/Pimentel & Associates is to lead recruitment and start evaluating, interviewing and meeting candidates on campus as soon as next month.