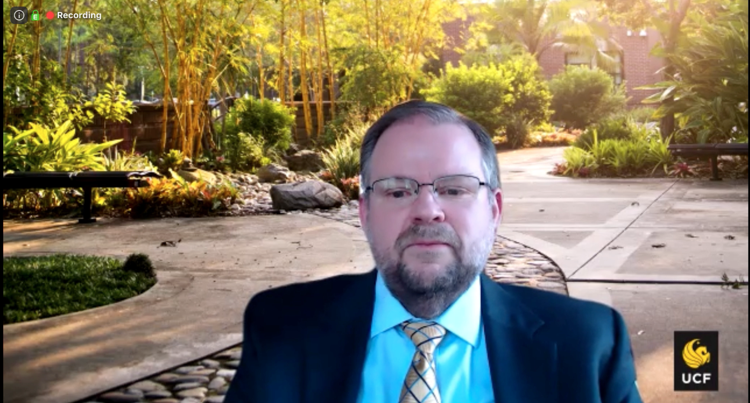 As UCF continues remote instruction due to the COVID-19 pandemic, the university's new president Dr. Alexander Cartwright shared his plan for how to adapt to the challenges when he spoke with local media for the first time Tuesday via a Zoom video conference call. 
He discussed students' concerns about the virus aftermath and university-wide changes it might lead to.
"It's an extremely challenging time right now," Cartwright said. "I think our faculty is showing a lot of ability to switch and try to go online and do more of those things."
Although Cartwright, the former chancellor at the University of Missouri, started his presidency at UCF only on Monday, he got a chance to talk to the faculty and students and learn their struggles during the pandemic. He said that this crisis might lead to big future changes and innovations in higher education.
"What I want us to do is think about how we can do things differently, how we can be the leaders in how we transform higher education," Cartwright said.
The coronavirus pandemic caused UCF's transition to fully-remote instruction through the spring and summer semesters to minimize the spread of the virus. Since the campus shutdown, faculty and students have been using technology, such as Zoom and Skype, to communicate and go over the lectures. 
"We know we have to be using more technology but how do we use it in a way that it is more beneficial? ... This pedagogy behind it is more responsive to learning and improving the education outcomes," Cartwright said. 
He said students and faculty can also help people deal with the pandemic by protecting first responders and healthcare workers. 
"We have scientists, we have engineers, we have others who could be thinking about how do you test, how do you diagnose, how do you cure, how do you provide a vaccine," Cartwright said.
He said there is also a positive to the campus shutdown — a big improvement in the faculty's approach toward digital learning methods. 
"Even though we know this might continue for a while, how do we make the best out of it?" Cartwright said. "I'm very excited about that it is going to change the way we work, it's going to change the way we teach, it's going to change the way our staff works."
Cartwright said the thread that he has been most impressed with is the ability to think about what is possible in terms of online courses. He also said the university might incorporate those innovative things even after the pandemic is over.
"The things that work well, let's use them in the future," he said. 
Cartwright was chosen as UCF's sixth president by the Board of Trustees on March 20, when the coronavirus outbreak began to spread across the country. As the Mizzou chancellor at a time, he had to leave his university during a very difficult period.
"When I looked at who surrounded me at Mizzou, I knew I had a very strong provost, I had tremendous leaders both at the vice chancellor's level and also at the vice provost's level," Cartwright said. "The leadership was pretty strong, and this institution could actually transition in a way that's easier."
Cartwright was the last candidate to apply during the presidential search and the committee kept his name a secret until the very last week of the search.  All members were impressed by Cartwright's interview responses and the board chose him as UCF's next president the same week. 
He said that on top of his personal reasons to move to Florida with his wife Melinda, Cartwright saw great potential at UCF. 
"It was a difficult decision, but I think it was the right thing for us," he said. 
Before Cartwright got his role, Interim President Thad Seymour Jr. was UCF's temporary leader. The university's former Provost Elizabeth Dooley was placed on paid administrative leave and College of Sciences Dean Michael Johnson became an interim provost.
"I looked at UCF and you have a tremendous number of 'interim' positions," Cartwright said. "I saw an institution that potentially could benefit from me coming here even more than what could actually happen in Mizzou."
Cartwright said he plans to virtually meet with students, faculty and staff to get to know the UCF community better and work on the challenges that everyone is facing.
"[UCF] lines up very much with my values and my vision for what we should really be in higher education moving forward," he said. "You're an urban institution that could be the leading institution throughout Florida."