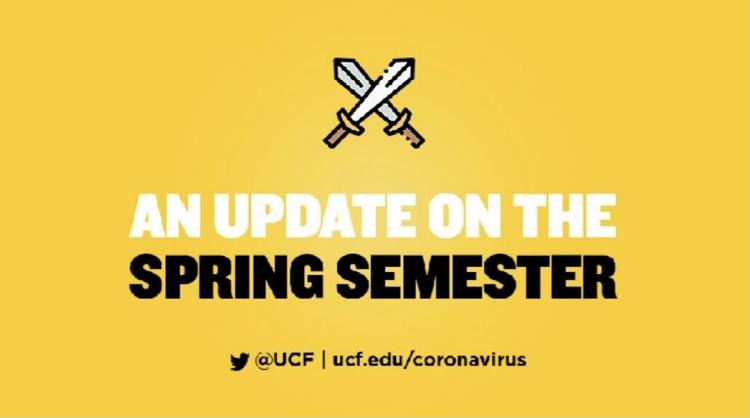 Due to COVID-19, spring break has been rescheduled and will be followed with remote classes, UCF announced on Thursday.
Spring break has been moved from March to April 11-18 to prevent the spread of COVID-19. Remote learning will follow spring break. Residence halls and campus offices will remain open, said Maribeth Ehasz, vice president of Student Development and Enrollment Services.
UCF is working on offering more face-to-face classes for the spring semester, Ehasz said. The number of students allowed in the classroom will not increase. Face coverings and social distancing will still be required.
"So far this fall we have had no spread of the virus traced to our classrooms due to the hard work you are all doing when attending class," Ehasz said.
UCF students said they were disappointed to hear they won't be able to learn on campus after spring break.
Logan Plante, a junior finance major, said he felt sad when he heard the news, but it was probably for the best.
"In-person is just way better because it's more interactive, and I just feel more motivated when I'm on campus," Plante said. "I just want COVID to go away and life to go back to normal."
Roman Mieczakowski, a sophomore mechanical engineering major, said it's harder to learn online, and he feels like "I'm teaching myself," but he understands why it is necessary. 
"There are a lot of people that go to UCF, and that's definitely a lot of opportunities where it can get spread," Mieczakowski said. "Until we actually get something that can really prevent it, then school is necessary to have online."
Steve Belizaire, a junior finance major, said Florida has been doing a lot to prevent the spread of COVID-19. Having spring break rescheduled and followed with remote classes doesn't make sense, he said.
"Technically the state is already open, so I don't see a point of taking all those measures," Belizaire said.
Registration will begin for the spring semester on Nov. 2. The semester will begin on Jan. 11. The spring campus experience will depend on compliance with the COVID-19 precautions, Ehasz said.
"Should public health conditions require a change, we are ready to pivot to more remote learning if necessary," Ehasz said.
An update to our students as we plan for the spring semester 🌴📚💻▫️ More face-to-face classes▫️ Spring registration and course modality notification▫️ Spring break update▫️ Continued COVID-19 precautions and policies

— UCF 😷 (@UCF) October 22, 2020