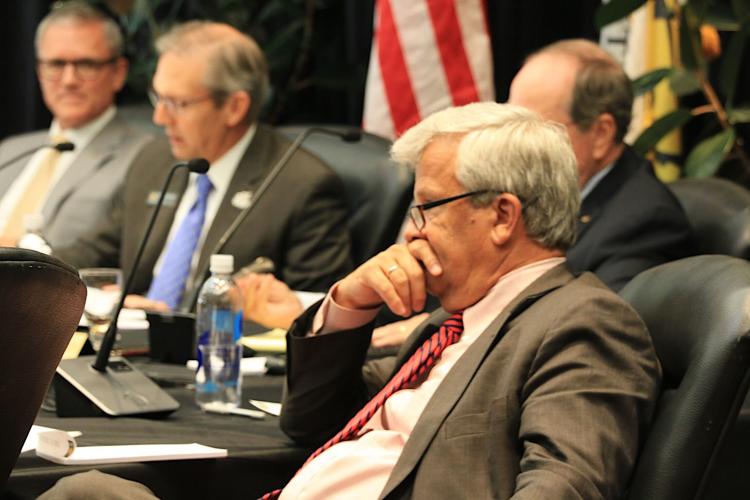 UCF officials' misuse of an additional $10 million of state funds was revealed Thursday, adding on to last week's acknowledgment of $38 million inappropriately used for the construction of an on-campus building.
The UCF Board of Trustees held an emergency meeting in the Fairwinds Alumni Center to discuss former Chief Financial Officer Bill Merck's wrongful use of Education and General (E&G) Funds, which were used to construct the new Trevor Colbourn Hall. The meeting unveiled eight additional projects within the past five years that were also funded with misused E&G funds.
A total of $10 million was found to have been misused to partially fund the construction of new buildings on UCF's main campus, including a band building, a facilities surplus showroom and a postal hub. The money was also used for furniture, fixtures and a faculty lab in the Research I Building on campus, according to a document that summarizes the inappropriately funded projects. 
The E&G funds for these projects are deemed to be "clearly prohibited," the document states. E&G funds are designated to be used for education and general operating activities, including faculty and staff salaries and general administrative expenses, according to the Board of Governors, which oversees the state university system. 
An additional $3.8 million was used to partially fund other UCF projects, including repair and renovations of the Center for Emerging Media in downtown Orlando and infrastructure costs for the UCF Downtown campus.
However, it's not clear that the $3.8 million was definitively misused. These funds are "awaiting clarification" from the Board of Governors, but UCF is replacing the funds "in an abundance of caution," according to the summary document. The replacement comes from auxiliary accounts belonging to the College of Arts and Humanities and UCF Global Student Services, among others.
In an effort to prevent future misuse of funds, Board of Trustees Chairman Marcos Marchena said the university will require expenditures for future capital projects, or construction projects, to be presented to the board and finance committee once the costs surpass $2 million. 
Interim CFO Kathy Mitchell told the board that she is "very confident" the eight listed projects were the only instances of misused funds in the past five years. Mitchell said further investigations will vet additional project funding within the past 10 years.
"I expect that we might find some more smaller projects," Mitchell said. "I do not expect that we'll find more complete buildings that were spent from inappropriate funds."
Photos: UCF officials reveal additional misused $10M, confirm external law firm investigation
When UCF President Dale Whittaker met with The Board of Governors on Sept. 14, he said Merck accepted responsibility for the decision to misuse the funds and that he accepted Merck's retirement. The university was flagged by the Florida Auditor General in August after its annual report of operational activity.
Former UCF President John C. Hitt, Associate Vice President for Administration and Finance Priscilla Lee Kernek and Whittaker joined Merck as the four final approval signatures on the Feb. 27 Trevor Colbourn Hall Building Program, which identified the $38 million as "University Funds." 
Marchena directly addressed Whittaker and asked him if he was "involved in the decision to use E&G funds" or if he had knowledge of the funds being misappropriated.
Whittaker said he was not aware the funds were inappropriately used. He said he "trusted [Merck]" and that if he knew the funds were being used incorrectly, he "would have stopped it."
"I didn't know that there were any funds used that violated state statutes or Board of Governors' regulation," Whittaker said. "I'm angry and frustrated that my name appears on documents where I counted on [Merck] to provide good information."
The board met with a partner of Atlanta-based law firm Bryan Cave Leighton Paisner LLP, which will lead the external, independent investigation on the misuse of state funds at UCF. Joseph Burby, a trial lawyer, said the firm provides counsel to universities and conducts investigations regarding executive and faculty misconduct.
Marchena asked Burby to address a variety of questions during the investigation, including but not limited to identifying if other individuals besides Merck were involved in the misappropriation of funds, and finding out if other individuals "personally profited" from the decisions to misuse funds.
Burby said he would work with the Board of Governors' Inspector General throughout the investigation.
The independent investigation will analyze university funding from the past 10 years, according to official university documents.
Burby said the firm will begin its independent investigation starting next week. He said the firm will move "as expeditiously as possible" in an attempt to complete some or all of the investigation by "the beginning of November," which he said he believes to be the desired time frame. The firm will present all of its findings to the Board of Trustees.
"We'll do everything we can to do that without sacrificing the integrity [and thoroughness] of the investigation," Burby said.
UCF will pay Bryan Cave Leighton Paisner up to $550 per hour.
Trustee David Walsh expressed dissatisfaction with the selection of Bryan Cave Leighton Paisner without a board discussion and motioned for the board to select a firm from a pool of candidates.
Marchena said Scott Cole, vice president and general counsel of UCF, was tasked with seeking an independent firm that had no former ties to UCF and that he believed would be a suitable fit for the investigation.
However, Burby confirmed that Bryan Cave Leighton Paisner did work with UCF in 1991, but said the firm partner involved is no longer associated with the firm.
"We're facing a really significant loss of trust in management here," Walsh said.
Walsh later withdrew his motion and said he would "revisit" his proposition following the Board of Trustee's meeting with the firm. 
UCF SGA Student Body President Josh Boloña stressed the importance of trust and transparency, particularly in decision-making processes.
"There's a lot of investigating to do, but [trust] is the biggest point that we need to recover, internally and externally," Boloña said. "The more information [our students and faculty] know, the better because they can see that actions [being] taken are proactive and solution-oriented."
Amanda Espinosa contributed to this story.