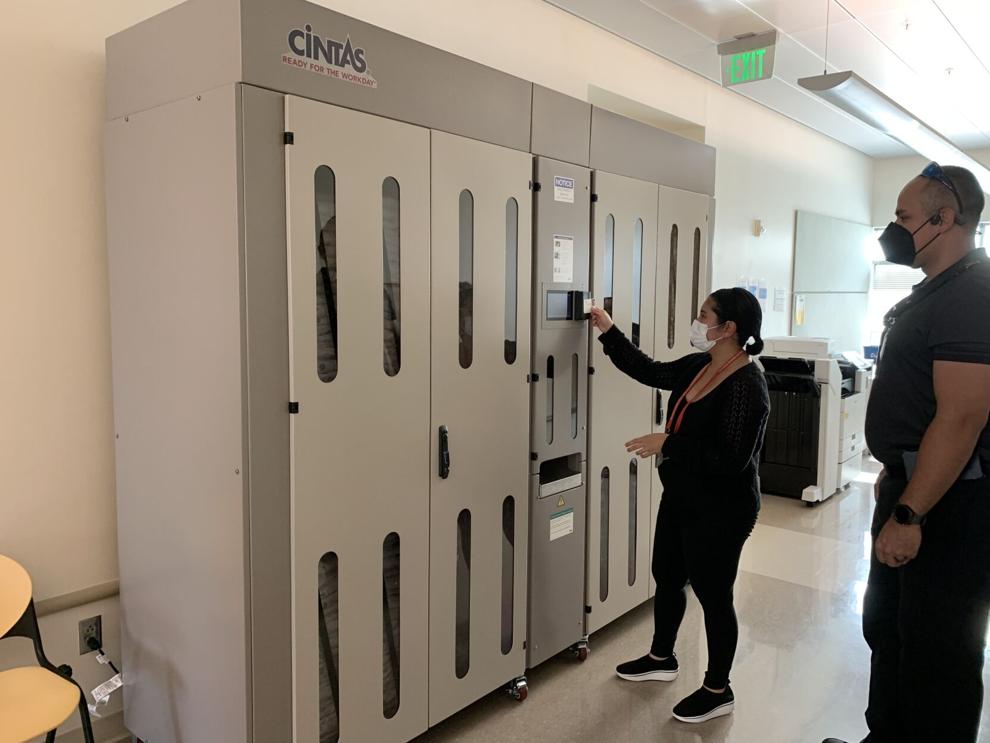 UCF just got a little bit safer after implementing a free lab coat cleaning service Wednesday.
Researchers will be able to check out a lab coat from a dispenser and return it to a drop-off location to be professionally cleaned, according to the UCF Environment Health and Safety website. This new service can help improve safety measures for UCF researchers and students by reducing the risk of cross contamination.
Franco Del Pino, a laboratory safety specialist at UCF, said before this service was available, researchers who owned a lab coat and opted to clean it themselves could potentially be at risk. Many researchers work with toxic chemicals in the lab that can transfer onto lab coats, Del Pino said. This means the danger lies not only in the lab, but it also follows researchers after they leave. 
"So, with this lab coat program, it defeats that danger now," Del Pino said. "You use it, you grab a new one, you put it on, you're done with it, you put it in a drop-off bin, and then you know you don't have to worry about it."
With limited training on how to properly wash lab coats, Del Pino said, bringing a lab coat home can be dangerous for students, faculty and staff. Whether it's in a bag or car, Pino said carrying unclean lab coats raises the danger of cross contamination, and cross contamination, he said, is one of the biggest hazards researchers face when washing their lab coats.
With these new lab coat dispensers in place, researchers will save money and have a nearby location to pick up and drop off lab coats at their convenience, said  Zenaida Gonzalez Kotala, assistant vice president for strategic initiatives and communications in the Office of Research and College of Graduate Studies.
"Our researchers who work in the labs will have the ability to get their lab coats cleaned at no cost," Kotala said. "This is a saving to them and because of the location of the kiosks, we hope it is convenient to them as well."  
However, some students, like forensics senior Miranda Duperme, said they would still rather wash their own lab coat. 
"I've already bought my own lab coat, and I don't want to get one that has been used by someone else or is of lesser quality," Duperme said.
A total of three lab coat dispensing units and four drop-off machines are located in the Physical Sciences Building, Research 1, Engineering II and the Burnett School of Biomedical Sciences at Lake Nona, according to the EHS website. All researchers at UCF who are up to date on their environmental health and safety training will be able to check out one lab coat at a time from one of the new dispensing units, the EHS site states.
Researchers can access a kiosk by swiping their UCFID card, according to EHS website. Researchers have access to a range of lab coat sizes, from XS to 2XL; once finished, researchers return their used coats to a drop-off location in less than two weeks.
Brian Butkus, a laboratory safety coordinator at UCF, said he played a big part in making this service available to researchers. He said after a prolonged search for financial support, the Office of Research provided funding for the lab coat cleaning program. But between finding funding, the right location for the kiosks and a vendor to provide them, he said making this service available to UCF researchers has been a lengthy process.
"This is something we've been working on for seven years," Butkus said.  
The kiosks are provided by Cintas, a company which provides a variety of products and services —  uniforms, first-aid products and restroom supplies — to businesses and institutions. When researchers return their lab coats to one of the drop-off machines, Cintas will retrieve the used coats and take them to its facilities to be cleaned. The following week, Cintas will return with the clean lab coats and restock dispensers, according to the Cintas website.
"I think it's going to greatly benefit not just students, it's going to benefit faculty and staff," Del Pino said.