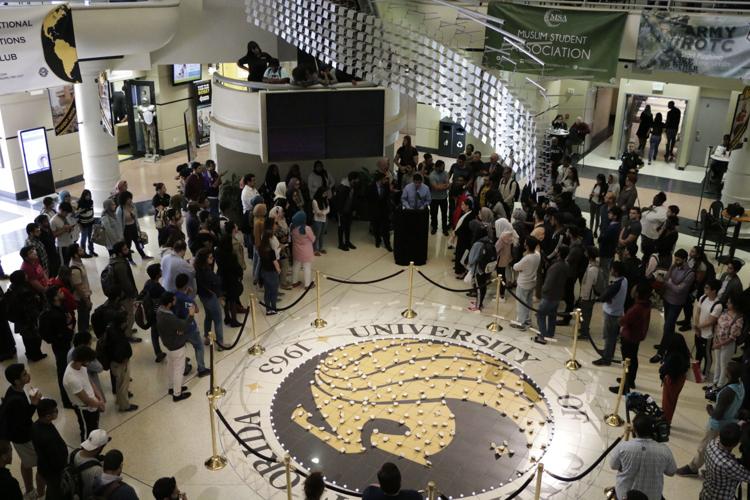 It started with a prayer for hope.
The UCF Muslim Student Association gathered in prayer in the Student Union with 120 students and faculty on Friday afternoon.
The vigil arose as a reaction to the mass shooting in Christchurch, New Zealand where a white male killed 50 Muslim men and women in a mosque and left dozens injured on March 16. 
"This event gives awareness and shows solidarity because when there are other shootings, all of the blame is put on the Muslim community," said Zaniab Jamal, freshman biology major and MSA member. "For me, as a Muslim, having this vigil reminds me that non-Muslims do support our community and don't think we are terrorists."
MSA is a group of Muslim students, faculty and staff on campus who spread awareness of Islamic religion. With assistance from the UCF Social Justice and Advocacy Office, MSA quickly put together a vigil to honor victims and to show support for members of the community dealing with the tragedy.
The vigil started small at 2 p.m., with students passing by and taking photos of the names and roses for the victims. Shortly after, the room filled with attendees focusing their attention on each event speaker. The UCF Police Department offered their services during the event and surrounded each level of the Student Union to help students feel safe.
Civil rights activist UCF alumna and event speaker Rasha Mubarak reminded students inside and outside of the community to take this act of violence as an opportunity to confront systematic flaws and force them to change.
"How will we, [the Muslim community], ensure our safety until we stand up and say 'enough,'" Mubarak said in her speech. "Stand up for Islamophobia and not just by tweeting at us. Take action if you see a sister in hijab being attacked physically or emotionally. Stand up."
Mubarak said she remembers the video of the shooting with screams of children and others trying to escape the mosque. She said it left her heartbroken, and she thinks about it every day.
During each prayer the students took a moment of silence, many with tears in their eyes.
UCF Interim President Thad Seymour offered his condolences to the community and assured students and faculty of his support during this difficult time.
"It's so important for us to come together and celebrate the lives of the victims," Seymour said. "I've been at UCF for three years now, and the moment I came here I was drawn to the sense of community we offer for all groups."
UCF Hillel executive director and CEO Aaron Weil said that his organization stands behind the students in MSA and encouraged them to use Hillel's prayer room.
Jamal said that if more people stood behind the Muslim community, fewer tragedies like this would happen.
"The shooting really reminded me of the reality we live in," Jamal said. "This climate we live in — we need support, we need understanding."