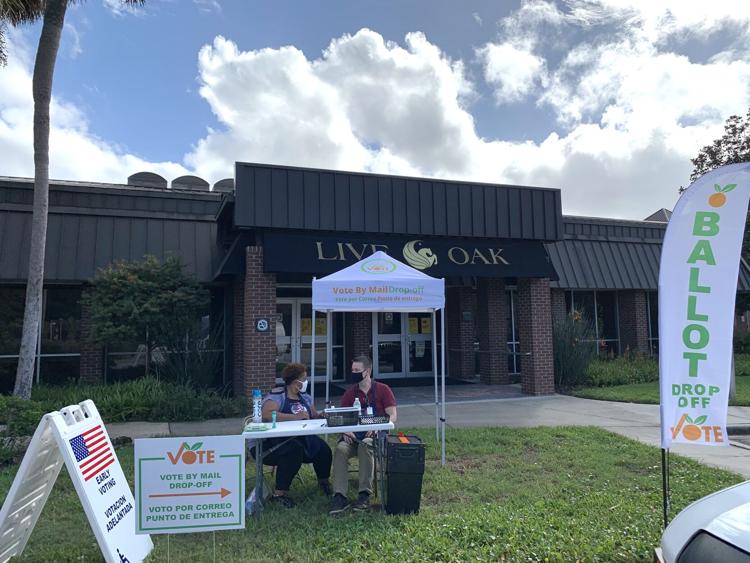 UCF opened a polling center to all registered voters of Orange County for early voting at the Live Oak Event Center in Ferrell Commons Monday.
Early voting will remain open every day for two weeks from 8 a.m. to 8 p.m. for all eligible Orange County voters. On Election Day, the polling center will be open from 7 a.m. to 7 p.m.
Voters are provided with masks and single-use pens, and every station is sanitized after each use. Students are highly encouraged to bring their own pens to the polling center to help reduce waste.
The polling center also serves as a mail-in ballot drop-off location where voters can drop off their ballots at the front of the Live Oak Event Center.
UCF Governmental Affairs Coordinator Meg Hall said this month, Student Government is focusing on educating eligible student voters.
"We're focusing on making sure everyone at UCF is an informed voter," Hall said. "We're going to try to keep everything completely unbiased, just informational."
Hall said getting students to vote in this election is SG's biggest priority. 
According to the National Study of Learning, Voting and Engagement 2014 and 2018 campus report, 81.7% of UCF students were registered to vote, but only 59.1% of those students actually voted in the 2018 midterm election.
"81.7% is a really good number, but 81.7% didn't vote, and that's what's frustrating; that can make a huge change," Hall said. "If they sit back and let the other people make the decisions, then they lose their chance to make their voices heard."
Hall said voting at UCF is the best way for students to become civically engaged.
"With young adults, there's this sense of political apathy where you think 'my voice doesn't matter, it's just one vote, it wouldn't change anything,' and that's what we're trying to counteract with a lot of our education initiatives and our messaging," Hall said.
SG encourages early voting for a variety of reasons: shorter lines, fewer people, which helps with COVID-19 safety precautions, and there's still time to fix any issues. 
"It's easier to vote during early voting so people don't have to worry about finding their designated polling center," Hall said. "As long as you're registered to vote in Orange County, you can vote at UCF."
This is Hall's, as well as many other students', first opportunity to vote in a presidential election.
Junior mechanical engineering major Bryan Plummer had the opportunity to vote for the first time in a presidential election on Monday.
"It's a pretty important election," Plummer said. "COVID is a hot topic, so it's pretty important that we get our vote in."
Plummer is very concerned about the state of the COVID-19 pandemic and said he hopes this election will bring about someone who takes the virus seriously.
"I'd like to be able to go to parks and to bars," Plummer said. "DeSantis said that you can go to bars now, but 200,000 people have died; I don't want to add another one to that list."
Baphnely Martinez, a senior engineering major, voted early Monday and said her experience with UCF's polling center was a positive one.
"It was very smooth and quick compared to other past experiences, very simple," Martinez said.
Martinez said UCF is doing all they can to help prevent the spread of COVID-19.
She said the lines are distanced and students are advised to bring their own pens, and UCF has provided multiple hand sanitizing stations throughout the polling center.
Martinez said it's important for her to vote for people who care about the same things she cares about.
"I want to make sure that my needs are being met and that people are addressing things that I care about," she said.
UCF alumna Morgan Taylor lives in Orlando and went with her friend Cindy Smith, a senior criminal justice major, to participate in early voting at UCF Monday.
"I feel like there's a lot of issues going on right now that kind of determine the future of our country, especially for minorities," Taylor said. "I feel like this election will be a pivotal turning point for America."
Taylor and Smith said they believe the state of the country is in need of changing and hope their votes can contribute to that change.
"It's definitely nerve-racking that we don't know what the outcome may be, this is a very important election," Smith said. "We just hope that people take it seriously."
Both Taylor and Smith voted in the 2016 presidential election and said they hope to gain peace of mind, as well as a new beginning, from voting in this year's election.
"We need a leader that really listens to people who aren't really in the top one percent of Americans," Taylor said. "We make up a big part of the voter population, so I just think that it's really important for us to go out and vote."
Hall said she sees the UCF student population as more than just a group of eligible voters.
"This is a very talented, intelligent, incredible group of students, and their opinions are important," Hall said. "It's just really important that they make their voices heard because this is their one opportunity."