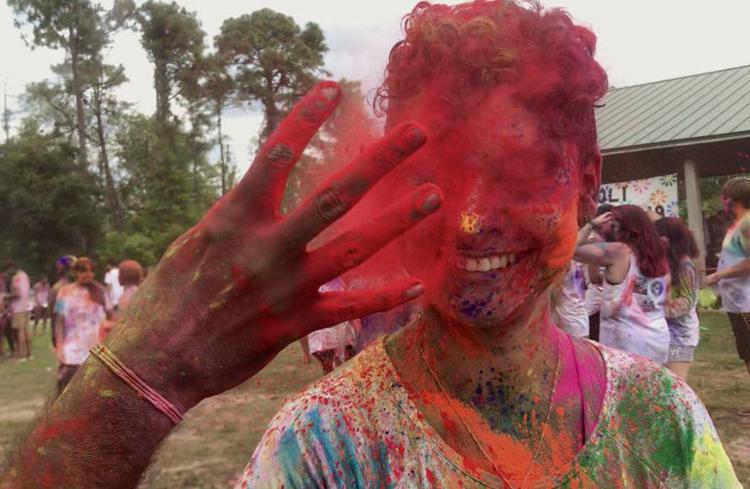 Tightly closing her eyes, adjunct instructor Kim Hardiman was almost unrecognizable after her face was coated in a vibrant green mask of colored powder.
"Sometimes after Holi, there's colors in my ears, nose and mouth, but it doesn't matter because we have so much fun," Hardiman said, dipping her hands into the bags and rubbing her chin and cheeks with yellow powder. 
Handfuls of dusty rainbows were tossed in all directions and landed in the eyes, mouth, nose and ears of many participants on Sunday for UCF's 2019 Holi Festival of Colors at Lake Claire. 
Holi is a famous Hindu celebration originating in India centuries ago. The Holi Festival of Colors provides an opportunity for the community to reunite with vibrant colors to bring out positivity during a time of the year when people are feeling lazy, according to Society for the Confluence of Festivals in India. 
UCF's Indian Student Association hosted Holi Festival of Colors in collaboration with the Multicultural Student Center and Student Government Association. It has been celebrated on campus since 2013, according to UCF's earliest event records.
Each year, the festival has grown larger, said Sorabh Gupta, senior finance major and ISA president. This was the second year ISA collaborated with MSC, and they were expecting at least 600 participants to show up, Gupta said.
During this year's festival, most participants chose not to wear sunglasses or bandanas. Students had little concern for inhaling or digesting the powder, and very few wore dust masks. Those who did said they had allergies or asthma and needed to protect their lungs.
Students were rubbing their eyes and blowing purple boogers out of their nose. Many left the festival with blue teeth and stained armpits.
Holi Powder Health Risks
In India, there are safety concerns participating in Holi because cheap color powders are made with synthetic dyes. These colors can contain chemicals and harmful materials, such as mica, acids, and pieces of glass that "induce skin disorders like abrasion, irritation, itching but can impair vision, cause respiratory problems and also cancer," according to Ira Shah's medical journal called "Holi Colour Inhalation" on the Pediatric Oncall website.
However, ISA purchased their dry color powders online from the largest dealer of Holi colors in the U.S., Gupta said. Ingredients consist of 99% corn starch, permissible food grade dyes and fragrance, according to Festival of Colors USA.
Gupta said there haven't been any safety emergencies from previous years, and ISA, MSC and SGA implemented all the necessary safety precautions in case of an emergency. 
"The powder is very safe," Gupta said. "There are no big concerns for inhaling, and if it gets in your eyes, you'll be okay because there aren't any toxins in it."
Biomedical research from an online database for the U.S. National Institutes of Health's National Library of Medicine found that Holi powder composition is relatively unknown, according to PubMed Central.
Holi colors sold online are branded as "safe," yet companies include minimal information of powder ingredients on its packaging, according to a 2016 biomedical study called "Holi colours contain PM10 and can include pro-inflammatory responses" found on PubMed Central.
Powder colors can induce inflammatory responses and have harmful effects on one's health.
The Holi powder study concluded the following:
Holi powder can cause skin and ocular irritations and respiratory problems.
Cornstarch-based color powder might be contaminated with mold fungi.
Colors can contain up to 80% potentially inhalable particles that might reach the lower respiratory tract.
UCF's Safety Precautions
Events involving the use of color powder pose unique challenges for UCF, according to the Compliance, Ethics, and Risk Office.
The Office of Risk Management at UCF is responsible for protecting the university's human and physical assets, according to University Compliance, Ethics, and Risk Office website.
The following guidelines and safety precautions must be followed for Risk Management to approve events with colored powder:
All participants must sign a safety waiver.
Color powder must be nontoxic and the event hosts must disclose ingredients.
The use of color blaster, color foam or any type of color spray is prohibited.
Aim for shirts and lower — no throwing color powder on participants' faces. 
Color powder may only be used in outdoor areas approved by Risk Management and Landscape and Natural Resources.
Safety data sheets for color powder must be on-site in case of an emergency.
Hosts must clean up the site. If color powder is found on concrete, benches, signs or other areas, there will be charges for additional clean up.
If it is expected to rain during the event, Risk Management may cancel the use of color powder due to water run-off contamination. 
After the event, Gupta said that ISA and Recreation and Wellness Center faculty cleaned up the property and hosed down the concrete. He also said that there were no additional fines for cleanup or issues with color staining the property.
Despite UCF's strict safety guidelines, it is not mandatory for the event host to provide disposable dust masks or for students to wear safety goggles during the event. The respiratory health of students and participants are left in the hands of those who came prepared. 
Carried by a windy day like last Sunday, the Holi Festival of Colors was a vibrant dust storm that all participants endured.
As an annual participant and faculty member, Hardiman said her first Holi was in 2015. She said she invited all of her students to attend the event to earn a few extra credit points, but mostly so they could have fun and learn about other cultures without traveling across the world to experience the celebration. 
Before getting doused in color, Hardiman was dressed completely in white and wore the same blouse and bottoms she wore in previous festivals.
"I love the Holi festival because it brings out joy and happiness with lots of color, good food and dancing," Hardiman said. "At first, I was concerned if the powder gets into my eyes and my mouth, but they say it doesn't have any harmful chemicals. Some of my students get color in their teeth, but they were fine — they lived."