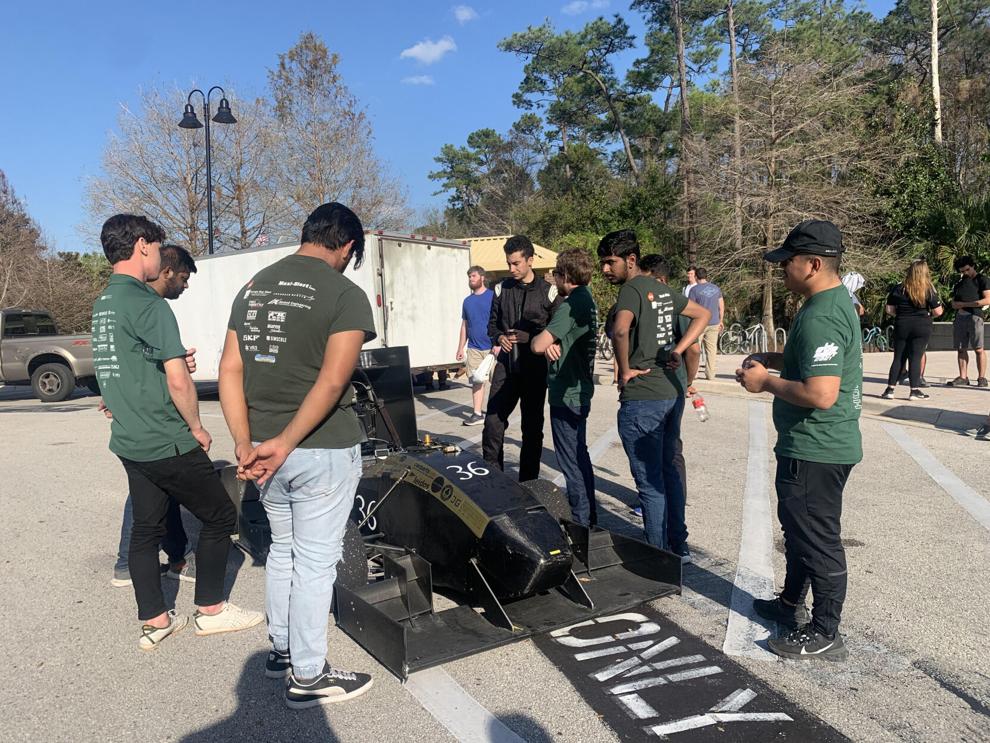 UCF Knight Racing Formula SAE went from a top 10 team to no longer being allowed to test race its vehicle at the university.  
"We were a top 10 team in 2019, but everything kind of came crashing down after that," said Rebecca Vollmann, president of UCF Formula Society of Automotive Engineers and UCF '21 mechanical engineering alumna.
Since returning after the COVID-19 pandemic in 2021, the Formula SAE team has not been allowed to test race its car in an on-campus parking lot due to a shift in who gives permission, which went from the UCF Police Department to Parking Services.
Originally, Vollmann said she spoke with Officer Daniel Hooker about the parking lots availability, who then spoke to Chief Carl Metzger. She was then informed that UCFPD was no longer able to give that permission on its own. She was referred to the Office of Student Involvement, who then directed her to what she said was around 10 different people.  
Vollmann said she was finally redirected to Manuel Guerrero in Parking Services. She said that Guerrero told her any vehicle racing over the parking lot speed limits, 10 miles per hour, would not be allowed in the lot and that these rules would only get stricter.
"I've personally felt like UCF has swept us under the rug for several years," Vollmann said.  
After NSM Today requested to interview with Guerrero and UCFPD, UCFPD spokeswoman Courtney Gilmartin said in an email that there wasn't anyone at Parking Services or UCFPD with background about the request. Gilmartin also said she can't provide speculation about conversations she was not directly involved in when forwarded emails between Guerrero and Vollmann from June 2021. 
"I've spoken to those who I identified as possibly being involved in these conversations, but there is no recollection," Gilmartin said.
Vollmann said that going back to at least 2010, the team has never had a problem with getting permission. She said the team was fully abiding to filling out SAFE Forms and contacting UCFPD to get the area blocked off to prevent anyone outside the club from being endangered.  
Vollmann said that safety concerns were the motivation for Parking Services to deny the team's request. She said felt the team did not fully get the opportunity to communicate that safety is a priority for them as well. Attempting to prove this, Vollmann sent photos of the team in the parking lot in the past. 
"We want them to understand that their safety and our safety, our driver's safety, everyone on the team, that is our top priority," Vollmann said.  
She said having the immediate area testing taken away from them really impacted the team, giving them less time to practice. The closest viable location is at Bushnell Motorsports Park, about three hours of total travel back and forth, limiting the students to only testing on weekends.  
In 2019, UCF Formula SAE was a top 10 team in the static design portion of the Formula SAE Michigan competition, placing eighth among over 100 universities.
Vollmann said ranking highly while up against schools with great programs and higher budgets was an incredible feat for the team. After the 2020 competition being canceled, the team returned to competing in 2021. 
At this competition, the team faced a technicality error with how the brake system plausibility device operated. It overheated and shorted out the system. After a 24-hour ride to Michigan, Vollmann said the team wasn't allowed to race due to the inability to pass a simple technical inspection.
"Not being able to test on campus really had an impact on our car," Vollmann said. "From being on top of the world at the top 10 team and dropping all the way down to being disqualified, it was a definite blow to morale."
Senior aerospace engineering major Ali Mosa said that the team shrinking and COVID-19 restrictions already made working difficult for the team in 2021. Not being able to test race just added to this. Mosa said that testing allows the team to get data, help the car run and attracts attention to the team.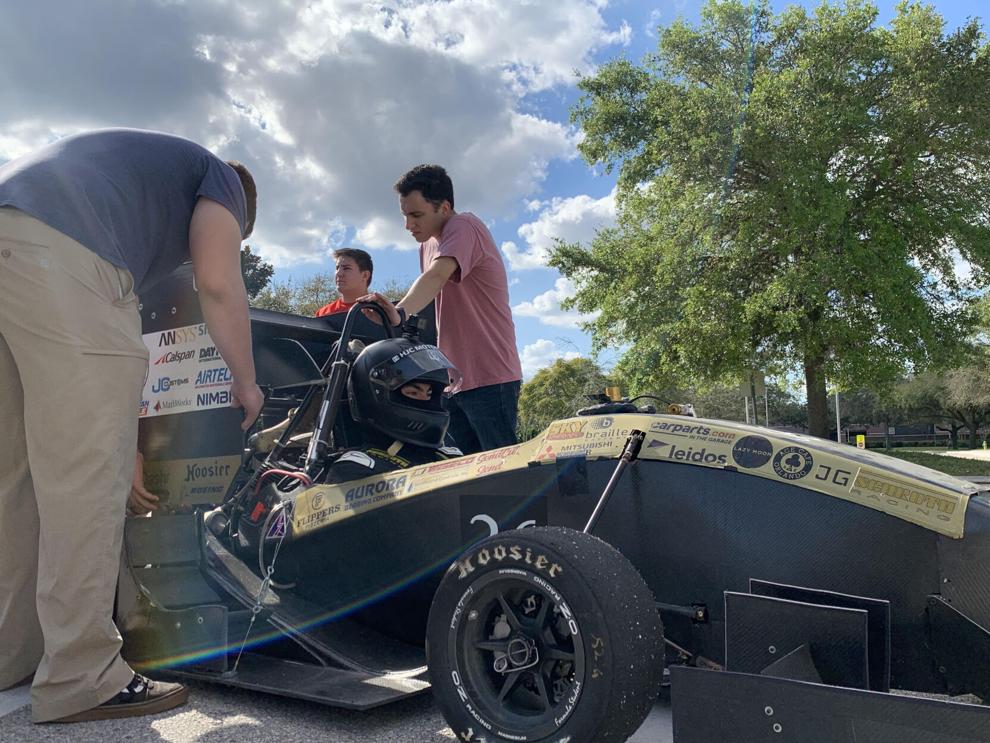 Beyond UCF students, Vollmann said the team receives three to five emails a week from high school and international students, reaching as far as the United Kingdom and India, looking to get involved with the club early. She said the team is recruiting for the school as these students say joining UCF Formula SAE is the reason that they are choosing to attend UCF.
Vollmann said that to her knowledge, the team has a good history since 2011 with never having a crash on campus. The one time there was a crash, the car hit several rows of traffic cones at Bushnell Motorsports Park. Vollmann said this was used as a learning method for what could or couldn't be done with the vehicle.
"The car is something that is as much as it is our baby, and we design it from the ground up. And we do this every single year, and we put our blood, sweat and tears into it," Vollmann said. "We recognize that at the end of the day, the person driving it is still 10 times or 100 times more important than any bit of engineering work that we can do."  
She said that Parking Services saying no is easier than having to deal with the liability of the "what if." She said she acknowledges that the team could have coned off a parking lot themselves but said that the team wants to go by the book and be looked upon well by UCF. 
Mosa said that in the past, the team had the entire shop, building 76, to themselves as well as the main room where the cars were stored, a machine shop room, a trailer and a design office room. Now, UCF has given the flanks of the building to researchers and left the team with only the main room.
The equipment in the machine shop was also moved to another machine shop in the engineering building. Team members were promised after-hours access, which eventually became no longer available. 
Mosa said if given the chance to speak with Parking Services on allowing the team to test, he would show their safety protocols and clean record. He would also point to the alumni of the club as examples of the benefit it has provided them. 
"We've had countless  come through the program and get helped by it," Mosa said. "I could get at least 50 alumni to say Formula/Baja was the best thing that they decided to do." 
Vollmann said other schools in Florida also have troubles with their SAE teams and testing their vehicles on campus but that some have connections or opportunities that she wishes UCF would model itself after.  
For the Florida Institute of Technology, the Florida Tech FSAE doesn't test on campus, but it tests at Larsen Motorsports, eight minutes away across from campus.  Vice President Aleksander Sorok said the team still faces problems at the university. 
"You will be hard pressed to find a formula team in the U.S. that hasn't been neglected by the university," Sorok said.  
Speaking to teams from schools in other states, Sorok said formula teams run into hurdle after hurdle, making him question why universities don't care more about these student groups.
He said that not allowing testing on campus takes the students' ability to view all of the hard work they've put in. In turn, students are less likely to return to the team the following year and that this roadblock is above any logistic roadblocks related to money or lack of faculty available to advise the team.  
"Any sort of roadblock, especially when it comes to testing and seeing the car race, huge roadblock," he said. "That's like a big middle finger is how I take it."  
Sorok said from his experience, it's always more convenient for universities to look out for themselves rather than for the students they should be supporting. He said that the students working on the Florida Tech team are some of the most hardworking and passionate people he knows. 
"You can take a group of very hardworking and diligent students and make them unmotivated and upset just by essentially going out of your way to make their lives complicated," Sorok said.  
Mitchell Thoeni, president of Gator Motorsports FSAE, said the University of Florida team tests on campus and maintains a sponsorship and relationship with The Florida International Rally and Motorsport Park abound 40 minutes away.
Thoeni said the team also competes at Formula SAE Michigan and relied heavily on testing on campus in 2021 when The FIRM was booked up, testing every day leading up to competing. He said he has no idea what they would have done without being able to use this parking lot.  
Hearing that UCF could no longer test on campus, Thoeni said he was shocked, calling it unfortunate that the team lost that ability. He said that Formula SAE is a program that universities should want their students in because they get the best engineering training and knowledge.  
"Everybody wants to see the other teams do well, so there's friendship between even rival schools," Thoeni said. "It's really just a wholesome and friendly place to be."  
Similar to what UCF was once able to do, USF Bulls Racing team works with its campus police department to gain permission to race on campus, chief engineer Grant Somerville said. He said the team tests around three to four times a week.
"These schedules where we have to build a car in a year are extremely tight," Somerville said. "It would definitely take the time away from building the car and being able to validate the car, 'cause that's such a huge portion of competition."  
Somerville also said the team has faced other issues with their funding getting cut every year. He said he contacted the adviser and invited him and other board members to see the work the students do in the shop. He said he has seen more advocacy for the team after they saw the extent of what the students do. 
At Engineers Week in February, the UCF Formula SAE team was allowed to demonstrate their vehicle at the Student Union bus loop. This event gave Vollmann hope for the future.  
When running for president, Vollmann said her mission for the team was to leave it better than she found it. Though she is only going to be with the team until May, having graduated already, her wish is that future officers will maintain this goal and that the car will be back on campus for testing again someday.  
NSM Today reached out to Daniel Hooker and Manuel Guerrero for comments. By the time of publication, NSM Today has not heard back.