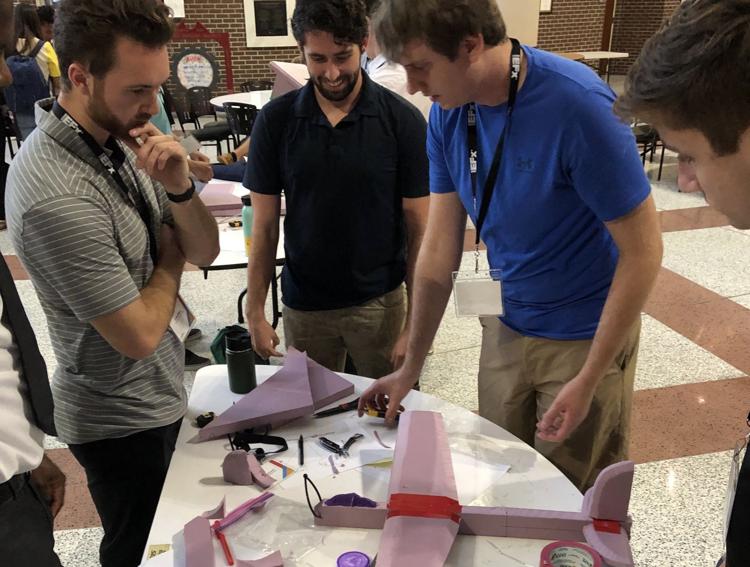 Hundreds of engineering students filled the Student Union as UCF became the first university to host the EFx Engineering Festival of the decade on Sunday.
American Society of Mechanical Engineers' EFx "Think Outside the Box" is a national engineering conference that focuses on the impact of innovation and entrepreneurship through group sessions, guest speakers, different showcases, networking and competitions. 
EFx Committee Director Luke Shelter said UCF applied last summer to have the EFx conference. With a strong application and over 11,000 students in the College of Engineering and Computer Science, UCF received the opportunity to host the conference for its faculty and students. 
"The main purpose of this conference is just to bring light to engineering and innovation as a whole because some of it gets thrown aside sometimes," Shelter said.
The conference featured different breakout sessions that students were able to attend which were geared toward entrepreneurship, design, trademarks and patents, and building a personal brand. Students also got the opportunity to do hands-on work by building planes and designing models online.
Nicole Scott, a former NASA astronaut and alumna of UCF, was the featured keynote speaker for the conference. Scott shared her experience traveling "off the grid" to space and living on the International Space Station.
With over 27 years of experience, Scott encouraged UCF engineering students to "think outside the box" and never be scared to take a chance at something you never thought could be possible.
"I just want people to know that you've always got to stand up for yourselves out there, especially with the things you have control over and to not doubt ourselves," Scott said.
With more than 600 registered student organizations at UCF, many engineering, business and innovation clubs tabled at the Student Union to recruit members and explain more about their respective organizations.
Christian Sipe, vice president of the Student for the Exploration and Development of Space Club, said attending this event brings awareness to how important space education is.
"I want people to know that space is very important in everybody's everyday lives," Sipe said. "People may not realize it, but when you take out your phone to maybe check your grades or use your GPS, it's all because of the engineers and everybody else that works in the space industry."
Sipe believes that the future of the UCF engineering program is bright because of UCF's reputation in the space industry and its background. So much so, that he is expanding his club.
The Student for the Exploration and Development of Space Club is partnering together with other engineering clubs at UCF to create UCF Rocketry, a collaborative effort to unite students and create different projects in order to enhance student experiences outside of the classroom.
Sipe's goal for UCF Rocketry is to not only unite students, but to put UCF on the map through different showcases and competitions throughout the year, similar to the EFx Engineering Festival. 
Due to the success of this year's festival, Shelter said that the American Society of Mechanical Engineers are working to bring the conference back next year and make it "bigger and better." He said they want to make it a three-day conference, known as the ASME E-Fest, which will feature more breakout sessions, hands-on projects and guest speakers from around the country.
The ASME E-Fest conference will not only be open to UCF students, but other universities from around the nation.