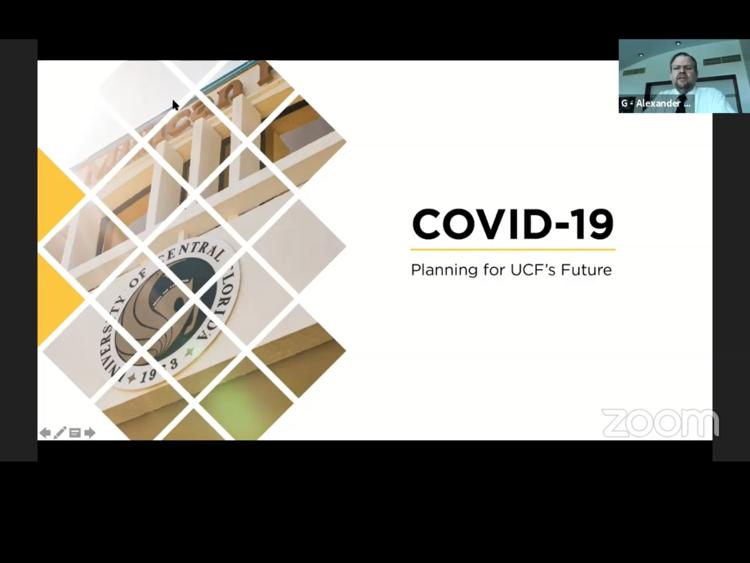 The UCF Faculty Senate presented four possible approaches for how teaching will be done during the fall 2020 semester in a meeting on Monday.
"We don't know what fall will bring," Interim Provost Michael Johnson said during the meeting via Zoom. "But I believe our job on the academic side is to be prepared for the possible scenarios."
The approaches presented by Johnson take into consideration how the country is responding to the pandemic, such as how the number of cases is affected by strict or relaxed stay-at-home orders.
The approaches presented were:
A completely remote semester, similar to the second half of spring and full summer semesters
Only courses that cannot be taught online would be in person (e.g. pottery and clinical labs)
More face-to-face classes but with physical distancing policies, such as a minimum distance between the students in a classroom, and
A normal in-person semester
If the semester turns out to not be fully in-person, UCF will look for making it the highest quality possible and giving the best experience they can to both students and faculty, Johnson said. UCF will take into consideration opinions from their staff, health specialists, and local and federal authorities, Johnson said.
In the case of the third approach being selected, Johnson said one suggestion would be classes being taught in larger rooms. For example, a course with 80 students should be taught in a room with capacity of around 300 since they would need to keep empty seats to respect social distancing rules, he said.
Also, larger classes could potentially be taught at the Addition Financial Arena if the space is needed, barring availability, Johnson said. 
However, the university does not yet know the overall view of students regarding whether they want to return to campus or not, Director of Student Health Services Michael Deichen said. There is no "solid data" to back up the decision of in-person or remote learning because UCF students have not yet been polled, Deichen said.
SG Student Body President Sabrina La Rosa said there is a survey under development that will collect the opinion of students in regards to how they feel about coming back to campus and if they are having problems with remote adaptation, among others.
Some students are considering extending their time at UCF to spring 2021 or taking a semester off in order to graduate in-person, La Rosa said.
President Dr. Alexander Cartwright also introduced budget principles that will be taken into consideration when making cuts due to the effects of COVID-19 on the university's economy.
Cartwright said the No. 1 priority should be preserving UCF's advantage of having "exceptional professionals," because it will be very difficult to replace them once the recovery occurs, Cartwright said.
"We will not have across-the-board cuts," Cartwright said, "We will have strategic cuts."
Cartwright said that although cuts will have to be made, UCF needs to continue investing in its excellence by improving its services and better communicating with its members.
"This is going to be a big challenge," he said. "I want you to know that when we return to our campus things will be different."
Elizabeth Klonoff, vice president for Research and dean of the College of Graduate Studies, also presented a proposal to return to on-campus research with the main objective of keeping everyone as safe as possible while increasing research activity in a phased approach.
"We want to participate in finding cures for COVID-19," Klonoff said.
The plan emphasized the importance of research for undergraduate students in their future careers. It also provides instructions for how students should behave in order to be part of a lab session.
However, Johnson said it will not be possible to have cleaning staff to act after each class, which can become a problem, according to some faculty members.
Michael Proctor, associate professor at the College of Engineering & Computer Science, said he is very doubtful students will bring any cleaning products, such as wipes, with them to classes. He also said they cannot control what all students will do.
"Even though we have physical spacing in the classroom, outside there are congregations," Proctor said.
Both Cartwright and Johnson said they are not able to provide a definitive answer for how UCF will operate in the fall, but they will continue to cooperate with faculty members and students on finding the best one as things continue to develop.