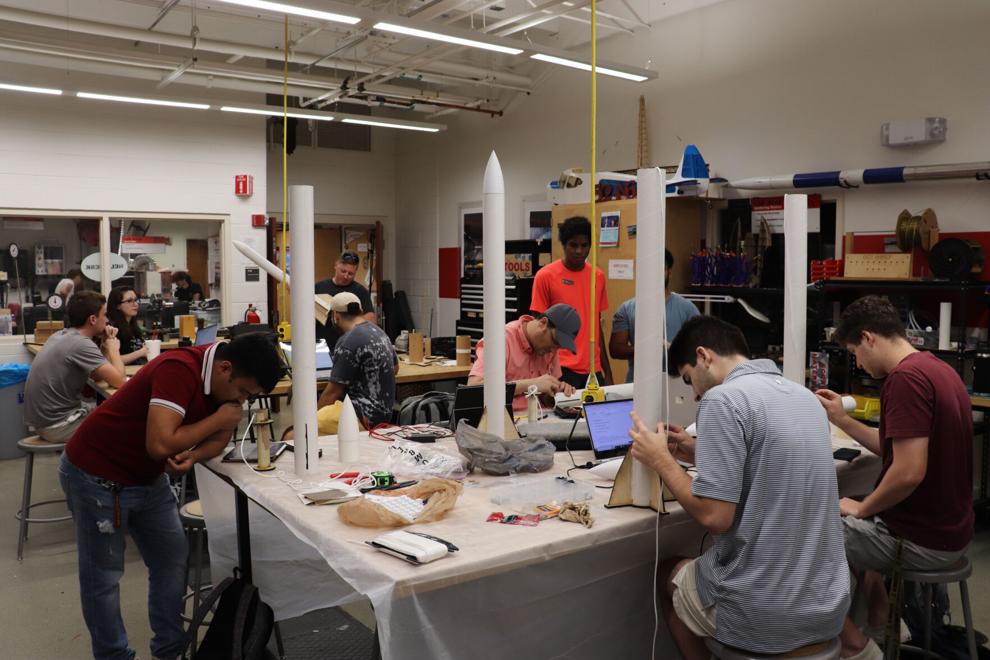 The Knights Experimental Rocketry organization is bringing members a step closer to building larger rockets. 
The KXR, a UCF project club, assembled rockets for high power rocketry certifications during a workshop on Tuesday.
"I think it's something amazing to see what happens when students are able to be creative and have the ability to see their input and their design turn into something real," said Sherlock who also serves as the president of KXR. "And then hit the launch pad when it's a make or break moment."
KXR is an affiliate of the American Institute of Aeronautics and Astronautics and the Students for the Exploration and Development of Space organizations. Its mission is to "cultivate a passion for science, technology and space exploration while developing hands-on skills that prepare students for the professional industry," according to its official website.
This organization equips students with opportunities beyond the classroom, said Sherlock, who credits this hands-on experience with landing him two internships at Lockheed Martin.
Other students like Hamil Patel, a senior aerospace engineering major and KXR member, are also benefiting from the organization.
"It's nice to be able to use what we learned in classes on a real world application," Patel said. "I got into aerospace because I was really interested in space, so being able to work on rockets is cool."
Patel said he was currently working on a rocket for a Level 1 High Power Rocketry certification.
KXR holds workshops a few times a year to give students the chance to build rockets in hopes of obtaining their HPR certifications. Eventually, Sherlock said, this experience prepares them to work on bigger projects to the point of participating in the NASA Student Launch or even the Intercollegiate Rocket Engineering Competition, the largest intercollegiate rocketry competition in the world according to the Spaceport America Cup's website. 
Members of KXR launched their rockets on Saturday in hopes of earning their level one certifications. Roughly 25 students are able to get certified each time around, Sherlock said.
There are three different level HPR certifications that students can achieve, with level one being the simplest and cheapest, Sherlock said.
At the lowest level, students must "build, launch and successfully recover a rocket using a certified HPR motor in the H to I impulse range," according to the Tripoli Rocket Association. 
At the second and third levels, things get a little more complicated as students must work with higher powered motors that are more complex. Sherlock said that in order to attempt higher level certifications, students must first get their certification at the preceding level.
Sherlock said he currently has a level two HPR certification and is working on obtaining a third level one, along with a couple of other members of KXR. He also said each level three certification costs close to $3,000, and that the money for these certifications is paid out of pocket by the students.
Sherlock said he recalls the day his older brother, a former UCF aerospace engineering student, was conducting a static fire test of a hybrid motor in Palm Bay along with other students attending UCF.
"The feeling building up when we're counting down, and no one knows if this is going to work and then they press the button and the engine goes off and everyone cheers because they see the flame and it's just an amazing feeling," Sherlock said. "That was the day when I'd say I got rocket fever."
KXR became a registered student organization in March of this year, according to the UCF IREC 2020 Facebook page, making it UCF's first club devoted specifically to rockets. 
Sherlock said KXR originally started as a project that AIAA and SEDS were working on to compete at IREC, also known as Spaceport America, in 2019. Due to the pandemic though, the students working on the project, called Big Chungus, weren't able to take the rocket to competition. 
"It was called Big Chungus because it was big and it was also UCF's most ambitious, powerful, expensive and complex rocket that students had ever attempted," Sherlock said.
In June of this year, members of KXR tried yet again to launch Big Chungus at IREC competition, which was held at the first commercial spaceport in New Mexico. 
Sherlock said he and a few other members made the 25-hour trip across the country with the 15-foot-tall rocket packed in the back of a small-sized SUV. However, due to delays and issues with insurance at the competition, Big Chungus was unable to be launched for the second time.
Although KXR was never able to get Big Chungus airborne, Sherlock said the group started working on another project for the Friends of Amateur Rocketry 51025 competition in the Mojave Desert in California as a way to engage with new members. The organization brought 30 students and three rockets and ended up placing first in the 10K Open Class category, according to UCF Today.
KXR plans to return to the IREC at the end of June next year, Sherlock said. This competition only happens once a year, giving students enough time to come together, design and build their rockets.
Sherlock said the organization will also be participating in the NASA Student Launch in Huntsville, Alabama, in April 2023. This is a unique competition because the building and designing process of the rockets is done as if you were a NASA engineer, Sherlock said.
Dean of the College of Engineering and Computer Science, Michael Georgiopoulos, said he backs student organizations like KXR and believes they are crucial for the students and the university as a whole.
"At a large institution like UCF, these kind of smaller groups of individuals working on topics that they are passionate about and of interest to them are extremely important for the well-being of the individuals involved but also for the well-being of the institution moving forward," Georgiopoulos said.