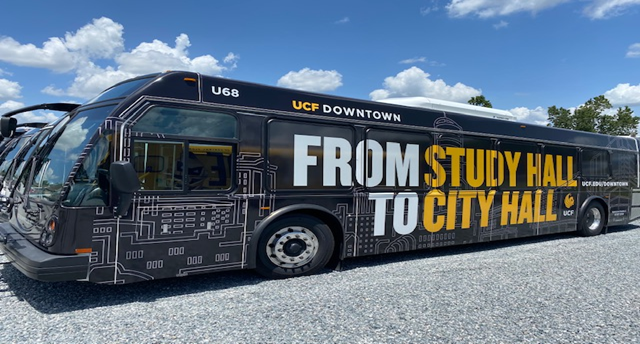 UCF launched a new grocery shuttle for the UCF Downtown campus Tuesday to mirror the grocery shuttles that service student housing on the main campus.
The shuttle is a joint launch between the UCF Student Government and Parking and Transportation Services to provide residents on the downtown campus with an easy, reliable way to get their groceries. It will run twice a month on Tuesday, making two round trips to the Publix by Lake Eola.
SG Safety and Transportation Coordinator Alexandra Fabregas said the decision to launch a grocery shuttle was made after downtown campus officials relayed student complaints to SG.
"We've been getting a lot of negative feedback regarding downtown transportation," Fabregas said. "Students would walk 30 minutes to Publix and back with their arms full of groceries. It wasn't fair that students on the main campus were getting this resource with Publix being much closer to them.".
Junior communication sciences and disorders major Megan Budka was one of the students that found it hard to get groceries, she said. 
"I'm not a student on the downtown campus, but I live here," Budka said. "For people like me who don't have a car or insurance and a way to get to the grocery store, it was hard."
Fabregas said there were obstacles that arose while planning the shuttle launch, including trying to find a source of funding.
"In May, the new SGA administration started working, and we gained a lot of new feedback regarding this matter," Fabregas said. "Parking and Transportation Services had a lot of budget cuts due to the pandemic. For a long time we were trying to find the best deals, but SGA is funding the bulk of this program."
The parking and transportation fee included in tuition costs will cover the grocery shuttle, which is available for use by both UCF and Valencia students on the downtown campus.
"We realized there are so many Valencia students on the downtown campus, and we just couldn't leave them out," Fabregas said. "We wanted to launch this shuttle for the entire downtown community, not just UCF students."
Budka hopes the shuttle will continue to run after the pilot, she said.
"I think that this will be really useful to downtown students and I hope they keep running it," Budka said. "It would have been even more useful earlier in the year."
SG hopes to gain attraction for the shuttle by turning to social media to market the initiative. The pilot will serve as a trial until it is used by enough students to keep running — especially since it uses a lot of funds, Fabregas said.
"We wanted to purchase the shuttle for downtown students to use because we're not physically with them, but we still want to show support," Fabregas said. "We're hoping to have a high demand and high turnout rate so that we can keep it running."