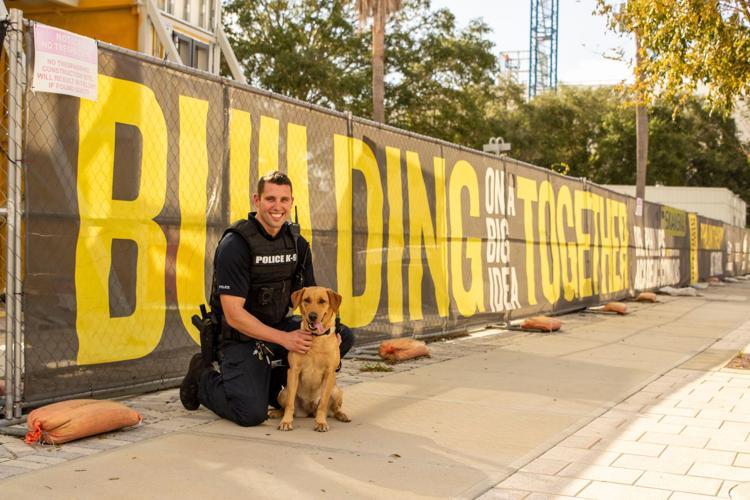 UCF Police Department added 'Blue' to UCF Downtown's safety team, the department announced in a press release on Wednesday morning. Blue is a 2-year-old yellow lab who specializes in detecting explosives, conducting sweeps of buildings and assisting partner agencies with detection searches. 
Blue was donated to UCFPD by the organization Diversity K9. Officer Jerad Engel, who is a U.S. Air Force Veteran, joined UCFPD in September of 2015 and has partnered with Blue since January.
Diversity K9's mission is to provide families with the tools and knowledge necessary to improve their dog's behavior. The Organization offers behavioral classes, obedience classes and specialty training.
Engel and Blue have been training together since last fall and are moving to UCF's downtown campus to watch over UCF and Valencia students and staff. Blue has been learning how to search and navigate loud noises and large crowds.
Besides Blue, UCFPD has four other explosive-detection canines. The dogs play an important role in the safety of the UCF main campus.
According to the press release, UCFPD will have 24/7 uniformed patrols with officers who will be based at a substation on Amelia Street close to UCF Downtown.
UCFPD will be mirroring the main campus' safety and security infrastructure with features at the downtown campus such as security cameras, blue light phones, UCF Alert messages and, of course, Blue.
To learn more, visit the UCF Downtown website.