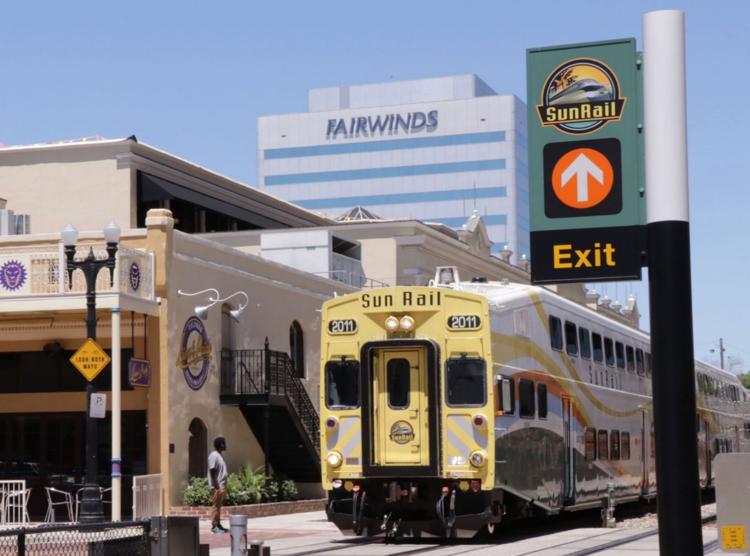 The issue of transportation is on the rise with over 7,700 students attending classes at the UCF Downtown campus for the fall 2019 semester.
With students from both UCF and Valencia College taking classes at UCF Downtown starting August 2019, many students are still wondering how to get to the new campus.
Students with established living situations close to main campus, like junior Sierra Scott, will have to commute downtown for classes.
Scott, political science and legal studies double major, said many students do not know that their fall semester classes will no longer be offered on UCF's main campus.
"The main issue I see is with juniors and seniors like myself who have already established a life here by main campus," Scott said. "They basically have to uproot their entire lives to go downtown."
Other students have accepted the push to go downtown and believe moving down there will benefit them rather than commuting.
"I plan to move closer to the downtown area since I'm also working on the west end of Orlando so driving won't be as bad as it is from main campus," senior communication and conflict major Kristina Lawrence, 21, said. 
UCF-Provided Services
UCF Downtown, in partnership with Valencia College, created the downtown campus to give students the opportunity to live, learn and work in the Downtown Orlando area.
Jamie Giller, director for communications and marketing for UCF Downtown, said there are many different options for transportation depending on where a student is traveling from.
"One of the big benefits of having our Downtown Orlando campus is our proximity to additional transportation options like SunRail, Lynx and Lymo," Giller said. "So obviously anything that would make getting to campus easier for our campus community is something that we're interested in."
Major concerns about transportation to downtown are from students who already commute to UCF's main campus and live near the university.
Office of Student Involvement Student Liaison for Downtown UCF Zak Myers said there are options for those students as well.
"Students that live north or south [of] the university, in areas such as Maitland or Poinciana, can use the SunRail as a very close mode of transportation," Myers said.
SunRail and UCF Partnership
UCF Downtown announced a partnership with SunRail — a commuter railroad system in the Orlando area — on April 3.
SunRail has 16 stations running through Volusia, Osceola, Seminole, and Orange counties.
The closest SunRail station to the downtown campus is the Lynx Central Station, which is 0.7 miles from the downtown campus. As for main campus, the closest SunRail station is the Winter Park SunRail station which is 10 miles from the university.
The new partnership with SunRail will give the thousands students, faculty and staff working and taking classes downtown an additional option for transportation, according to UCF Downtown. Faculty members can use their passes starting Aug. 1 and students can use the pass starting Aug. 26.
Both UCF Downtown and Valencia College students, faculty and staff will be able to get free passes to use SunRail from August 2019 to September 2019.
The free pass will only be available for August and September of 2019, but UCF Downtown is working on expanding its partnership with SunRail for additional rates, Giller said.
After the two-month trial, Giller said students will have to pay if they choose to use the service.
Giller said the partnership is a good opportunity for students, faculty and staff to figure out what is the most convenient way to get to campus at no cost during the trial period.
"The SunRail alleviates the need to drive to campus or park on campus, so it's a nice test run for students, faculty and staff to try and see if they like it," Giller said.
SunRail has different payment options depending on how many counties or zones traveled to. A one-way ticket traveling to one zone is $2 and increases to $5 when traveling to four zones or counties. A round-trip ticket to one county is $3.75 and goes up to $9.50 for four counties.
SunRail also has reloadable SunCards that are a one-time cost of $5. You can pay for the card weekly, monthly or annually.
"It's up to students to decide whether taking SunRail is convenient for them, works for their schedule and makes their life easier," Giller said. "It's up to students to decide if they want to pay for the service or find another way to get to campus."
SunRail could not be reached for comment.
Scott said she believes this partnership can benefit students.
"I think it will be especially helpful because as of now, students just know about the shuttle," Scott said. "It gives students the opportunity to explore the community around because of the different areas SunRail travels to."
To get a free pass, students must visit the SunRail website and complete the pass request form. Students can pick up their passes from the UCF Parking Services office at the downtown campus starting in July.
Lynx and Downtown Orlando Lymmo Buses
Students can also ride the Lynx buses that have multiple stations by UCF.
Through a partnership with SGA, students can ride free using their UCF ID. 
Lynx's Lymmo buses run only in Downtown Orlando. The buses are free and can connect students from one side of downtown to the other.
"While down there, I'll probably use Lymmo since it goes to other places in the downtown and Winter Park area and is free for students," Lawrence said.
Campus-to-Campus Shuttles
According to UCF Parking Services, there will be two shuttles driving from UCF's main campus to Downtown UCF Monday through Friday on scheduled class days.
Each route allocates one hour and 15 minutes for departures from campus to campus, according to the schedules. The current schedules are tentative, and official schedules will be posted on July 1, according to the parking and transportation website. 
Each shuttle seats 40 people and the last shuttle leaves from UCF's downtown campus toward UCF's main campus at 11:00 p.m. Each shuttle will take 12 roundtrips daily.
Parking at UCF Downtown
Giller said that parking at the downtown campus is also an option for students.
"UCF Downtown is building and leasing parking garage space in order to provide adequate parking for the campus community using the same UCF decal system that's in place on main campus," Giller said.
Due to issues with parking on UCF's main campus, students are hesitant to park downtown.
"Who's going to want to figure out parking at all?" Scott said. "Parking is already bad at main campus, and most of us have no idea what parking will be like at the downtown campus."
On top of worrying about where to park, students also have to allocate money for gas and tolls if they choose to commute downtown. For students who support themselves financially, this might not be an easy task, Scott said.
As for other parking options, a parking garage on Parramore Avenue has 580 parking spaces, and a parking garage on Amelia Street has 600 spots, according to Giller. UnionWest at Creative Village, UCF Downtown's new residence building, will have 600 parking spaces for residents and visitors.
Giller said there is also metered street parking available around the campus, but it is up to students to determine where the best place is for them to park. She said UCF Downtown discourages students from parking in residential areas.
The downtown campus has been working to find different transportation options that can benefit all students using the new campus, Giller said.
"Our goal is to educate students on the different transportation options that are available and make them accessible to figure out what works best for students to get to the downtown campus," Giller said. 
The establishment of the downtown campus is to create opportunities that go beyond what is taught in a classroom. The different transportation options will connect students to jobs, internships and other opportunities Downtown Orlando has to offer.