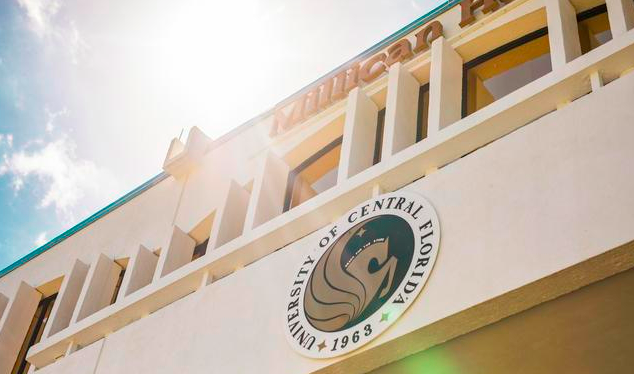 UCF discussed its draft plan for returning to campus in the fall amid the COVID-19 pandemic in a virtual forum Wednesday afternoon.
UCF President Alexander Cartwright detailed the campus guidelines and safety measures of the plan, which was posted to UCF's Coronavirus website minutes before the forum began. The draft will continue to be refined before UCF's Board of Trustees votes on the final plan on June 18 to send to the Florida Board of Governors, Cartwright said. The State University System announced that it will be reviewing universities' plans to reopen on June 23.
In March, UCF announced that it would be moving to remote instruction through the end of the spring semester to prevent the spread of COVID-19. The university announced in April that sessions A, B, C and D of the summer semester would also be taught remotely.
Wednesday's forum was held on Zoom and moderated by SGA vice president Stephanie Blanco and faculty senate chair Joe Harrington. Blanco and Harrington presented pre-submitted questions to the panelists concerning clarification of the draft plan.
Associate Vice President of Student Health Services Dr. Michael Deichen said that UCF will be implementing "target surveillance," which includes monitoring case rates of COVID-19 and students' influenza-like symptoms. 
"We have beds reserved on campus for persons that might be in need of isolation or quarantine," Deichen said. "The underlying ideal is that we want to be as safe as possible and make sure we do have the capacity to carry on."
Student Health Services, along with UCF IT, plans to release an app that would answer the question if someone should get tested, Deichen said.
"We've created a data app that can be utilized by all faculty, staff and students which screens for symptoms of COVID-19 according to CDC-listed covid symptoms," he said. "If a person screens positive, and they will be expected to do it daily, it will help to link them up with services."
Cartwright said that the plan is to be "as transparent as possible" with the number of cases within the UCF community, which will be published. Medical privacy and student privacy will be taken into account when putting out information about the cases, he said. 
Part of UCF's plan will be to require masks be worn while on campus. The university has ordered 100,000 reusable face masks to distribute to every student, faculty and staff member, according to its coronavirus website. UCF interim provost Michael Johnson said that in terms of mask enforcement, the plans were "not yet complete" but will be by the beginning of the fall semester.
"We hope that we successfully develop a culture in which students and all of us recognize that we need to follow these health measures to protect the community," he said. "The policy that's being finalized will have us use the ordinary channels of discipline for non-compliance for students, staff, and faculty alike."
Faculty are encouraged to plan their courses so that students who fall ill can continue through the semester, Johnson said.
"Attendance requirements have been discouraged," he said. "Important as they might be in normal times, they're just a burden now. We want students who think they might be sick to freely stay away."
Cartwright said that a large factor in the decision to reopen in the fall instead of waiting another semester was the response from a student survey with the number of students that want to come back to campus.
"Student government released a survey that about 5,000 students took and most of them did say that they would like to return to campus and do the norm we've had in the past," Blanco said. "But, however, a lot of them were concerned about guidelines and how the university would set those guidelines." 
UCF will be moving to remote instruction after the Thanksgiving break, which includes final exams, Johnson said.
"We made a decision to move the last week of classes and exams online following the Thanksgiving break not to send people away, but because there are some indications by epidemiologists that flu and COVID could flare up in early winter," Johnson said. "This is a way to be cautious to make sure that people can plan ahead of time and not repeat what we had to do in spring break."
Vice President of Student Development and Enrollment Services Maribeth Ehasz said that UCF will be identifying "traffic patterns" in common spaces, including housing options and study spaces. UCF is not giving up on providing service and engagement for students, she said.
Faculty who are at risk for severe illness from COVID-19 will be working remotely, Johnson said.
Cartwright said that tuition and fees will not be adjusted because UCF is reopening and needs to support the cost of an education, which includes faculty and staff. However, distance learning fees will not be added to any classes that will be remote in the fall, he said.
Interim Vice President of Administration and Finance Misty Shepherd said that the transportation fee was waived for the summer and students will not be receiving a refund for parking fees. 
Vice President of Research and Dean of the College of Graduate Studies Elizabeth Klonoff said that UCF is working with graduate programs and fellowships with incoming students to defer admission one to two semesters. The programs could facilitate that by using their funds to pay fees which would allow UCF to waive both in-state and out-of-state tuition for anticipated students in the spring, she said. 
The university's plan may still undergo changes before it is submitted to the Florida Board of Governors later this week.