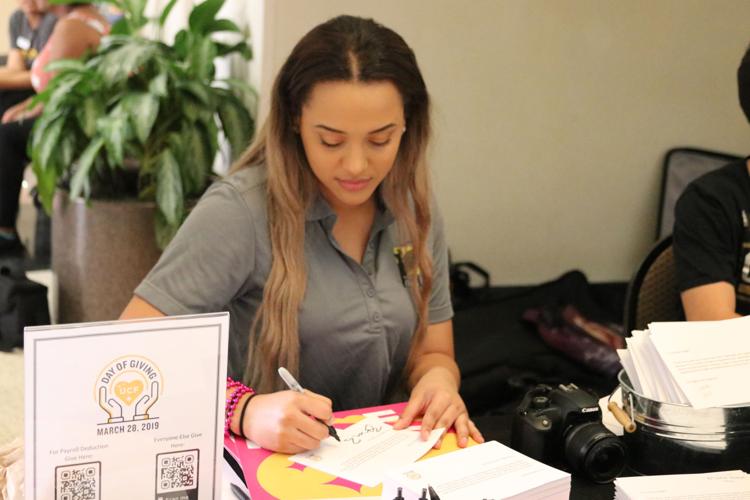 UCF Day of Giving raised $291,072 in just over 24 hours after 3,057 donors stepped up to make a donation and support UCF on Thursday.
Heather Junod, assistant vice president of Annual Giving and Philanthropic Engagement for UCF's Division of Advancement, said the day was a huge success.
"We were thrilled with the results," she said. "Three thousand donors was a stretch goal for us, so we were really excited to exceed it over the course of the day."
Donations collected on UCF Day of Giving go toward the IGNITE campaign — a multi-year fundraising campaign through the UCF Foundation that began in 2011. The IGNITE campaign has a fundraising goal of $500 million by June 2019.
The UCF Foundation has three priority areas for how funding from the IGNITE campaign will be used: students, academics and the future.
Although the foundation has priority areas for giving, Zack Thomas, director of communications for the UCF Foundation, said donors are able to donate to various aspects of the university, including athletics, scholarships, Knights Helping Knights Pantry or a specific area of personal interest.
"What we're here for, in a sense, is to help donors connect with university priorities and their passions," Thomas said. "Ultimately, how the money's used is entirely up to the donors."
While the majority of donations are processed online, the UCF Foundation and UCF Alumni held an event in the Student Union to engage donors and educate students about the importance of philanthropy. The event included games, a prize wheel and an opportunity for students to sign thank-you cards for donors.
"We wanted to have a physical presence on campus — just to try to get students and faculty excited about what was happening," Junod said.
Organizers utilized every means available to spread the word and reach donors on UCF Day of Giving. Junod said through targeted emails, phone calls and social media ambassadors, the foundation was able to reach thousands of people.
"It's more than alumni— it's students, parents, friends of the university and anybody who considers themselves a Knight, supporting what they love," Junod said.
Andrea St. Onge completed her bachelor's degree in advertising-public relations and then her master's degree in educational leadership at UCF in 2002. She now sits on the UCF Alumni Board of Directors and started a scholarship — the St. Onge Family Leadership Endowed Scholarship — for UCF students with her husband. St. Onge said she and her husband regularly donate to the campaign and trust the foundation to use their donations where it's needed the most.
"Most of my significant giving history has come in the last five years as I have become more involved in the university," St. Onge said. "I choose to donate because I want to be a part of something bigger than me, and this university is big in more ways than one."
St. Onge said as a first-generation college student, she credits a lot of her success to parental support, hard work and financial aid. She said her experience has demonstrated how impactful a donation can be on a student's academic experience, which is why it's so important to give back to the university. 
"We give to both our scholarship and to First Generation [Program] because we want students to be able to be successful in their college pursuits and have a chance to experience all of the wonderful things the university has to offer without the hindrance of financial constraints," St. Onge said.
The First Generation Program provides resources for students whose parents don't have a bachelor's degree or higher. The program works one-on-one with students to help them transition into college life and get more involved to ensure their successful at UCF, according to its website. 
As of Dec. 31, 2018, the IGNITE campaign totaled $479,519,042 and Junod said the university is confident it will surpass its $500 million goal.
Although UCF Day of Giving has ended, anyone interested is still able to make a donation to the IGNITE campaign.