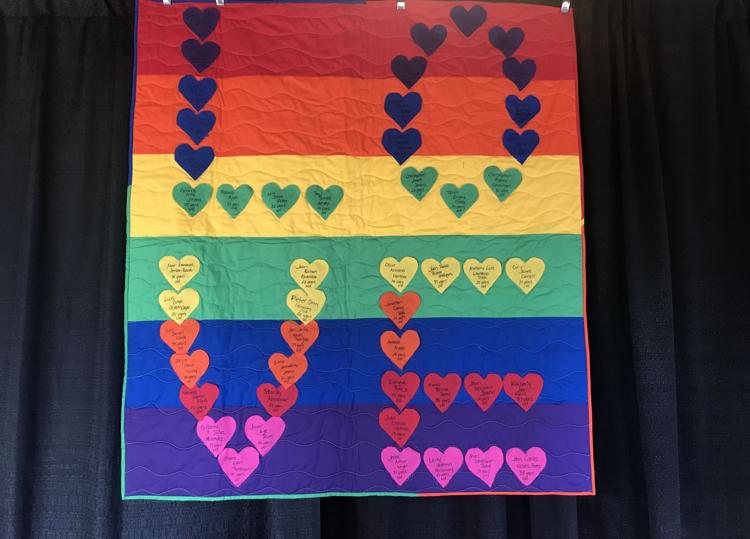 The University of Central Florida and greater Orlando community gathered Monday in the Live Oak Event Center to honor and celebrate the lives of the 49 people killed three years ago at the Pulse nightclub shooting.
Roughly 100 people attended the formal ceremony, which featured the reading of the names of the 49 individuals, and it included guest speakers from the Student Government Association, the Pride Faculty Staff Association, the Community of Innovation and Education, and One Orlando Alliance. 
Following the ceremony, guests were able to view a special UCF Remembers collection from the John C. Hitt Library Archives.
The display included photos and other memorabilia from past UCF Remembers events. UCF Remembers is a commemorative event for the community to celebrate, honor and remember the victims of Pulse. 
Madeline Mills, SGA vice president, spoke about Pulse being a safe place.
"Pulse was a place of love and acceptance for a community that often feels ostracized and excluded," Mills said. "Now UCF is even more focused to create a campus culture and atmosphere that provides students to be their free and authentic selves."
Mills continued to say that she was thankful to attend an inclusive university.
"I am proud that in a world full of hate that UCF has stayed a beacon of light, a light that radiates hope, a university that prioritizes safety and a university that prides itself on creating culturally diverse and inclusive communities that are welcome to all individuals," Mills said.
Interim President Thad Seymour shared his thoughts at the ceremony.  
"It's important, I think, to remember the lives that were taken to show more than anything that we stand together against violence, bigotry and hatred," Seymour said. "What I love is that here at UCF you never have to know or wonder where you stand. We are all one family. We are united and made stronger by our differences."
Guests were reminded of how the community gathered together as a result of the tragedy.
"Not every person that visits [the memorial] lost someone or was there the night the tragic event occurred, but each comes from the same hometown, and we all lost 49 amazing souls three years ago," Mills said. 
Sister Amanda Bonya, a member of the Orlando Sisters of Perpetual Indulgence, has been a resident of Orlando since 1985. The organization was originally formed to help the LGBTQ community heal in the wake of the AIDS epidemic but now helps people process what happened in Orlando. 
"I'm here just providing love, joy and support to the students of UCF, just reminding them to keep dancing," Bonya said.
Bonya didn't personally know anyone who passed away, but was still deeply affected by the tragedy. 
"Pulse is very dear to my heart because I remember going there the very first time when it opened," Bonya said. "I remember how great of a venue it was. I have a lot of friends and we used to go there a lot especially for Latin night, and I am Latin myself so when that happened it did hit very close."
Michael Nunes, LGBTQ Services coordinator, once again helped organize the UCF Remembers event. He had just graduated with his bachelor's degree from UCF in psychology in 2016 when Pulse happened.
"I with many friends planned the vigil that was held at UCF and it has been something we have done ever since because as stated UCF will always remember," Nunes said. 
Nunes expressed how having events such as UCF Remembers affect the LGBTQ community.
"Being within the LBTGQ community you are always worried that something will happen and that you are not safe," Nunes said. "But when so many of us came to Orlando we had this feeling of 'oh we're safer here' and that was taken away in one night.
Nunes said that the Pulse tragedy could not keep the community down.
"What's important to remember is even that could not stop the LGBTQ community in Orlando, we came back even stronger," Nunes said.
Edwanna Andrews, director for Social Justice & Advocacy, closed the ceremony by encouraging the UCF and Orlando communities to continue charging on.
"Beyond just hosting remembrance events UCF has been at the forefront of helping this Orlando community heal," Andrews said. "UCF we are committed. We are not just in this Orlando community, but we are of the community, and we need to remember that."
UCF will continue to remember Pulse as it hosts a campus blood drive on Memory Mall from Tuesday to Thursday, 9 a.m. to 7 p.m. Counseling and Psychological Services will have a memorial table set up for people to write messages of remembrance Wednesday.