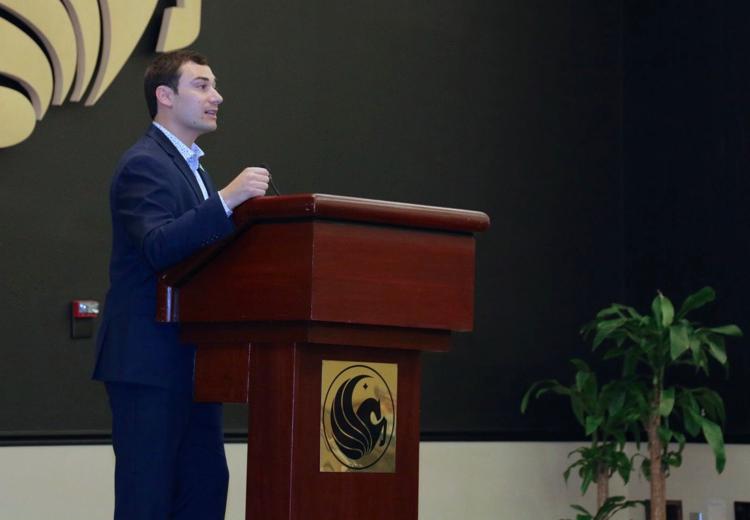 A series of guest speakers emphasized the importance of reducing carbon emissions Thursday at the second annual Climate Correction Conference. 
Around 275 people attended the conference aimed at finding sustainable solutions to climate change. The event, emceed by a UCF alumnus and hosted in the Student Union's Pegasus Ballroom, included 45 speakers and panelists who discussed the negative effects of climate change and solutions to mitigate them.
Researchers, student leaders and members of the public and private sectors shared their projects and plans to develop sustainable solutions. 
Chris Castro, UCF alumnus and director of sustainability for the City of Orlando, discussed some of the things being done to help make Orlando more sustainable, part of which is an initiative he is leading for Orlando to become carbon free by 2050.
Castro was part of a 15-member delegation of Orlando leaders who went to the U.N. Climate Action Summit in Washington, D.C., last week including UCF professor James Bacchus, director of the Center for Global Economic and Environmental Opportunity. This was the first time a delegation from Orlando went to a U.N. summit.    
"We have the ability to, from the ground up, build healthier, cleaner, more sustainable communities," Castro said.
Based on the Paris Agreement and reports by the Intergovernmental Panel on Climate Change, an independent U.N. body tasked with assessing the science related to climate change, greenhouse gas emissions need to be greatly reduced or eliminated to avoid severe negative impacts on Earth.
Castro said cities are major polluters, contributing to 70% of carbon emissions with Orlando, being one of the top three fastest growing city regions in the U.S. with over 1000 people moving to the area each week, not including tourists, having a lot of challenges to deal with.
"In 2018 we saw 75 million people come to Orlando to play," Castro said. "That means about 200,000 people per day are here, in addition to our population, using our resources, producing waste, making an impact and then leaving on a plane back home and we have to deal with some of those unintended consequences of economic development."
When Castro was a student at UCF in 2008, he started IDEAS For Us, a campus club turned non-profit environmental organization. 
"The organization at the time was really focused on getting students from a diverse group of majors together to work on developing and implementing solutions that would make UCF a showcase and model for others," Castro said. "Eleven years later it is a global non-profit and has worked with chapters and affiliates at funding solutions in over 30 countries around the world."
Castro said he works closely with UCF on research and developing projects for the City of Orlando's sustainability goals.
Some of the things he helped implement include installing solar panels on buildings and in retention ponds, implementing policies to make greenhouse gas data available for buildings in the city and switching police motorbikes to be all electric.
UCF has sustainability goals of its own. The Climate Action Plan was launched in 2007 with plans to make UCF a zero-waste, climate neutral campus by 2050, according to UCF Sustainability Initiatives' website. So far, UCF has reduced campus energy use by 42 percent, saving the university an estimated $30 million.
PHOTOS: UCF hosts second annual Climate Correction Conference
UCF students and Orlando community members gathered for the second annual Climate Correction Conference on Thursday. The conference was focused on achieving "sustainable development goals" with panel discussions, interactive workshops, an art expo and more.
Debra Reinhart, UCF associate vice president for research and scholarship, said UCF is investing over $8 million in several clusters — transdisciplinary academic teams that work together to solve problems — focused on renewable energy, sustainable technology and conservation, in addition to research.
"At UCF we have over $7 million in active research projects and over 60 individual investigators working on things like resiliency, waste management waste water treatment and sea level rise," Reinhart said.
A major contributor to climate change, according to panelists, is agriculture ⁠— something that UCF is working to find solutions for.
Out of IDEAS For Us came Fleet Farming, an Orlando based organization that encourages urban farming within neighborhoods and in people's yards. Some of its plant beds can be seen around the Student Union.
Lee Perry, chief operating officer of Fleet Farming, said by farming our lawns we can build a sense of community while reducing emissions produced by lawn mowers. 
"If you drive by your lawns and look at them as an opportunity, a community asset, then you can create a local food movement right in your own front or backyard," Perry said. "On a local scale you can make your entire community healthier if you start to use this land ... and rebuild this connection between human and nature."
Organizers and panelists encouraged students to share what they learned on social media and with friends and to get involved.
"It's always about starting within ourselves first," Castro said. "Students play a big role in their everyday decisions on what they eat, on the food they purchase, where they dispose their waste, how they transport between places and these all have a major impact on the environment."
What happens in Orlando impacts UCF students. Castro said students who want to get involved should go to city council meetings and reach out to the local government to make their voices heard.
Castro said what he does now is very similar to his work at UCF, but on a grander scale. He said he enjoys his job and the opportunity to make a big impact on the community.
"I'm like a kid in a candy shop ⁠— I seriously am," Castro said. "Every single day working on amazing initiatives, I couldn't be in a better place now."