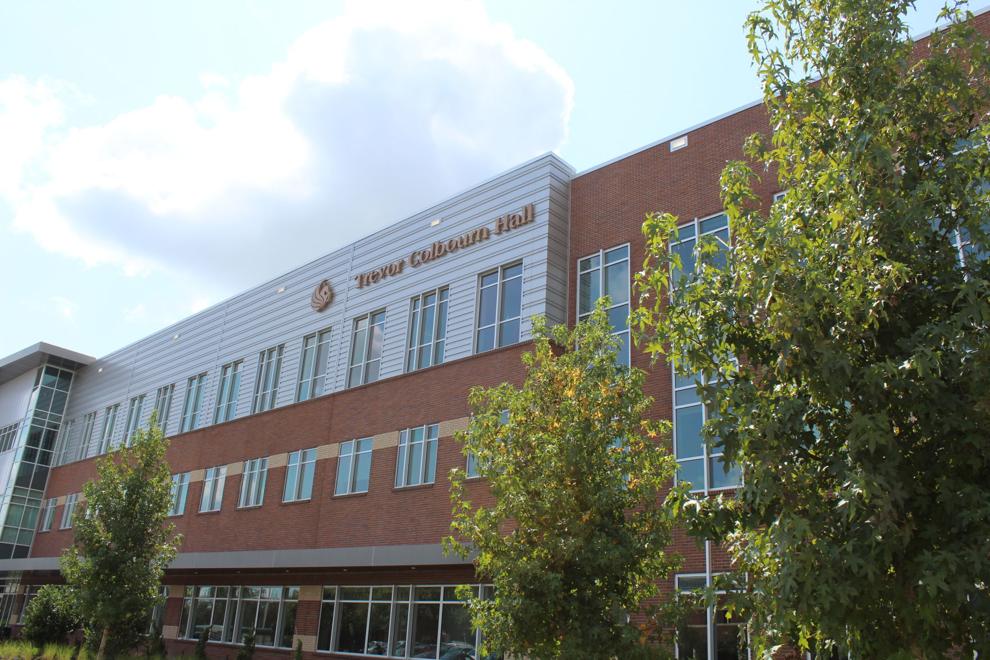 UCF President Dale Whittaker acknowledged at a Thursday Florida Board of Governors meeting that university officials misused $38 million for the construction of a new on-campus building. 
The money, granted to the university for Educational and General purposes, was improperly used to construct and furnish the new Trevor Colbourn Hall on UCF's main campus. 
Whittaker said William "Bill" F. Merck II — UCF's vice president for Administration and Finance and chief financial officer — accepted responsibility for the decision to misappropriate the funds. Whittaker accepted the retirement of Merck at the Thursday meeting, which was held in Sarasota. 
The Educational and General funds should only be used for educational and general operating activities, according to the regulations of the Board of Governors. These activities include costs of instruction, administrative support, student services, libraries and other university operations.
The Board of Governors is a group of 17 members that oversees the operation and management of the Florida public university system's 12 institutions, according to the Board of Governors' website.
Trevor Colbourn Hall is an academic building that opened in August. The original Colbourn Hall was approved to be razed in 2016.
The demolition of Colbourn Hall was proposed as a Finance and Facilities committee action by Lee Kernek, UCF associate vice president for administration and finance. The action was submitted by Merck, according to the June 2016 UCF Board of Trustees Finance and Facilities Committee meeting minutes.
Whittaker's comments were obtained through a document from Chad Binette, assistant vice president of UCF communications.
In August, the Florida Auditor General flagged the $38 million dedicated to the new Trevor Colbourn Hall in a preliminary findings report of operational activity, a report generated each fiscal year. The money was then brought to the attention of the university as it was intended for operational costs but was found to be used improperly, according to the state auditor.
Identifying sources of funding for on-campus construction is the responsibility of the vice president and chief financial officer, Whittaker said.
"I'd like to get straight into what's most important: understanding why this happened and what we've done and are doing to ensure it doesn't happen again," Whittaker said to the board.
The $38 million has been returned to the Educational and General funds, drawing from sources such as university investment earnings, according to the minutes from a Sept. 6 UCF Board of Trustees Emergency Meeting.
"It was not easy pooling together multiple sources of funds, but I wanted to immediately correct the funding situation at one time, not phased over several years," Whittaker said. "At the same time, I directed our team to ensure students are not adversely affected by these financial moves."
Acting with integrity and sharing decisions transparently will be hallmarks of my presidency. @UCFChairman and I had a difficult discussion with the Board of Governors today. The changes we're making now and together will make @UCF stronger.https://t.co/GQnXq2WxAg

— Dale Whittaker (@UCFWhittaker) September 13, 2018
Colbourn Hall was first placed on UCF's Public Education Capital Outlay list, the main source of funding for construction for universities, when renovations were being planned. Initially, renovations were estimated to be $5 million in 2010 and increased in price until reaching $8.3 million in 2013.
In 2014, a building analysis was conducted of Colbourn Hall and determined that the costs necessary to execute the repairs made renovations economically unfeasible. The construction of a new 75,000-square-foot Trevor Colbourn Hall, with a projected cost of $21.3 million, was brought up to the Board of Trustees Finance and Facilities committee in April 2014.
During that meeting, the committee was informed by Merck that the construction costs would be paid from UCF's "non-recurring funds" due to the lack of available Public Education Capital Outlay funds. The committee was not aware those funds were actually accumulated Educational and General funds, according to the Sept. 6 Board of Trustees meeting minutes.
The request for demolition, presented to the board in a document prepared by Merck and Kernek, was unanimously approved during the June 2016 meeting.
During the Thursday meeting, Whittaker said additional steps have been taken to ensure a situation like this does not happen again.
Whittaker appointed the associate director of university audit, Kathy Mitchell, as interim chief financial officer during the Board of Governors meeting on Thursday. He also appointed associate vice president and CFO at the UCF Foundation, Misty Shepherd, as interim vice president for Administration and Finance, according to a Thursday email from Binette.
"This change ensures there is separate oversight of the construction of facilities and how they are funded," Whittaker said. "Most important, it's evident that the controls governing how decisions were made at the institutional level broke down, and clear information about funding sources was not transparently shared."
Additionally, Whittaker ordered an external review by Atlanta-based law firm Bryan Cave, which specializes in corporate internal investigations. The firm will examine processes, personnel, delegations of authority and procedures from the incident. The firm will be on UCF's main campus starting next week and will provide a timeline for the external review once it arrives, Binette said in the email.
Whittaker said that UCF will continue to work closely with the Auditor General's Office, the UCF Board of Trustees and the Florida Board of Governors leadership in the coming weeks and months. 
" … Future Board of Trustees approvals of capital projects will require a written certification by the president, vice president presenting the item, general counsel and a new chief financial officer identifying the source of funds and certifying that they are appropriate for that purpose," Whittaker said.
Whittaker said the university has spoken to the president the Association of Governing Boards — an organization centered on improving the governance in higher education — about working on a project that aims to improve how UCF staff provides information to the board.  
"My bottom line is this: In my presidency, something like this will never happen," Whittaker said. "This is a difficult time for us. We've fallen short of our expectations and yours."
Correction: This article stated Colbourn Hall was demolished in 2016. It was approved to be demolished in 2016.