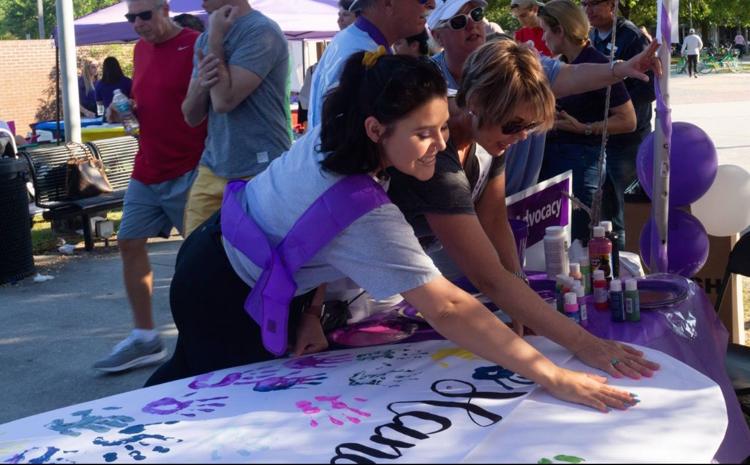 The first few weeks of college can be difficult for anyone, but for Jeanie Traitz, it felt near impossible.
In 2015, Traitz began her freshman year at UCF. Weeks later, she returned home for Labor Day weekend, where she said she complained about feeling unusually bloated, but she brushed it off as gaining weight due to the stress of school. When the bloating didn't go away, her family searched for answers.
A few weeks and series of tests later, she received her diagnosis: a germ cell teratoma — a rare cancerous tumor — on her right ovary.
Traitz said her doctors managed to remove the mass along with the affected ovary and her appendix, but due to how rare her condition was, she still underwent three rounds of chemotherapy and lost all of her hair.
"That was definitely the hardest part for me," Traitz said. "I was just broken."
Three years later, the 22-year old senior health science major kicked off UCF's Relay for Life fundraising event the afternoon of March 23 by walking the first lap around Memory Mall while sporting a white sash with the word "survivor" written across it.
Memory Mall was lined with tents as 60 teams and 627 participants prepared for the 14-hour event, which began at 4 p.m. on that Saturday and ended at 6 a.m. that Sunday.
Throughout the event, the Relay executive team hosted different activities, including a hot dog eating contest at 2 a.m. and a Mr. Relay pageant show at 3 a.m. 
Participants were encouraged to continuously walk laps and donate to the different tents, each serving up different treats.  
All the proceeds went toward research for the American Cancer Society. 
Despite her clean bill of health, Traitz, who participated with her Panhellenic sorority Chi Omega, said the road to being cancer-free wasn't easy. Even after her doctors assured her she was finished with chemo, she said she was afraid about leaving home for the spring semester and if something else would happen.
"Hearing the diagnosis, I was already so scared," she said. "No one wants to hear that."
Traitz said that it was thanks to her support system of friends at UCF that she began to feel comfortable leaving her dorm room again. She said that although now she loves to share her story, initially she struggled with being so open — often avoiding the subject all together.
"I was so happy I was a survivor, but I hated bringing it up too," she said. "I didn't want to talk about it … it always brought back memories, and I didn't want to go back there."
Traitz was one of many cancer survivors participating in the event, including Interim President Thad Seymour Jr., who spoke about his own battle with prostate cancer.
Also participating as both a survivor and a part of the Relay team was sophomore hospitality management major Chris Alegria, 20, who survived a rare form of brain cancer when he was 17.
In 2017, Alegria was a senior in high school when he was diagnosed with a cancer comprised of three different cell types his doctors had never seen before. 
It was because of its rarity that doctors were forced to give his diagnosis the broad name of medulloblastoma, a grade four cancerous tumor in the brain.
Alegria said the diagnosis broke his family's heart.
"We were at a loss, we thought the world was caving in, and we didn't know what to do," he said. "But after those few initial moments of shock, we mustered all that strength and realized we're going to win this fight no matter what."
Alegria said that doctors feared that he could be severely physically and mentally impaired following the surgery to remove the tumor. After his surgery and 24 rounds of chemotherapy, he made it through better than expected.
His tumor was located in the short-term memory part of the brain, which resulted in some damage to his memory. Alegria said that it has made going through school harder than it is for most, but not impossible.
"I would study really hard for a test, but no matter how hard I studied, I would still forget it," he said. "My grades have been a little weary because of that, but I've tried my best, and now that I'm on new medication to help with my memory, I've been getting A's on my tests, and I'm so happy."
Alegria serves as the Relay team's survivor chair, tasked with organizing the survivor dinner and reaching out to local hospitals and businesses. 
Also being honored at the event were men and women in purple sashes with the word "caregiver" on it.
Junior hospitality management major Sydney Summerlyn became her mother, Darlene's, caregiver at 9 years old after her mom was diagnosed with stage one breast cancer. She said the diagnosis took a toll on her family and demanded new responsibilities from her, her older sister and their father.
While her mother was sick and undergoing treatment, Summerlyn said she often walked her from the couch, where she slept, to the bathroom. She helped bathe her and prepared her meals.
Summerlyn said the experience forced her to change her perspective and develop a new sense of maturity. She said she never saw her mother as weak, but that she understood that it was her job to take care of her.
"I had to be there for her the way she had always been there for me," Summerlyn said.
The two sported their sashes with pride.
"It takes a huge emotional toll on a caregiver to watch someone — especially if it's your mom or your dad — and see them that vulnerable," Summerlyn said.
The event concluded with a grand total of over $58,000 fundraised, $45,000 of which was fundraised before the event began. From 4 p.m. to 6 a.m., the team managed to raise the remaining $13,000.
Alegria said the success of events such as Relay for Life has to do with the fact that cancer has touched the lives of everyone in some form or another. 
"All of that pain and hardship you went through along with all the beautiful, positive moments," he said. "They just merge together and we all celebrate the same thing."