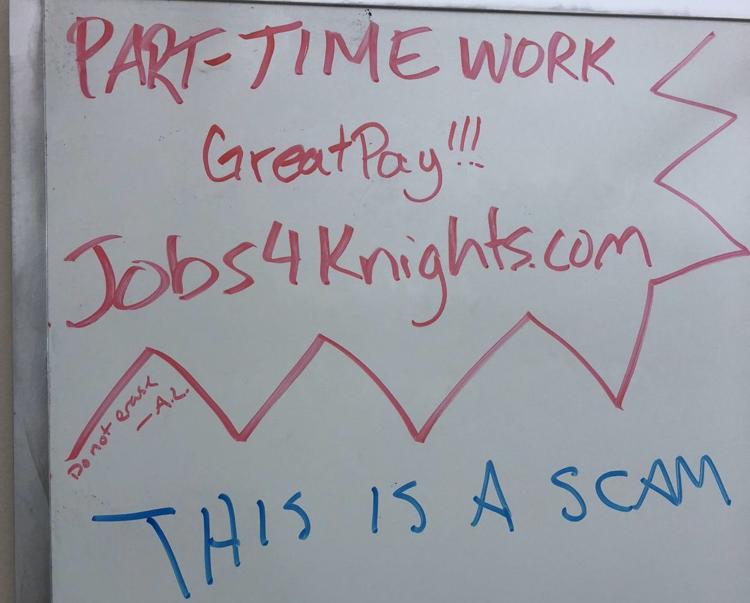 UCF Business Services said they are investigating Jobs4Knights, a marketing campaign run by the Orlando division of the Vector Marketing Corporation, after repeated instances of guerilla marketing on campus.
"Any current campus activity occurring at UCF by Vector Marketing has not been approved by our office," said Sue Gonzalez, the auxiliary services manager at UCF Business Services. "We are gathering information about any guerilla marketing and consulting with UCF General Counsel about any necessary action."
Guerilla marketing is an unconventional marketing tactic that relies on personal interaction to targeted consumers based on location, according to Investopedia.
Jobs4Knights can be seen advertised all across UCF's campus, sophomore biomedical sciences major Lindsey Stillword said. 
"They have a lot of signs posted on the cork boards and whiteboards around campus," Stillword said. "I saw an advertisement on a bulletin board in Classroom Building II just last week." 
Vector Marketing is the sales division of Cutco Corporation, said Mallory Powell, the campus recruiting manager for Vector Marketing East. Their workforce consists mostly of college-aged students that sell Cutco-brand knives by demonstrating them to friends, families and acquaintances, Powell said.
However, some UCF students have expressed annoyance with Vector Marketing's advertising and recruiting techniques — both in person and on social media. 
"I just find the constant whiteboard graffiti to be annoying and potentially extremely harmful," sophomore secondary education major Zachary Guadalupe said, referring to Jobs4Knights advertisements being written on white boards. "The graffiti is disgusting as it takes up class space to advertise for a for-profit company."
Gonzalez said that no businesses are allowed or given approval to advertise in classrooms on campus.
After speaking with Trey Harris, the Orlando division manager for Vector Marketing, Powell said that, "the career center gave Trey permission to put up posters in designated areas as well as run on-campus tables."
However, Powell was unable to produce any documents providing any communication between Vector Marketing and UCF Career Services.
"Most relationships are built in person, so there's not a document stating our status with a school," Powell said.
UCF Career Services said they have never worked with Vector Marketing to establish advertising practices on campus. They also declined ever having communication with the local Vector division manager, Trey Harris.
"We vet any company who wants to conduct business with Career Services, and we have a set of strict guidelines, and [Vector Marketing] didn't meet our guidelines, and that's why they were declined," Shirley Haberjan, the assistant director at UCF Career Services, said.
Senior information technology major Tyler King said he had seen many advertisements in classrooms around campus for Jobs4Knights — the first written on a whiteboard in a classroom during his freshman year orientation. At first, he said he believed they were associated with UCF due to some of Vector's fliers having logos of UCF's athletic mascot, Knightro.  
"They're purposely targeting students, making them think it's affiliated with the university," King said.
Sophomore hospitality major William Gerhoff said he found that Vector Marketing's pay was not as initially advertised when he worked there for six months before his freshman year at UCF. He initially took the sales representative position because the manager interviewing him made the job and products sound like the "greatest thing ever."
"The interview wasn't about 'will I be hired?' because they were pretty much just giving me the job," Gerhoff said. "It was about why I should take the job. He was kind of selling me the job."
Gerhoff said he made $14.00 per sales appointment, as well as commission on anything he sold. However, each appointment would take him three to four hours, including the time to find clients, set up the appointment, drive there and back, and conduct the appointment itself. 
This per-sales-appointment pay would average Gerhoff around $4.00 an hour, which is $4.46 less than Florida's hourly minimum wage. At the time he was working for Vector Marketing, he said he was working for another company and only using Vector's paycheck to supplement income.
"I think a lot of people try to use [Vector Marketing] as their main job, and go so hard that they end up hurting themselves in the process financially," Gerhoff said. "I think if you do it to supplement income and gain commission, it's a fine thing to do."
Before UCF Business Services began investigating the guerilla marketing tactics used by Vector Marketing, some UCF students had taken to social media to protest Jobs4Knights. Reddit users on the subreddit r/UCF posted about erasing and reporting Jobs4Knights advertisements on campus, King said.
Some UCF students are erasing "Jobs4Knights.com" from classroom whiteboards so frequently, that Vector Marketing recruiters have begun to write "Do Not Erase" under their own advertisements in order to dissuade students, King said.
"It is totally okay to erase anything on a board that says 'do not erase,'" King said.
"For scams in general, the UCF Police Department encourages students to use sound judgment, trust your instincts and stay aware of your surroundings," UCFPD spokeswoman Amanda Sellers said.
Sellers said that if students in the UCF community believe they are a victim of a scam, they can reach out to UCFPD by calling the department's non-emergency line at 407-823-5555.