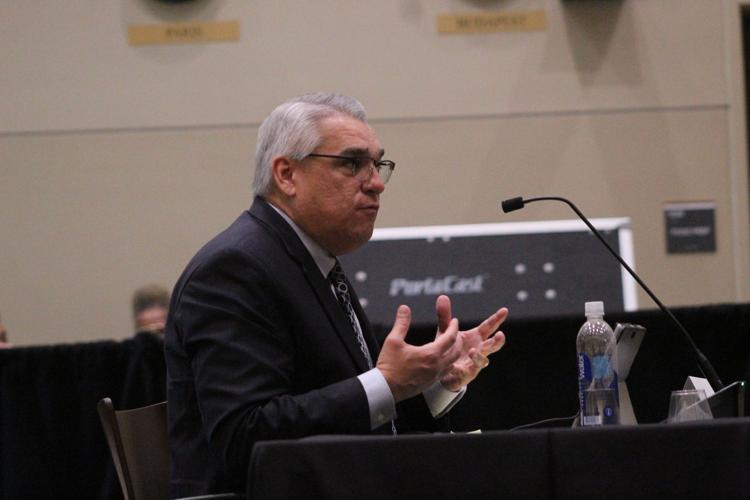 UCF Board of Trustees began the search for the university's next president on Wednesday with open forums for students and community members.
The forums took place on the main campus and the Lake Nona campus and gave members of the UCF community the opportunity to share their thoughts on the search.
The first forum took place at the College of Medicine, where attendees advocated for transparency and strong leadership in the next president.
Alberto Pimentel, managing partner at Storbeck/Pimentel and associates, the firm chosen to help the university in the presidential search, spoke at the forum to give his plans for the search. He has led and managed hundreds of search assignments for public and private universities.
Pimentel said he would rather present less candidates with high quality characteristics than a handful of candidates who come off as half-hearted. 
"The no-jerk rule is in effect," Pimentel said. "The idea was we're gonna find individuals who are brilliant, but we also need individuals who have a high [emotional intelligence]. We're gonna need individuals that people want to work with and work alongside and that is just as important as the other skills."
Pimentel said marketing is necessary because it is important to show potential candidates what the campus looks like and what it represents.
Students, faculty and staff were invited to ask questions regarding the upcoming search and tell Pimentel what the university needs in the next president.
"We're looking for someone that can help us bring stability," said Micah Marshall, a health information technology employee at the College of Medicine. "We're looking for someone who is coming in with the assumption that they're going to build that trust, that foundation, both internally and externally."
Members stressed putting trust back in the university after the misuse of funds back in February. Community members in the crowd said they don't want to be left in the dark and want to see communication increase about any incidents that might happen.
Some challenges the upcoming president will face include restoring trust in donors, rebuilding management and leadership at the university and developing UCF Downtown.
The second forum took place at the Lake Nona campus. Most of the attendees were from the College of Medicine and as a result, they wanted to make sure the UCF Lake Nona Medical Center is given proper attention and has all the components needed to build a cancer center and new hospital system for the College of Medicine that is in the works.
Attendees said the next president should be engaged in all campuses, experienced in academics and understand the faculty and the community.
Although there are no candidates yet, Pimentel told the audience to start thinking of candidates to nominate because the search firm is ready to start looking for those who are prepared to take on the role of president. The UCF community is invited to recommend candidates to the search firm.
"I need you to think outside the box a little bit as to who might be an excellent president here," Pimentel said. "The nomination process is very simple. Give me the names on the back of a cocktail napkin. That's fine. I'll take it."