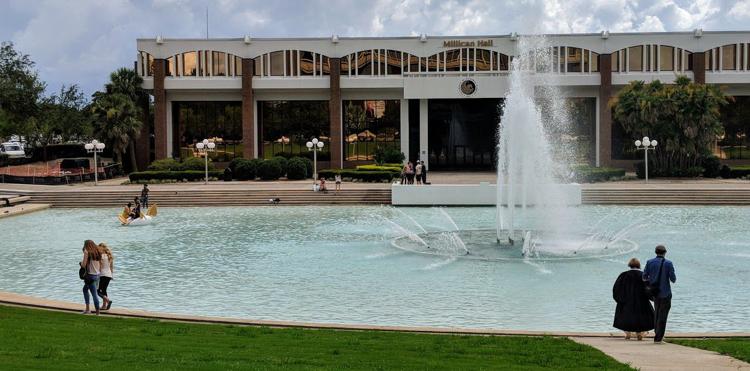 UCF will distribute millions of dollars in CARES Act emergency aid to students impacted by the COVID-19 pandemic according to a statement from Dr. Maribeth Ehasz, Vice President of Student Development and Enrollment Services.
18,514 UCF students met eligibility criteria in the first round of emergency aid and $16,715,854 will be distributed among them, Ehasz said. The maximum award levels are $950 for "Pell-eligible UCF students" and $900 for "non-Pell-eligible UCF students," according to the CARES Act disbursement information.
Congress enacted the CARES Act on March 27 to distribute $2.3 trillion in federal aid as a result of COVID-19; a $30.75 billion "Education Stabilization Fund" was set aside for institutions of higher education such as colleges and universities, according to H.R. 748-284.
A total of $51,071,250 of CARES Act funding was allotted to UCF, more than any other state university and the fourth-most awarded IHE in the nation, with a minimum of $25,535,625 to be awarded in emergency financial aid grants to UCF students, according to the U.S. Department of Education.
In late April, UCF announced that more than $25 million in aid from their share of the CARES Act would be distributed to "eligible students who need it most," according to a university bulletin.
"I know COVID-19 has presented many challenges for students on their paths to academic and career success," Ehasz said. "I am happy to share that starting today, UCF will take the next step in providing financial relief to eligible students who completed the application for the CARES Act."
All applicants will receive a message to their Knights email account to notify them of their qualification status, and those who don't receive aid may appeal when a second round of funding begins later this month, Ehasz said.
The second round of CARES Act funding, with no clear date and more information to come "in the weeks ahead," is meant for students who missed the first window or did not receive enough funding to cover expenses, Ehasz said.
"When possible, UCF worked to provide funding in the amount each applicant requested up to the maximum award available," Ehasz said. "Individual review of each application has been a time-consuming process, but we believe this is the best way to be equitable with the disbursement of these funds."
While some students will receive as much as $950, requests ranged from as low as nine dollars to as much as $30,000, and students who requested less than the maximum will receive the lesser amount, according to CARES Act disbursement information.
According to Ehasz's statement, further updates will be published to UCF's coronavirus website and sent to all applicants' Knights email accounts.