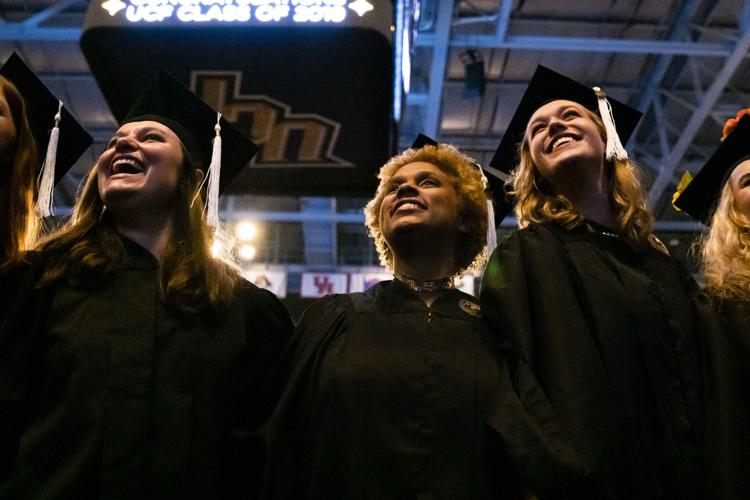 Commencement for summer 2020 graduates will take place virtually due to the COVID-19 pandemic, UCF announced Friday.
A statement from the university said the State University System of Florida has directed all state universities to transition all summer commencement ceremonies to a virtual platform for safety purposes.
In a news conference on Wednesday, the Florida Department of Health in Orange County said that there have been 123 new confirmed cases of the coronavirus resulting in a total of 730 positive cases in the past 14 days.
UCF said they will be working alongside Student Government to ensure the accomplishments of students are celebrated in a creative way on August 1.
UCF said that top Disney executive and UCF alumnus George Kalogridis will be delivering video remarks for the graduates.
"We understand that commencement ceremonies are a major milestone in the lives of our graduates and the loved ones who have supported them on their education journey," UCF said in the statement.
Cap and gown rentals will be available for students wanting to take photos; however, if they would like to cancel their order, Herff Jones will refund them entirely, UCF said. 
The university made an acknowledgment of the spring 2020 graduates in their statement and said that these virtual commencements are solely complementary at this time. UCF said they are continuing their commitment to rescheduling traditional spring and summer commencements at a later date.
In the spring, more than 8,600 students accepted their degrees virtually as former UCF football players Shaquem and Shaquill Griffin spoke at the ceremonies, which were live streamed on the university's YouTube page.
UCF said they do not have further information but will keep students up to date as soon as possible through their website.
For more information about reimbursements, visit UCF's website.