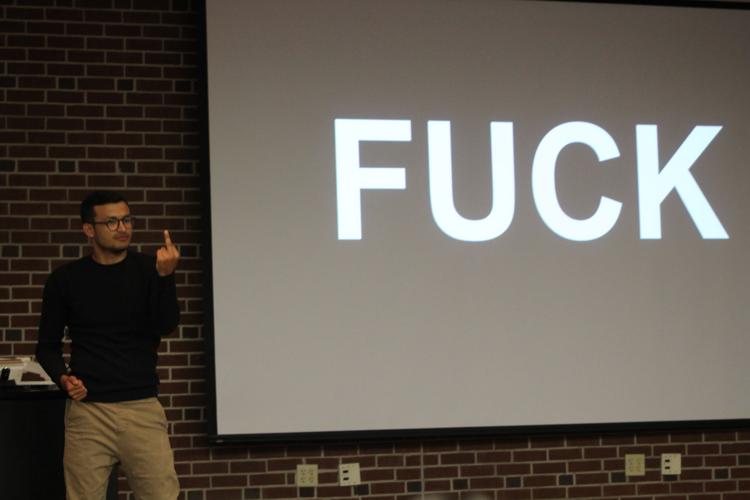 The UCF American Sign Language club hosted its sixth and final Dirty ASL event Friday night in the College of Sciences building.
The event featured Joshua Prado, a member of the deaf community and UCF alumnus, teaching those in attendance a plethora of dirty, sexual and curse words — all in ASL.
"It has a serious goal: education," Prado said. "This teaches people about sign language. These might be words that you're too scared to ask your teacher about, but curse words are a part of deaf culture."
Nicole Young, vice president of UCF ASL and senior experimental animation and emerging media management major, said March is Deaf Awareness Month. During the month of March, UCF ASL, a registered student organization on campus, hosts several events, such as a deaf panel where deaf people — and family members of deaf people — speak to crowds about their stories. It also hosts deaf chats, where members of the deaf community teach students sign language at different local restaurants.
"The deaf community is big on teaching hearing people how to sign and bridging that gap between the hearing world and the deaf world," said Jordan Sebbins, president of UCF ASL and junior computer science major.
Dirty ASL is by far their most attended event during deaf awareness month, Young said. This year, it drew a huge crowd in College of Sciences building, room 101, with over 100 students, members of the deaf community and others in attendance.
"People from Jacksonville came, from Miami, from Orlando," Sebbins said. "People come from all over Florida to see this."
People like Lindsey Bransfield, senior psychology major who is taking American Sign Language II, heard about the event through class and came to learn new ASL signs that she wouldn't learn from her professors.
"I'm in an ASL class on campus," Bransfield said. "I wanted to be here tonight to expand my ASL vocabulary."
Prado said he has been hosting the event since 2014. Even after he graduated in 2016, he would come back to campus every year to host the event. But at the end of this year's Dirty ASL, Prado announced that this would be the last time he was hosting the event since he was moving from Orlando.
Prado has always been a hit during Dirty ASL, Young said. His expressions, commentary during the night and the way he interacts with the audience gets the crowd involved, she added.
"He's so expressive and has no filter," she said. "Since you can't hear tone, you have to show tone. The more emphasis you want, the more expressive you sign a word. And he's very expressive."
Sebbins said that the deaf community is very tight-knit and loves to teach those that can hear. Groups of deaf people — deaf families, Sebbins said — will assign names to each other, called sign names. Sebbins describes these as "nicknames, but way more serious." These names are generally based off of one's first name and a part of that person's personality, he added.
Young said that after Prado moves away, it will be unlikely that UCF ASL will have another Dirty ASL.
Even though this was his last year putting on Dirty ASL, Prado said that events like this that continue to interest and educate people are imperative for bridging that gap between the hearing world and the deaf world.
"Did you learn something today?" Prado asked the audience. "If you did, then this was all worth it."