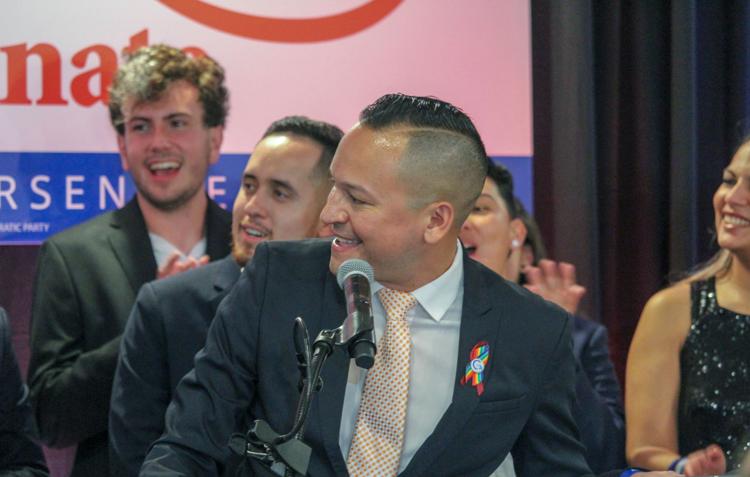 UCF alumnus Carlos Guillermo Smith became state representative of District 49 for the third time since 2016.
Smith previously won District 49 by a 40% margin against candidate Shea Silverman in 2016 and again in 2018 against Republican candidate Ben Griffin, according to Ballotpedia. District 49 represents 159,609 individuals within the northeastern Orange County area, including UCF's main campus. 
Smith, the first openly gay representative in the Statehouse district, spent his day at the Live Oak Event Center in precinct 538 and saw over 100% voter turnout on Election Day.
"We had unimaginable turnout at UCF," Smith said. "It speaks volumes about the incredible work UCF College Democrats have done for the results in east Orlando and I thank them." 
UCF College Democrats president Hannah Anton said she is honored to have a representative like Smith to represent them in Tallahassee and have action accomplished. 
"He is such a fierce advocate for so many communities, specifically the LGBTQ+ community. He's a huge advocate for students, as we've seen through the COVID pandemic and even beyond," Anton said. "It was a great honor to be able to help him in his campaign and we are excited to send him back to Tallahassee."
Smith earned the endorsement of the United Faculty of Florida which represents faculty and professors across the state and introduced a new legislation extending Bright Futures and state-based scholarships for Dreamers and TPS students. Smith said his primary focus is continuing to help struggling Floridians who have been impacted by the coronavirus.
"Our first priority has to be to help those impacted by this one in a lifetime pandemic," he said. "Hundreds of thousands of people have been affected and we need to help them."  
Results show Smith won the election by a 24% margin against opponent Robert Prater.
Republican candidate Robert Prater is a dean and public school teacher in Orange County. Prater said it's going to be a challenge for the school board to actually go back but the stories of students who are learning online were amazing to hear.
"I would like to thank everybody that came out over this 14-month journey. We met so many families," Prater said. "Thank you to the families that I have connected with."
For now, Smith said he plans on serving the state of Florida for as long as he can. 
"The voters in east Orlando spoke very clearly, they want someone whose going to stand for fairness and equality," Smith said. "And I'm honored that they have once again re-elected me."