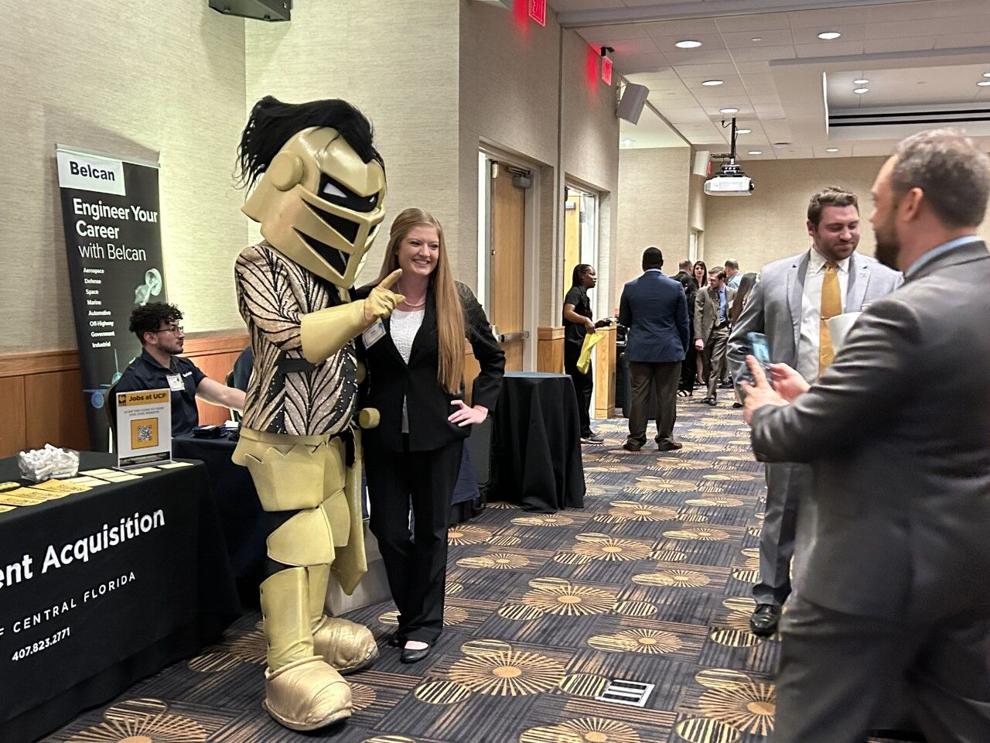 UCF alumni across the nation met in multiple cities for the second annual National Networking Knight Thursday evening. 
The main event was hosted in the Fairwinds Alumni Center on campus while duplicate events occurred simultaneously across the nation for UCF alumni to connect and network professionally, according to the UCF Alumni website.
The event took place in 10 other locations throughout the country, including states such as North Carolina, Illinois, Georgia, New York and Washington D.C., according to the UCF Alumni website. Locations throughout Florida included Orlando, Oakland Park, Tavares, Jacksonville, Melbourne and Tampa. Previously, the event was held in only seven locations total, a UCF Alumni Association representative said.
Kristen Koniecko, the director of alumni engagement for UCF, helped lead the event and said it began as a way to meet the requests of the alumni community. 
"We've heard a lot from our alumni that they want to network and have connections with one another," Koniecko said. "And so this is one of the events that really came from a lot of focus groups and conversations. And the National Networking Knight is basically one night out of the year where alumni in Central Florida, around the country and the state all get together to amplify the UCF alumni network."
Mike Bosley is the National Networking Knight co-chair for the Greater Orlando community. He highlighted the significance of the event having multiple locations for UCF alumni across the United States and in Florida. 
"The important thing about this event is that we're doing this at all of our chapters all across the country," Bosley said. "So, if you see the little sign over there, every one of those dots is having an event at the same time tonight."
Bosley said part of the creation of the event the year prior came from wanting to support and connect the UCF community.
"I think last year, we felt that there was a unique opportunity to bring UCF alumni together to support each other," Bosley said. "You know, so many things have changed since COVID, especially on how people find jobs, how people connect with other people, how people mentor people. So this was a unique opportunity — something we could give back and build internally basically for all graduates."
Koniecko said while the event is only in its second year, it's continuing to grow.
"So, we have over 430 registrants just for the central location," Koniecko said. "And with those 10 other locations, we're over 1,000 alumni who are participating tonight ... We're really excited about it."
The event offered free professional headshots, university recruitment opportunities and even an alumni entrepreneur panel presentation. A color-coded name tag networking system allowed attendees to indicate with a sticker whether they were hiring, open to work, looking to connect or willing to mentor. 
Jessica Fleisher is a UCF alumna who graduated in 2020 and said she attended the event because she's looking to switch her career to digital marketing. 
"I'm looking to see if I can meet people in that industry and see what they would recommend," Fleisher said.
Francine Cruzatt is another UCF alumna who graduated in 2021 and said her desire to connect with others brought her to the event. 
"I found this event on the alumni page, and I really wanted to connect with more Orlando natives that are all professionals, so that brought me out," Cruzatt said. 
Anne Wilsen is a UCF alumna and a member at large of the Greater Orlando UCF Knights alumni association. She said she thinks it's great that UCF offers the event to the Greater Orlando area as well as other locations.
"So alumni, whether they just graduated or they're in one of the first graduating classes, we have a space to meet," Wilsen said. "And it seemed like a great turnout. And you know, it's really exciting to see so many people networking."
Cruzatt said the event was also a good way to reconnect with peers and her love of the university. 
"I love UCF — very big UCF advocate for all people who want to go here," Cruzatt said. "It's great to connect with alumni and especially everybody who recently graduated."
As the night continued, Koniecko said she believed UCF Alumni and the Greater Orlando volunteers had pulled off something great with the event they plan to continue next year. 
"I think that we're really happy with the turnout, and everybody's out here networking, and we see a lot of business cards being passed around and resumes actually switching hands, which is wonderful and exactly what we wanted to see," Koniecko said.