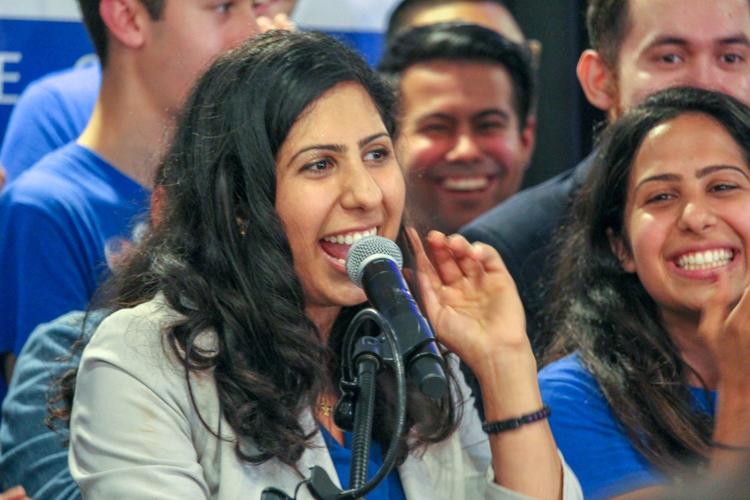 Democratic Florida State Rep. Anna Eskamani, District 47, was re-elected for her second term on Tuesday night, according to election officials.
The incumbent won 59% of the votes, defeating Republican challenger Jeremy Sisson, who came in at 41%, with 45 of 47 precincts reporting.
"I don't know what the future holds, but leadership rises in moments of uncertainty, and I'm proud to be your happy warrior, to always put the hammer down, and to build bridges where we can while never being afraid to hold ourselves and others accountable," Eskamani said in an email sent out after her re-election. 
Eskamani is the first Iranian-American to serve in the Florida House. She was first elected in 2018 as part of the "Big Blue Wave" of Democrats winning office after the 2016 Republican presidential win. 
She is a UCF graduate and a Ph.D. student of public affairs at UCF Downton campus, where she serves as an adjunct professor.
Eskamani runs on a platform for women's issues and is an LGBTQ+ advocate. In 2019, she was instrumental, along with Rep. Carlos G. Smith, in reacquiring funds for the slashed arts and cultural programs of Orlando. As a result, the state proposed a $21 million budget for the arts in 2020, an eightfold increase from its original $3 million. 
In 2020 alone, she sponsored 17 bills herself and co-sponsored more than 100. 
After Tuesday night's results, with many other local Democratic candidates losing their run to Republicans, Eskamani publicly expressed disappointment with the Democratic party and attributed the losses to the party needing to recommit to its purpose. 
"I'm saying it now," Eskamani shared on Facebook after her win. "We need a whole new direction for the Florida Democratic party. We are losing too many incredible down ballot elected officials and candidates right now and it's not okay."
Her twin sister, partner and political activist, Ida Eskamani, shared her feelings as well about her sister's win and restated their intentions. 
"Our community is so bold, kind, compassionate, creative, relentless, resilient, fearless," Ida Eskamani said. "An army of happy warriors, and we ain't going anywhere." 
The Representative's District 47 includes areas of Orlando, Winter Park, Edgewood and Belle Isle.