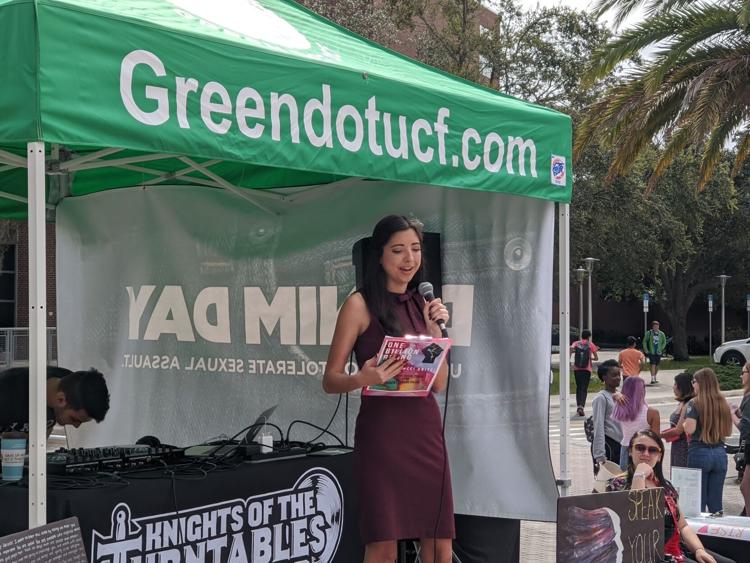 UCF alumna and sexual assault survivor Emily Rodrigues said she disagrees with the Title IX regulation changes made on Aug. 14 because they put victims in a tough position.
Rodrigues, 22, a 2020 graduate, said she underwent the Title IX process at UCF in 2018-2019.
"When I first heard about the changes, my response was that these people are trying to make this process even harder," Rodrigues said. 
Title IX coordinator Matt Ricke said the changes mainly have to do with geographic location of the incident as well as misconduct proceeding procedures.
"The sexual misconduct has to have occurred on-campus," Ricke said. "And the complainant, or person affected, and respondent, or person accused, both must be a part of UCF."
Ricke said it is different than how sexual misconduct has been addressed before because there was no geographical limitation.
"Previously, the sexual misconduct could have occurred anywhere in the world and we could address it," Ricke said.
Rodrigues said this change brings more consequences to a school like UCF because most students live off-campus.
"I honestly do not understand," Rodrigues said. "If you have a student who supposedly did something off-campus, you would think that they would still want to investigate it."
Ricke said the other change is the way in which UCF must incorporate certain procedures into its sexual misconduct proceedings.
"Once a respondent is accused, we begin an investigation and the respondent is sent through a conduct process, part of which is a misconduct proceeding," Ricke said.
At the proceedings, Ricke said the new rule requires that both parties have an advisor.
"In the past, having an advisor was just an option," Ricke said. "They are now required because the advisor directly cross-examines the witnesses of the other party."
Director of Victim Services at UCF Christine Mouton said the new Title IX regulations are anti-victim because of the allowance of cross-examination.
Cross-examination is the examination of a witness who has already testified in order to check or discredit the witness's testimony, knowledge, or credibility, according to the Merriam-Webster Dictionary.
"The allowing of cross-examination is going to be a deterrent to victims who already struggle to engage in that process in the first place," Mouton said.
Mouton said another problem is that, in most cases, the respondent will have an attorney and character witnesses, while the victim will not.
"How many victims are going to participate in that?" Mouton said. "Honestly."
Rodrigues said her rapist had an attorney at the hearing, which was very intimidating.
"Fortunately for me, the student's advisor could not play any role in the case," Rodrigues said. "They were just there for support."
Rodrigues said that in the past, the defendant could write down a question, present it to the hearing panel and they would determine if the question could be asked.
"Through this new way, the lawyer can directly send in questions to ask," Rodrigues said. "And I feel like it is not fair to put them against the victim." 
Rodrigues said if that is the case, then the victim should also have a lawyer.
"For me, there was no way I could have afforded to hire a lawyer for that," Rodrigues said. "My parents weren't even actually aware of the hearing."
Rodrigues said the allowing of cross-examination could be a deterrent for other victims wanting to report cases of sexual assault but they should be made aware because it is not always easy to understand how the Title IX process works.
"When I found out for my hearing that my rapist could ask me questions, even though not directly, it was scary to me," Rodrigues said. "So I would hope that they would emphasize that and go over that part of the process."
Rodrigues said she has spoken to the Title IX coordinator since the changes were made, who reassured her UCF is going to do their best to try to make the process as similar for the victims as it was before.
Ricke said that all cases of sexual misconduct that are reported, regardless if they fall under the Title IX policy or not, will be treated fairly and impartially.
"Both the complainant and respondent will be given resources and can choose whether to meet with an investigator to talk about their case or not," Ricke said. "None of that has changed."
Rodrigues said she will always be grateful for how UCF handled her case.
"Everyone I worked with at UCF was great," Rodrigues said. "They really cared a lot about these types of issues."
Rodrigues said that she did not think about how much the Title IX team cared until she was outside of the process.
"When you are in it, you think people are not on your side," Rodrigues said. "But now I see that all of the people I know who would pursue a career that comes with such a big toll are really passionate about it."