While the fall of 2020 saw the highest number of students ever enrolled at UCF, the fall of 2021 saw the school's steepest decline in enrollment since its inception.
For the spring of 2022 semester, school administrators said they will continue to follow a "conservative growth plan," implemented last year, which may cause numbers to rise slightly or remain steady.
"Can we accommodate the growth? How are we going to accommodate the growth so that we don't have a lack of quality with respect to student experience? It's really important to have healthy enrollment, but it's also important that the student experience is just as strong," said Gordon Chavis, associate vice president of Enrollment Services at UCF.
University administrators nationwide expected a decline in enrollment in 2020, according to a Clearinghouse study. However, the opposite happened at UCF. Florida is one of 12 states that actually saw an increase in enrollment for the fall of 2020.
School administrators, however, said the school's growth spurt in 2020 was a mistake and that dialing back enrollment numbers last year was a deliberate move. This is what they said caused UCF, the largest university in Florida and one of the largest in the nation, to experience its first student enrollment decline since 2013.
UCF Board of Trustees and Enrollment Services members redirected the school's enrollment strategy. UCF is now under a plan for balance called the "conservative growth model" to lower the student-faculty ratio and prevent a lack of quality in student learning and collegiate experience, Chavis said. 
The model, Chavis said, was created in 2018 to ensure the school would decrease its average annual growth rate from 3% to 1% overall. It was instated to mitigate UCF's growth after a 3.8% spurt that year.
"That really is not sustainable, and we decided to take a much more conservative approach toward enrollment growth," Chavis said.
The changes did not have immediate results, however. According to data from Institutional Knowledge Management, between the fall of 2018 and 2021, UCF experienced growth of 3.8% in 2018 with 2,378 new students, 1.4 % in 2019 with 965 students, 3.8% in 2020 with 2,390 students and a plummeting -1.7% in 2021 with a loss of 1,183 students.
In November of 2020, Chavis told NSM Today that the spike in numbers for the fall of 2020 was due to UCF accepting an influx of newly-enrolled local students. At the time, Chavis said, the school's administration was trying to be mindful of local students who were no longer leaving Orlando for school due to COVID-19, making room for them at UCF.
He also said the growth of local students was relevant only to newly enrolled freshmen, not overall growth. 
"When people are asking me about enrollment, I'm talking about new freshman because we have more data and information on that group of students than any other," Chavis said. "The statement that I was making references new freshman so that statement would not represent the total 3.8% growth in fall 2020."
Yet enrollment data shows local student numbers didn't shift any more than past years for local freshmen.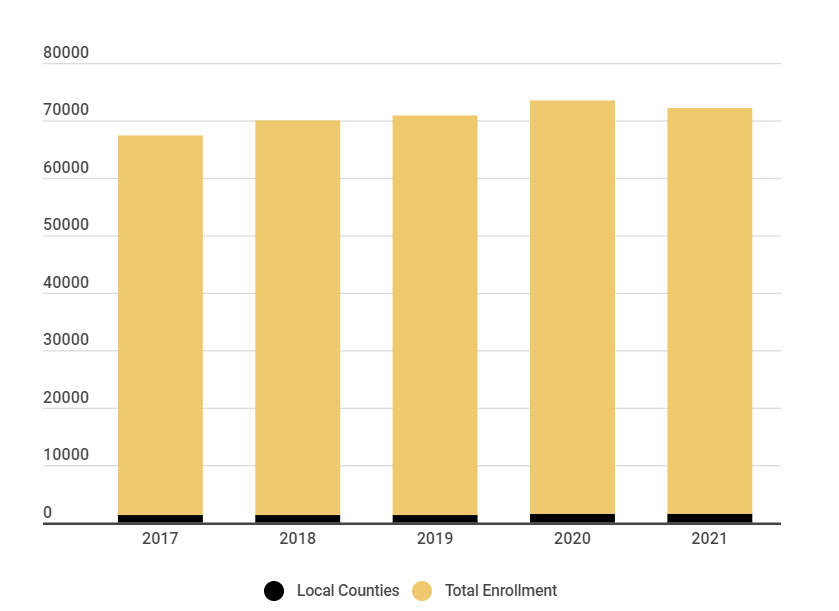 Now, Chavis said the reason for the large enrollment numbers in the fall of 2020 at UCF was rather due to enrollment retention, graduate student growth, transfer students, incorrect estimations and concerns of revenue.
"Revenue is always a factor for public institutions because tuition revenue makes up 30% of the budget for the university," Chavis said. 
A State Higher Education Executive Officers Association study from 2017 shows public colleges and universities gained almost half their revenue from tuition and enrollment, about 46%. According to a chart from a UCF Budget Informational meeting in 2020, about 45% of UCF's outside revenue came from student tuition and fees.
Revenue is just one factor of the school's complicated budget model, Chavis said. Unlike private schools, which mostly generate revenue based on tuition, public universities like UCF have to generate revenue from different sources, such as tuition, research, money from the state and other supplemental revenue. 
On Nov. 23, Gerald Hector, UCF's senior vice president for Administration and Finance, told NSM Today UCF initially focused on increasing student enrollment, which increased tuition payments, but eventually concluded it was not sustainable, as it brings with it other logistical problems like student-teacher ratio complaints, given their resources and despite their achievements. Therefore, administrators are looking to expand their revenue in other places and instead grow more steadily. 
"It is very rare that you go to see an institution grow the way UCF has done over the last five to 10 years. The issue that comes up is how do you sustain that growth if you kept growing exponentially," Hector said. "If you have more students that means you need more professors, you need more space, you need all these other things, but the investments that were necessary for the financial platforms — the IT, the facilities — those investments don't follow that growth in a linear manner."
As shown, despite the conservative growth model, UCF still grew another 3.8% in the fall of 2020. In response to the growth of that semester, UCF cut its enrollment for fall 2021 by -1.7% to keep in line with the model, Chavis said.
As the university continues to follow their strategic enrollment goals, the spring of 2022 enrollment numbers might see a modest increase. UCF's stated goal is to keep it at a steady 2% growth every year. 
Students have complained about the high enrollment numbers, saying it limits parking, Wi-Fi connectivity and access to other resources, such as instructors and study aid. Junior finance major Hunter Wamsley said the large student population has made it difficult for her to build relationships with professors. 
Wamsley said she has no connections with them and mostly interacts with teaching assistants who she said try and fail to fill her professors' shoes. 
"I feel like I've been teaching myself a lot of the content," Wamsley said. "It's not really what I was expecting. My friends did warn me and told me that a lot of the material I would be teaching myself; I didn't realize that it would be so much."
Despite the large enrollment increases, Chavis said the school is still on track for it's 1% growth plan. Chavis said from 2018 to 2021, UCF grew 1.1% overall with 68,558 students enrolled in 2018 and 70,730 enrolled in 2021, keeping in line with its growth model.
Through UCF's conservative growth model there will be less of a focus on growth via more new undergraduate students, and there'll be more of a focus on growth through "increased retention," Chavis said. 
UCF Communications Coordinator Anthony Moore, said the UCF freshman retention rate, which represents the number of students who will continue at UCF for their second year, is about 92%.
"As we look at enrollment growth, our first priority is to grow by increasing our retention rate and keeping more of our current students enrolled, so they can earn their degrees," Moore said.
UCF President Alexander Cartwright established a working group last fall to make recommendations on the school's growth strategy. The group includes voices from UCF students, faculty, local community members, stakeholders and alumni. 
Amid the efforts, students like junior finance major Nicole Whittaker wonder if they did the right thing by transferring from a smaller community college to a large institution like UCF. 
Whittaker, a former Valencia College student, said she would just go back to Valencia if she felt she had the choice.
"The resources are there, but the teachers are pretty much just there to assign due dates," Whittaker said. "At Valencia, I was learning more, but unfortunately, I know if I got a degree from there, it wouldn't look as nice as if I got one from UCF."
UCF spring of 2022 semester enrollment numbers are not yet in IKM or posted to the website, as Mark Schlueb, the UCF director of Strategic Communications, said in an email they are not yet finalized. 
"Many students enroll this week and even the first week of classes," Schlueb said. 
He said students can look out for the new numbers when they eventually post to the IKM enrollment dashboard.