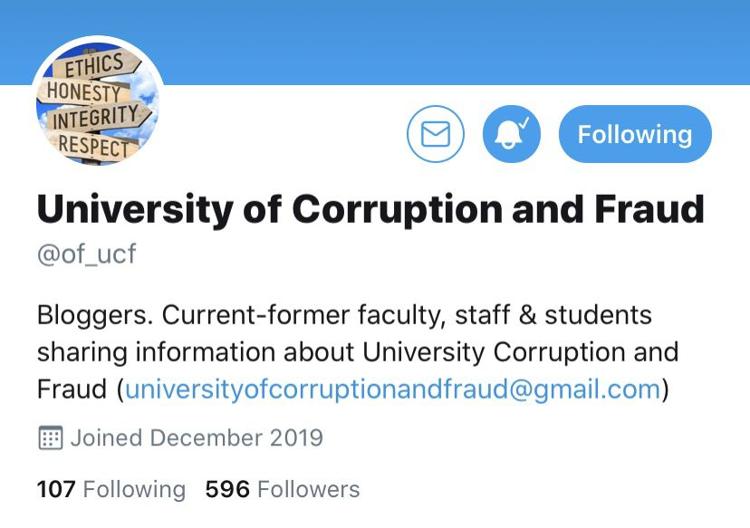 UCF acknowledged an anonymous Twitter account titled "University of Corruption and Fraud" in a statement on Friday.
"It is unfortunate and disturbing that anyone can launch anonymous attacks at our employees and their families with little regard for the truth," the university said in the email statement. "While we take every concern seriously, this is cyberbullying."
The statement follows numerous tweets made by the account that have targeted various employees of the university since the account, which uses the username @of_ucf, was created in December.
On January 7, the Twitter account requested the resignation of former provost Elizabeth Dooley.
I am calling on the resignation or removal of @UCF Provost Elizabeth Dooley @UCFProvost. Resign and save @UCF more public scrutiny and embarrassment. Details of another major #UCF scandal will be tweeted on Thursday at 2PM.

— University of Corruption and Fraud (@of_ucf) January 8, 2020
In an email statement posted to the university's website on January 10, Interim President Thad Seymour Jr. announced he was placing Dooley on paid administrative leave.
"[Dooley] agreed this decision allows her to temporarily step away while we work to fully understand concerns that have been raised, and I appreciate her commitment to cooperate," Seymour said in the announcement.
However, the university has not confirmed if Dooley being placed on leave is a result of the tweets from the University of Corruption and Fraud account.
The Twitter account has since called on the resignation of Maribeth Ehasz, the vice president of Student Development and Enrollment Services, and Kent Butler, the interim vice president of the Office of Diversity and Inclusion, but the university has yet to act on these requests.
The university declined to share whether or not they know the identity of the person running the Twitter account.