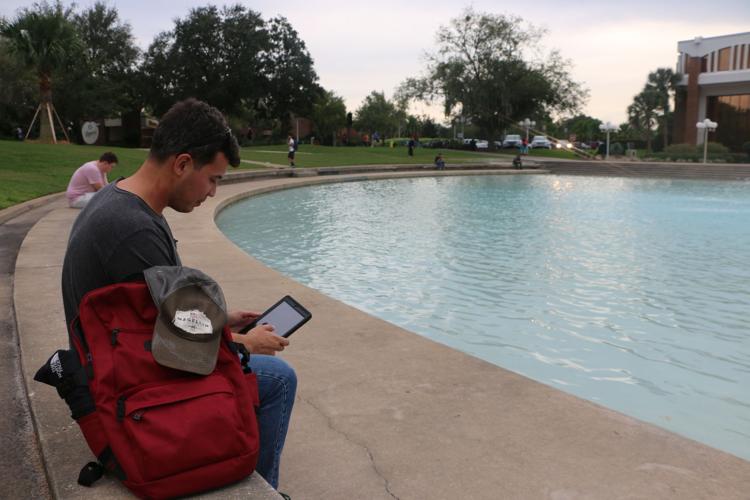 Every semester, the Failure Competition gives students the opportunity to share past failures in their lives and the lessons they learned from them.
In 2013, College of Business Dean Paul Jarley began the competition to encourage students to accept and grow from their mistakes. To enter, students were instructed to submit their failure stories online to the dean's blog, where a committee of faculty and staff members chose the top three finalists.
For the first time, students were given the opportunity to listen to the finalists share their stories on the dean's podcast and vote for their favorite.
Senior accounting major Kevin Velazquez won first place in the Failure Competition this semester. For his submission, he shared the challenges of inspecting and recovering aircraft while in the military.  
"I was young, 22-years-old as a kid and I felt like I was the underdog because I had no experience and was new to the team," Velazquez said. "I was willing to take the challenge to see if I could do as well as my team, but clearly you need a lot of experience. So, I learned from that."
Directly after high school, Velazquez enlisted in the military and earned a promotion as a non-commissioned officer in 2013. Stationed in Fort Hood, Texas, he got transferred as a helicopter inspector and volunteered to recover aircraft in a port despite lacking the experience of his peers.
After spending three days unloading aircraft, Velazquez called his senior for assistance to complete the task. Velazquez said he did not want to risk signing off aircraft that were not properly inspected and was praised for his decision.
"I still felt like I could've done more, but at least I was not discouraged from stepping up again," Velazquez said. "I think he was trying to make a point that it's alright [I] didn't make it, but don't discourage yourself from trying again." 
Over 50 entries were submitted to the Failure Competition this semester. Associate lecturer for the College of Business Christopher Leo said celebrating failure is a way to let students know it is okay to take risks and miss the mark.
"By sharing their unique experiences with the university, we're creating an environment that encourages risk taking and having students step out of their comfort zones," Leo said.
Velazquez said he was more nervous during his interview for the dean's podcast than he was taking the actual challenge he faced while in the military.
"That's something that people should think about. Don't worry if you're still nervous," Velazquez said. "It's another challenge, just make it through."
Josh Miranda, communications and marketing coordinator for the College of Business, produces Dean Jarley's podcast. He records, edits and distributes episodes on the website.
"This is the first time we used the podcast medium for competitors to share their failure stories," Miranda said. "We thought it would be a great way for students and for our partners of the college to be able to listen to those failures and take something away from it."
This semester, the winner of the Failure Competition received a letter of recommendation from Dean Jarley and a $500 prize through the "Dean's Excellence Fund," a College of Business fund distributed through myUCF. Second and third place earned $300 and $200, respectively. 
"At the College of Business, we're huge believers of failure," Miranda said. "The dean is of the mindset that you learn a lot more from your failures than your successes, and it's really about how you come back from failure that defines your growth."
Sam Kotenko, senior marketing major, earned second place in the Failure Competition after participating in a film festival. Fairly new to animation, Kotenko overcame disappointment when his film was not featured.
"I've taken the lessons of needing to work with people and getting myself out there to understand others' perspective and work better in teams," Kotenko said. "I've tried to improve my work generally and make things go my way by being really good at something and trying harder than everyone else."
Following graduation, Velazquez plans to work for the Senate to make changes in the United States Department of Energy. His interest in politics stemmed from his time volunteering in the military.
"When you give back and see that it's actually helping somebody and makes that person being helped pass it on, I think it creates a chain effect that would eventually reach the majority of people," Velazquez said.