It's been a little over a year since flames sent a UCF-area apartment building crumbling down, but questions surrounding details of the incident still linger in the minds of students.
The afternoon of July 12, 2015 was quiet, hot and ordinary by Sunday standards. 
That is until smoke filled the air and, one by one, residents began to exit their apartments wondering what kept some people staring up at the sky. A fire had consumed the top floor of a building at Tivoli Apartments, a university-unaffiliated complex on McCulloch Road directly behind campus.
"When I first saw the smoke at the beginning of the fire, I thought to myself, 'That sucks for that unit,'" said Jamie, a student affected by the tragedy.
She has asked to be quoted on a first-name basis as a nod to her privacy.
"Once it had spread to my end of the building is when I finally realized, 'Wait, this isn't going to be good.'"
Jamie lost her room that day. Her safe haven, the place where she slept, studied and lived was no longer safely accessible because of water damage from hoses. 
What caused it?
The flames moved quickly, enveloping adjoining buildings numbers five and six.
Ed Pando is a battalion chief with Seminole County - the jurisdiction responsible for responding to the call due to Tivoli's proximity to nearby Oviedo.
Pando said some residents dismissed the first fire alarm as a mechanical fault. He said it soon became clear that more help was needed.
"As soon as the first guy got on the scene, he called what is known as the second alarm, which brings in more chiefs more, fire trucks. I think it went to a three," he said.
Speculation as to what ignited the flames spread almost as quickly as the fire itself.
Popular on campus were rumors of leftover Fourth of July fireworks and a beer keg left unattended on a balcony. 
"I heard fireworks before the fire started, and I live right next to where it started," said Grant McGurn, senior English literature major who lives one building over.
Jamie is aware of the fireworks story, but quickly dismisses it as folklore.
"It was the middle of the day, and no one was home in the unit that caught fire. So, that seems unlikely to me." 
Chief Pando places the estimated loss at $2.5 million, which hands investigation over to the State Fire Marshal.
"We have requested a copy of the report, and we have not received a copy as of yet," he told NSM.Today 
NSM.Today obtained the case master report from the State Fire Marshal's office. The conclusion is as follows: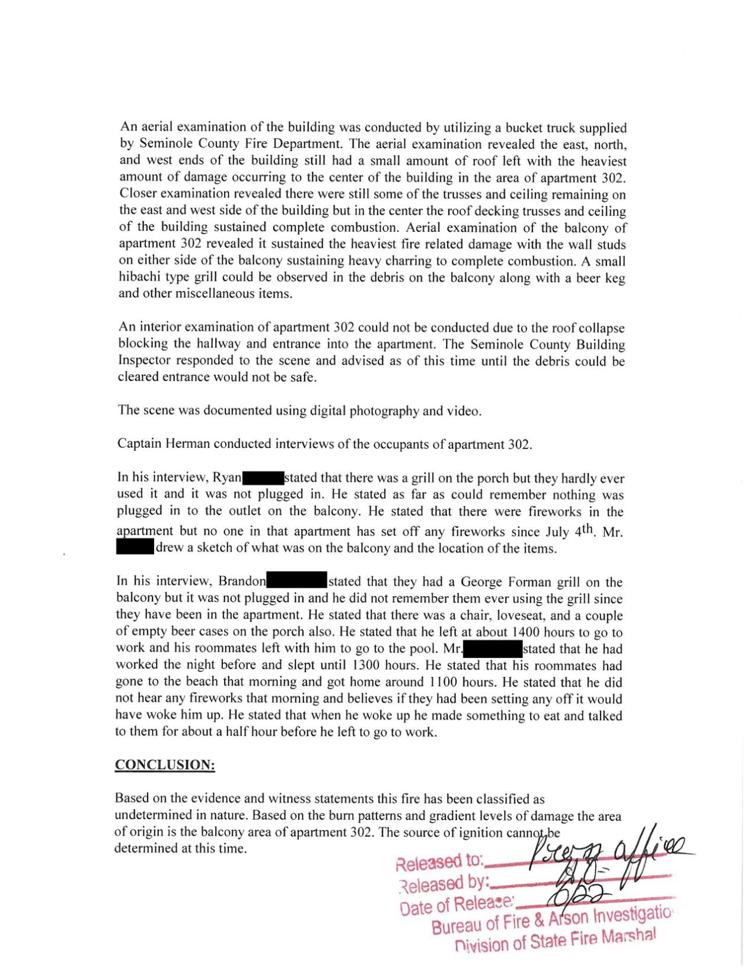 Based on the evidence and witness statements this fire has been classified as undetermined in nature. Based on the burn patterns and gradient levels of damage, the area of origin is the balcony of apartment 302. No evidence was obtained that indicated the three roommates or any other individuals had any involvement with starting the fire. It is hypothesized that a fire originated on the balcony from an unknown source and allowed to burn unmolested until the fire was able to reach up and into the attic space through the eaves. Once in the attic area, the fire destroyed the wood framing, trusses, shingles and other available fuel load to complete and varying degrees of combustion. The source of ignition cannot be determined at this time. No injuries or fatalities occurred to any civilians or emergency responders.
Page 15 of the report includes interviews with the residents of the unit of origin and adds that "an interior examination of apartment 302 could not be conducted due to the roof collapse blocking the hallway and entrance into the apartment."
A beer keg and fireworks were indeed found in the apartment, located in building six, along with a "hibachi type grill," though the document names them only as "miscellaneous items" not responsible for the fire.
Pando cites the wind as a contributing factor. He also blamed a lack of sprinklers.
"That building was built prior to the codes changing that required a sprinkler system, 'cause it now requires them," he said.
What now?
A more immediate concern for some residents – many of them students – was where to lay their head that night. Students are familiar with being broke, but some were depressed at the reality that they were now homeless too. 
Jamie found comfort in her friends.
"That week I remember going back to my sorority sisters' room where I was staying and writing out everything that I could think of that I needed. That's when I realized that it was going to be a lot tougher than I thought," she said.
The small things seemed to make the biggest difference.
A toothbrush in an emergency bag from the Red Cross made an impact. Jamie remembers talk of apartments at Lake Claire being made available for $50 a night and of Apartment Hunters being brought in by Tivoli to help the students find new housing. Jamie decided to stay with her friends while she waited for her lease at a different place to kick in.
Anna Reasoner, director of marketing for Emmer Group - the parent company of the Tivoli complexes in Gainesville and Orlando – talked to NSM.Today via email.
"Tragedy often brings out the best in people, and this situation proved to be one of those times," she said.
She praised the commitment of many local organizations and chapters in responding to the unexpected.
"Numerous local authorities arrived immediately such as the Red Cross, UCF representatives, local churches and other organizations. Many area residents donated food, clothing, electronics and various household necessities," Reasoner said.
UCF's response
A day after the tragedy, the Central Florida Future reported that the Red Cross, UCF Victim Services and the UCF Office of Emergency Management teamed up to alleviate the burden on the newly displaced students. 
Despite the general narrative, questions arose of whether the university had done all it could to help and even prevent an event such as this one. 
"The job of the office has always been to provide information, resources and assistance to students, parents faculty and staff who would be looking for off-campus accommodation," said A.J. Range, assistant vice president of Neighborhood Relations and Safety Education, an office of Student Development and Enrollment Services at UCF.
While the office is not that well known, he maintains that it is the student's responsibility to be aware of it.
"It's a bad time to ask about insurance when your house is burning down," Rice said.
Rice, who visited the site along with UCF Police and a cadre of staff and volunteers, emphasized that the vetting process for university-promoted off-campus housing consists of "creating and building a relationship with management and security people on site. We build a rapport and an atmosphere of trust."
He praised Tivoli for its response to the situation.
According to Rice, his office was directly involved in ensuring that students got their security deposits back and Wal-Mart gift cards. 
They also worked with housing to ensure provisional lodging.
"First of all, it was a good gesture on the part of Housing and Residence Life. They didn't have to do that. It was a courtesy that Housing and our office felt was the right thing to do. There was no requirement for us to extend that service," he said.
Rice, who went through a fire himself at one point in his life, acknowledged that emotional distress was a possibility for students.
He kept that a week was enough time to "transition," and that students were, and still are, welcome to contact the office with any concerns for assistance.
The aftermath
Tivoli began construction on a renovated building on the "ground zero" lot last year. Leasing is already underway, and the building is expected to be open for move-in in September. 
"It's good they're rebuilding it," McGurn said. 
Rice also sees the building as a positive.
"What's wrong with that? We want and need affordable housing," he said.
The groundbreaking struck a different chord in those who once lived on the same land. 
"When I first heard about it, I was so upset," Jamie said. "Because it's basically Tivoli moving on from the whole incident, and I definitely haven't because that's going to be something that shaped my college career."
Jamie said she understands the complex's need for another structure but added that she can't shake a sense of eeriness while driving past the location. 
"My mom and I stopped by and walked up to the building about three weeks after, and the fire alarm system that they couldn't disarm was still chiming. And, that was just the worst sound you could possibly hear while staring at this disintegrated building," she said. 
For Tivoli, the concern is as much symbolic as it is financial. 
"Rebuilding our community to ensure our residents that they will always have a home to come back to, where they are happy and feel like a community, is a moral imperative for us," Reasoner said.
Reasoner said that Tivoli did not recuperate the building's full value through insurance.
"Legal and financial concerns were not in the forefront of anyone's mind. Buildings can be replaced, lives cannot," she said.
UCF Housing did not wish to comment. 
Story originally published on August 2, 2016.