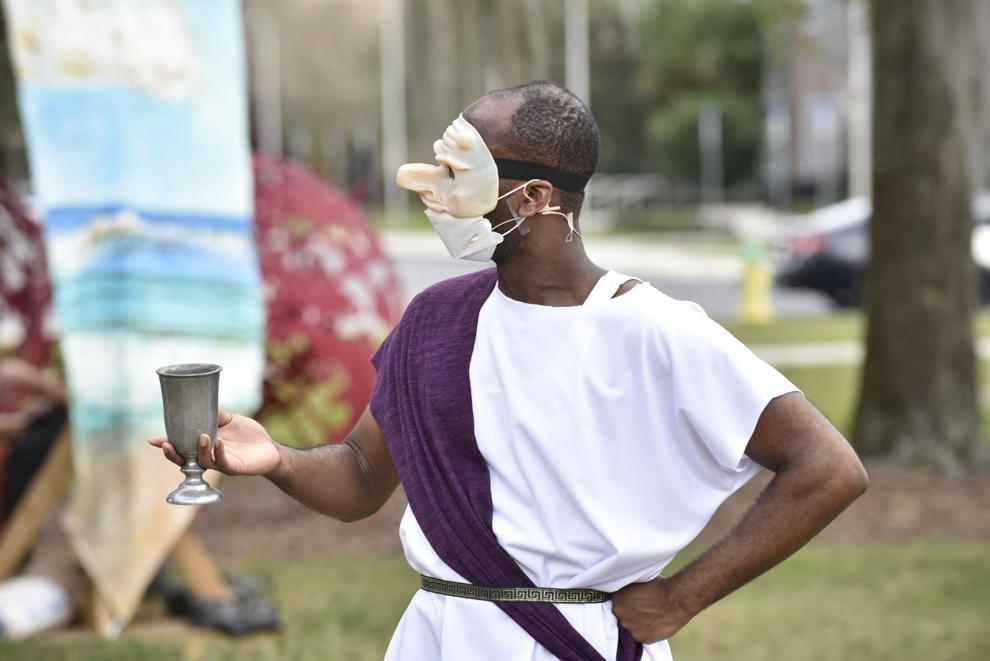 Theatre UCF took center stage in a new way on Saturday, Feb. 20 with "Scaramouch in Naxos" for its first on-campus production since the coronavirus pandemic hit.
Sandwiched in a grassy area between the Theatre and Music buildings, the UCF Performing Arts Center courtyard was decorated with simple scenery – a multicolor pennant banner and a series of pentagonal flag backdrops depicting forest trees. An assortment of indoor seats, some arranged in two- or four-seat pods and others single, were spaced apart to safely seat audience members.Finally, actors dressed in white tunics burst into view in boisterous song, while an ensemble of musicians playing medieval-like music accompanied their revelry.     
"Scaramouch in Naxos," written by Scottish playwright John Davidson, is a Commedia dell'arte-style play. The show's plot follows the scheme of a clown named Scaramouch to have Bacchus, the Roman god of wine and fertility, star in his theater show.
Commedia dell'arte, which roughly translates to "the art of comedy," is a theatrical style that emerged from "the streets and marketplaces of the early Italian Renaissance" in 16th-century Italy. Actors formed distinct troupes that traveled across Europe to perform for various audiences. Apart from its whimsical nature, the dramatic form was also characterized by improvised dialogue, exaggerated physical movements and the use of distinct face masks.
The outdoor format of Commedia dell'arte is what drew Christopher Niess, an associate professor from the UCF School of Performing Arts, to directing a production of "Scaramouch in Naxos." Niess said an outdoor production allows Theatre UCF to put on a safe and entertaining show that complies with Centers for Disease Control and Prevention guidelines.  
When it came to putting together the show, Niess said "just about everything" was a challenge due to COVID-19 restrictions. Rehearsals were limited to one-hour blocks, in which only seven actors could be present at one time – "Scaramouch in Naxos" features a double cast, so actors were rotated per rehearsal and by cast. Actors must also remain 8 to 10 feet apart while performing, which can complicate communication during dialogue.
Niess said additional hurdles included contending with the weather – a couple of rehearsals took place under "extremely cold" temperatures – and the handling of props and costumes, which could only be touched by the actors using and wearing them.
All actors involved in this production are regularly tested for COVID-19 as a health precaution, Niess said. UCF sophomore, Janiece Deveaux portrays the "grounded," self-assured and "mature" wife of Bacchus, Ariadne, in "Scaramouch in Naxos." The 20-year-old musical theatre major, who is considered a potentially high-risk person because of her asthma, said she finds comfort in the health measures taken by cast and crew.
"I feel very safe and proud to be a part of a production that listens to science and takes this pandemic very seriously but doesn't allow it to deter us from creating art," Deveaux said.
Other challenges faced by actors in preparing for the show included not having microphones and other sound equipment at their disposal during the rehearsal process, as well as having to wear two masks – a character mask for their costume and a face mask for their health. Niess said the lack of audio support during rehearsals required actors to project their voices to be heard properly, which mirrors the format of the original Commedia dell'arte productions.
"When this type of theater was originally done in village squares and on traveling carts and whatnot, they did have to speak outside," Niess said. "So, it was a skill they had to develop."
Deveaux credits the vocal warm-ups and breathing exercises she learned during rehearsal with helping her through this process without straining her voice.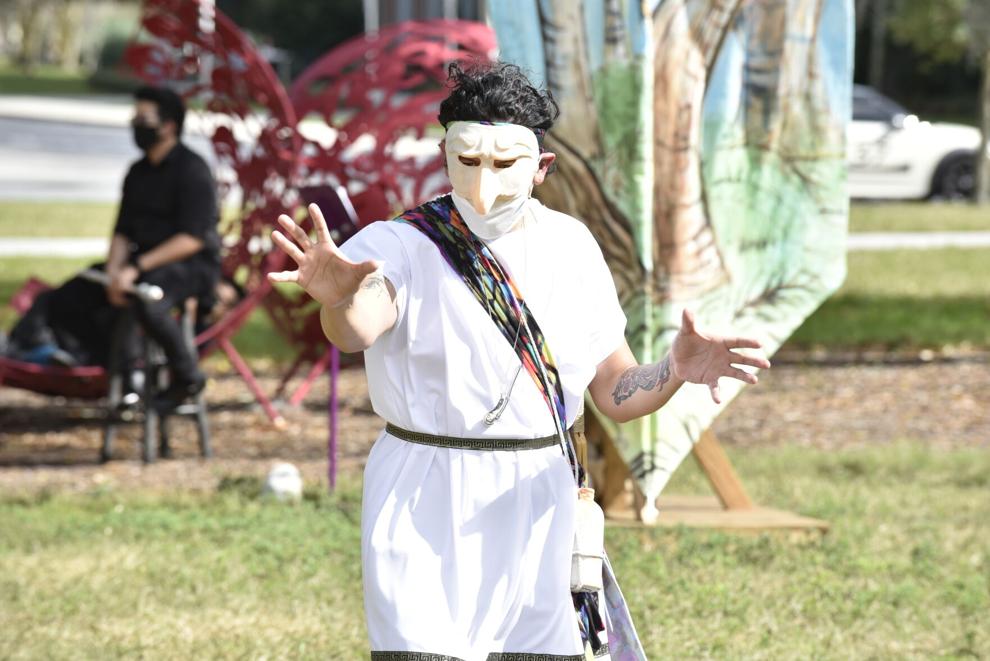 Drew Stark, a first-year grad student at UCF, portrays the "mischievous" and "forthright" Bacchus. The 41-year-old acting major said using face masks in this production has forced him and his fellow cast members to look beyond the human voice as a means of storytelling.
"The variety of masks [is] really interesting and they kind of present these different characters in the Commedia dell'arte and how my castmates have physically embodied those characters," Stark said. "It's not just about the voice, it's about the body."
Andre Braza, a first-year grad student at UCF, mainly came to see "Scaramouch in Naxos" to offer moral support to friends who were starring in the production. The 21-year-old acting major said he enjoyed seeing actor Maddy La Roche, who plays the title character Scaramouch, "lead with her nose" – using the elongated nose of her character mask to convey emotion and energy.  
Acting through the body also allows for clarity of message. Deveaux said the dated nature of the show's text has meant that she and the other actors have had to rely on their physical movements to a greater degree, as a second language to communicate with the audience.
"We have to try 10 times harder to match our actions with the words, so that even if [an] audience member doesn't necessarily understand the words, they can kind of piece together the story and what's actually happening through the action," Deveaux said.
Tori Micaletti, a first-year grad student at UCF, said she was inspired to attend the Saturday performance as a way of showing support for Theatre UCF's return to live performance. The 25-year-old acting major said the actors' use of face masks and pronounced physical movements give audience members "a different viewing opportunity to look at new things that maybe you wouldn't have paid attention to before."
Stark said one of the most rewarding aspects of being in "Scaramouch in Naxos" is just having the ability to perform in front of an audience again. The "jarring" experience of having his performance-packed professional life limited by the pandemic has given this opportunity new value.
"It is a gift to do what we do anyway, and now it's something that we should cherish," Stark said.
Even though the limitations of the pandemic have forced him and his castmates to find "intimacy 6 feet apart" when recreating relationships and emotional dynamics in the show, Stark said this has shown him that social connections, onstage or offstage, don't have to be limited to physical touch to be meaningful.
"Maintaining a physical distance is a challenge but not a barrier," Stark said. "We can still communicate. We can still share those intimate moments and connect."
Braza said the use of physical distance in the show's blocking gave the audience a new proximity to the action in the performance.
"I loved how they played around with the spacing of it all because there were some times when the audience member was farther in stage than the actual cast members, so that was really cool," Braza said.
Moreover, Deveaux said the art of theater can transcend distance, acting as a bridge that provides people with a dual sense of unity and solace.
"Theater is meant to bring people together safely and meant to tell people that they are not alone, even if they feel like they are," Deveaux said.
"Scaramouch in Naxos" runs on the weekends at the UCF Performing Arts Center Courtyard through March 7. For more information on showtimes and ticket prices, visit the Theatre UCF website.