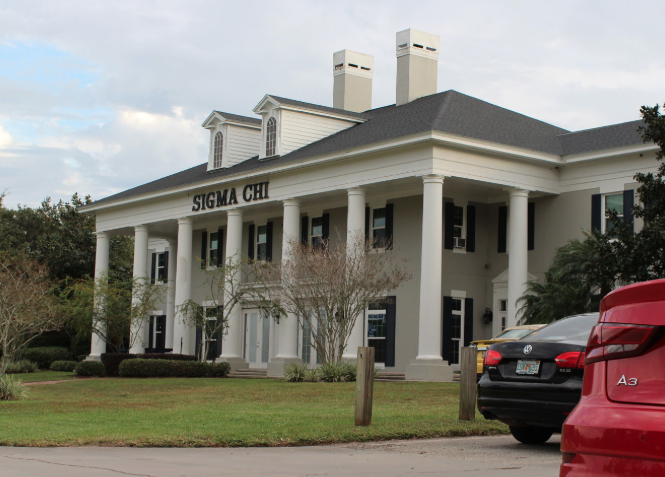 UCF Sigma Chi, already placed on organizational disciplinary suspension through spring 2020 for an incident that occurred in May in the Florida keys, is now accused of controlled substance and drug violations.
A Student Conduct incident report details that on Oct. 26 a pledge was "blindfolded and made to do cocaine in order to become initiated into the frat." The pledge was also forced to stay in the fraternity house from Oct. 21-27 and was initiated into the fraternity shortly after. 
An earlier Student Conduct incident report submitted on Sept. 9 described an incident at a local bar in which at least "20 members of Sigma Chi started throwing drinks into the dance floor." After the victim was hit with a drink, he confronted them — "they started throwing more drinks at me and surrounding me threatening to jump me when I was by myself," the report said.
Mark Schlueb, UCF spokesman, said these recent allegations are not related to the fraternity's suspension because they are still under investigation.
Sigma Chi was suspended in late November after a Student Conduct incident report was filed regarding misconduct at a formal event held at the Isla Bella Beach Resort in the Florida Keys from May 5-7. The report states the group falsely represented itself as the "UCF Finance Club" to book hotel rooms.
Upon receiving a rooming list from the resort, the Office of Fraternity and Sorority Life confirmed that 47 of the 49 individuals listed were affiliated with the Sigma Chi fraternity.
The fraternity was found in violation of UCF's Organizational Rules of Conduct, which states that "the phrases 'UCF' or 'University of Central Florida' cannot precede the title of the organization," according to the UCF Office of Student Rights & Responsibilities.
The fraternity was not found in violation of disruptive conduct, alcohol related misconduct or drug related misconduct.
"At UCF, our top priority is the safety and well-being of our students. Student organizations that endanger their members and violate the university's code of conduct must be held accountable," according to a statement from the university. "We are thankful to the chapter members and others who had the courage to speak up so the university could investigate."
While on organizational disciplinary suspension, the fraternity temporarily loses its recognition and registration and may not participate in any on or off-campus events, socials, mixers or intramurals unless given written authorization by OSC, according to the UCF Office of Student Rights & Responsibilities. No new members are to be recruited or initiated until the suspension is lifted.
"We take such accusations very seriously and will work closely with the university through the student conduct process," said UCF chapter President Brian Walls in a statement via email. "Sigma Chi is an organization built on values of leadership and character. We look forward to bringing this matter to a conclusion."
These allegations came to light shortly after UCF sorority Pi Beta Phi and fraternity Delta Upsilon were suspended in late November amid hazing and alcohol-related misconduct allegations.
According to a statement by the university, UCF plans to find new ways to reinforce chapters' commitment to Greek values.
To reach UCF's anti-hazing hotline, contact (407) 823-4518 or anti-hazing@ucf.edu.