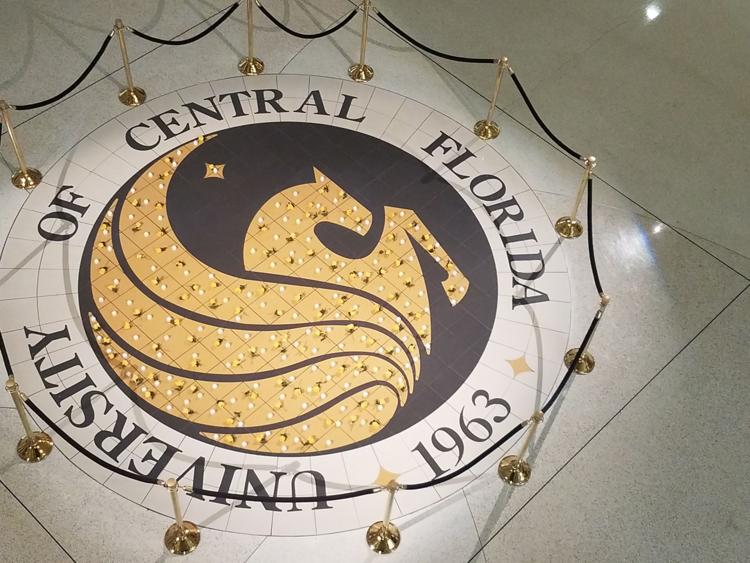 At exactly 3:01 p.m. on Monday, the Student Union was completely silent, save for "Amazing Grace" reverberating through the halls on bagpipes.
"That's the effect — that we want to make sure people realize this is a special and very important moment," said Bonnieblue Rodríguez-Valentín, assistant director of communication for the Office of Student Involvement. "So even if you're not part of here in the ceremony, it resonates with you."
On Monday, the Office of Student Involvement held their 19th annual Eternal Knights ceremony in the Pegasus Ballroom. In total, 19 Knights who passed away between March 2018 and February 2019 were remembered. Shane Juntunen, director of OSI, said this is the largest number of students they have honored in the last 15 years.
According to the OSI website, to be recognized as an Eternal Knight, students must have passed away in recent academic terms (between March and February) and identified as "continuously enrolled." For undergraduates, they must have been enrolled in classes without a break for two or more consecutive regular semesters/terms. For graduate students, they must have been enrolled in three consecutive semesters.
Over 300 friends and family of the honored students were in attendance.
Each Knight was honored in a eulogy given by Carolyn Walker-Hopp, a retired UCF faculty member from the College of Community Innovation and Education. Family members were given a yellow rose and a crystal engraving in remembrance of their loved ones.
As a rose was placed in a vase beside each student's name, a bell chimed, declaring them Eternal Knights. The Michael Ruschak Memorial Bell, named after a business administration student who was declared an Eternal Knight in 2008, was used to honor the students.
Opening remarks were given by Interim President Thad Seymour, Jr. and the invocation was given by Charmaine Townsend, the director of Chi Alpha Christian Fellowship. The welcoming and closing remarks were given by Maribeth Ehasz, vice president for Student Development and Enrollment services, and the poetry readings were done by Mr. and Miss UCF 2019, or Malachi Mullings and Keyera Lyn, respectively.
Jad Shalhoub, former student body vice president, said UCF was not just a college, but a community who mourns together when a Knight is lost.
"Together as we remember the students we have lost this year, we uphold and embrace the third tenet of our creed  — community." Shalhoub said. "Our campus is more than a school or a collection of buildings. UCF is a community. UCF is a family. We experience our triumphs, achievements, pain and sadness together."
Juntunen said he wanted everyone attending the ceremony to recognize how each Eternal Knight impacted the community. He also said he wanted to bring some form of closure to families and friends.
"One of the families indicated this was so important because it was like their graduation — a little bit of closure here," Juntunen said.
The ceremony was followed by a private reception for family and friends to get together, share stories of their loved ones and form bonds with others who experienced loss.
"Our creed says we're part of a community and I think we need to honor that in making these things possible for families," Rodríguez-Valentín said. "There's never an end for closure, but it's good to have members that have also experienced loss be together to know they're not alone, so this is really an avenue for them to feel connected."
Students honored included:
Abigail Elizabeth Rosemeyer
Branden Allen Aebersold
Brooke Michele Campanile
Dennis C. Holland
Erin G. Connell
Gianfranco Giuseppe Apa
Hailey Anne Hinson
Jaclyn June Austin
Javish Rodriguez-Rivera
Jeanelie Francois
Jeff Mentor
Kate Lynn Marie Sullivan
Michael John McDoniels, Jr.
Reuel E. Buchanan
Richard Conner McPeak
Samuel Day Shaw
Seth Anthony Beyrooti
Thomas Edward Mundy
William Weiler
Rodríguez-Valentín said OSI plans to continue honoring Knights in their annual Eternal Knights ceremony each year to bring closure to not only friends and family, but to the UCF community as a whole.