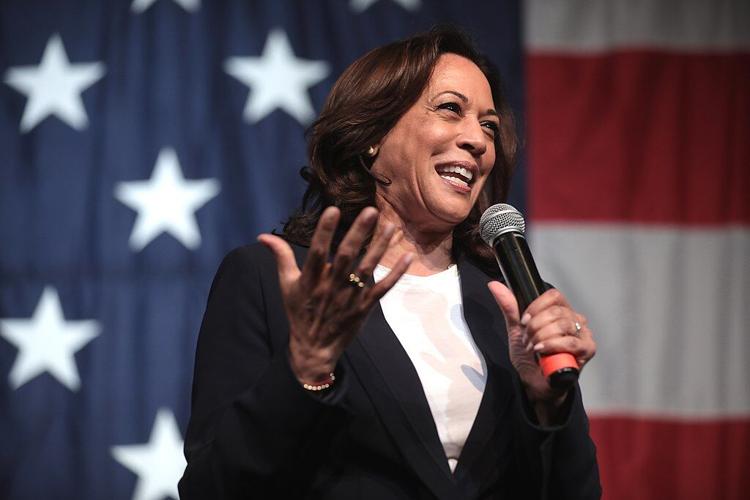 There are 41 days until Joe Biden's inauguration and some UCF students can't wait to witness America gain its first Black and Asian-American female Vice President Kamala Harris.
Freshman psychology major Olivia Solomon, women's caucus co-chair for UCF College Democrats, tracked the election results from each state every hour. She was sleeping when Biden and Harris were projected the winners of the 2020 election and woken by a FaceTime call from her mother.
"I broke down crying over the phone with Olivia and told her that we did it," said Jennifer Solomon, Olivia Soloman's mother and president of the Parents, Families and Friends of Lesbians and Gays South Miami chapter. "I got in my car and drove around town honking and crying with my sign, windows open and music playing."
Olivia Solomon said she screamed and ran to her roommates' room alerting her of the news. Olivia Solomon was entangled in the election, working closely with Rep. Carlos Guillermo Smith doing phone banking and working on his local campaign in Orange County.
"I am just so excited to have an administration that cares about human rights, as well as a woman who is going to be a role model for other women and show we can have women in places of power in the United States," Olivia Solomon said.
Olivia Solomon and her mother said they can't wait for Harris to officially settle into the White House, a dream Jennifer Solomon never thought she would see in her lifetime.
If it wasn't for COVID-19, Olivia Solomon and her mother said they would have packed their car up and been there to witness and show support on the historical Inauguration Day that is to come.
"I want Olivia to be able to tell her kids she remembers the day she saw the first woman vice president being sworn into office," said Jennifer Solomon. "As a mother to a daughter, I was looking forward to having female representation in the White House, Inauguration Day will be a day we remember forever."
55 years ago, Black women were officially given the right to vote. Now, the second highest position in the United States is held by a minority woman.
Kamala Harris isn't the first Black woman to run for vice president. Before Harris ran in 2020, Charlotta Bass ran for vice president in 1952 as a Progressive. Bass was nominated by Vincent Hallinan who lost to Former President Dwight Eisenhower.
When Bass gave her acceptance speech, she said her nomination was a historical moment for black people, her people and for all women. Bass was a pioneer for women and women of color — not one vice presidential nominee before her was Black or a woman.
"I've seen pictures of little girls with shirts that say, 'The vice president looks like me.' We are teaching these young children it's not impossible despite what anyone might tell them over the years," said Annasimmon Zakhary, junior psychology major.
Zakhary said she is inspired by Harris and wants to run for a government seat in the future. Zakhary is the daughter of two immigrant parents from Egypt and said the last four years under current President Donald Trump have been very dark times for her.
"I am counting down the days until we can change the people in office, I am still anxious about the people currently in office now," Zakhary said.
Zakhary said she believes Harris is going to make a great difference and is anxious to see her in the White House. The curves and surprises of the 2020 election was nerve wracking for Zakhary, but she said she is still filled with excitement for a woman born to immigrant parents to make it to the White House.
"Obama opened up the door and made the White House a place for everyone to know it's not impossible to get in the door," said Jalen Grant, the Black caucus chair for the UCF College Democrats. "Following Obama, we saw Hillary Clinton, a woman, getting the Democratic nomination and now this."
Grant said he is encouraged to pursue higher levels of political office than he originally planned for and hopes to hold a high place in office one day. Grant believes America will begin to see more people of color and women run for office as America becomes more of a multicultural melting pot.
"When our young children grow up and look back, they are not going to believe this was the first time a woman was in this role," Jennifer Solomon said. "This is a moment Kamala Harris can really shine, and I hope she does just that."