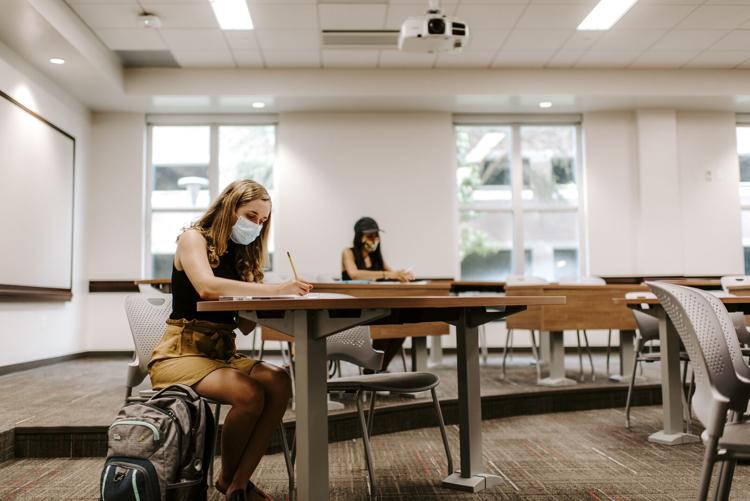 The COVID-19 pandemic hasn't stopped in-person classes from taking place, and many UCF students said they were excited to get back to campus.
In-person classes have continued on amid over 1,000 positive tests since students returned to campus back in August. According to UCF's COVID-19 dashboard, 26 new positives were reported from Nov. 15 to Nov. 21. Furthermore, there have been over 57,000 cases in Orange County. 
While UCF has transitioned to fully online learning following the Thanksgiving break, the university plans to offer more face-to-face classes in spring 2021.
"We know the on-campus experience and connection with others is important for your success, and in addition to more face-to-face classes, we will be working with student leaders, registered student organizations and university staff on how we can offer more in-person activities in the spring," said Maribeth Ehasz, vice president of Student Development and Enrollment Services. 
During the fall semester, those taking in-person classes said they have had to make adjustments, such as constant cleanings of their area and a change in the way classes are run.
Sophomore music education major Hannah White said she sings outside during every class, her mouth covered by a cloth mask. 
"It's absolutely difficult," White said. "You can even see when I'm talking and when I breathe in, I can't get a full breath."
In order to create a safe environment, the music program at UCF is not allowing singers, like White, to sing inside.
Despite the change, White said she was excited when finding out most of her classes would be in-person. 
"Obviously it's different, but I was just ready to be back, and I wasn't afraid," White said. "Honestly, I feel so safe here at UCF. They do everything they can to make sure it's sanitary."
White said in addition to wiping down all chairs before and after use, all the rooms have air purifiers in them. 
Junior computer science major Harry Sauers said he learns better from in-person courses, and went out of his way to have a class on campus. 
Sauers said he will take fewer classes next semester if more classes shift online, but understands the concern some students have about having in-person classes. 
"I think it's a great idea to give the option of more in-person classes," Sauers said. "But it's also vital to reserve the option to take them virtually, because at the end of the day, not all precautions are perfect and not everyone is going to feel safe that way."
Wearing an N-95 respirator mask, history professor Alicia Duffy is teaching four in-person history classes this semester — an option that she requested herself. 
Duffy said she finds students learn better in a community setting, something her students found out after having to quarantine for two weeks earlier in the semester. 
"I have a student who thanks me for class every day at the end of the hour," Duffy said. "While some might think this action a bit over the top, I know it is a very heartfelt sentiment. My student truly does appreciate being in class."
Duffy said she has learned a variety of reasons for why students choose to take in-person classes: attention span, atmosphere and community. 
"There's something different about Zoom calls that make it very easy to zone out," Duffy said. "With the in-person class, I believe students feel more accountable to the class."
Duffy said she understands those professors who choose not to teach on campus due to health or family reasons. 
For sophomore economics major Andrew Beasley, his plan to have in-person classes did not come to fruition. 
Beasley started with an in-person class until he contracted COVID-19 within the first month of the semester. Beasley decided not to go back to class, and has been following along online the rest of the semester. 
Like White and Sauers, Beasley said it's much more difficult to learn online. 
"With online, I find it more difficult to learn course work material due to the fact it's basically independent learning," Beasley said.
As registration for spring 2021 has begun, students are faced with the option of deciding whether or not to return to campus for in-person classes or do online learning. 
White said her message to students on the fence is due to the sanitation methods used by UCF, campus is a safe place and they will do everything to keep you safe.
"I see facility people all the time cleaning," White said. "It's just a safe environment I feel. It's a welcome, come to school. Let's see your beautiful face."