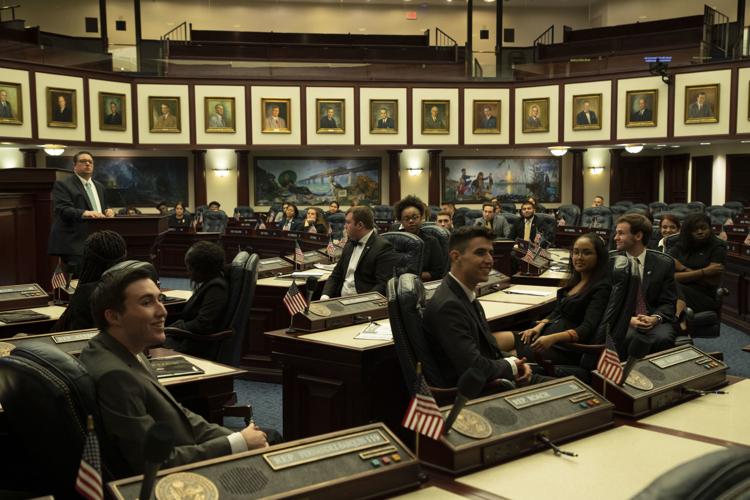 Over 60 UCF students traveled to Tallahassee on Nov. 5 to advocate for what they said are some of the biggest issues facing Florida universities.
Some of the main issues brought up to legislators at the UCF Student Government's Day at the Capitol, include student housing and food insecurity crises.
"Housing insecurity is a big issue on campus," said Atiyah Appline, a senior social work major and president of the Bachelor of Social Work Student Association at UCF. "It's an issue that needs to be taken seriously." 
As a social worker, Appline said this is a topic dear to her heart, so she joined dozens of students at the Capitol to advocate for it.
Every year participating students get the opportunity to present an agenda of legislative priorities and lobby their cases to Florida state legislators.
This year Student Government and student participants presented the Florida state legislature with seven items.
"I think this year the top two items of priority on our docket are student housing and security " SG President Kyler Gray said. "When we talk about a collegiate experience, it's really hard to see students succeed if they don't have adequate housing or adequate food in the fridge."
The "Addressing Food Insecurity" item requested the allocation of $350,000 to the University System to be proportionally redistributed back to each of the 12 public universities in the state.
Initiated by UCF, this item was officially adopted by the entire Florida Student Association in April. The FSA is a system of the 12 public universities in the state of Florida. Each institution has representation and together, they discuss matters that pertain to all 12 of them. Sometimes they support and adopt each other's issues, which can help put pressure and show urgency to get results faster. 
UCF has been working harder recently to combat student homelessness and hunger with programs like the UCF Knights Pantry and, in October, an affordable housing town hall with local, city and state officials working to initiate an action plan.
Because of this, SG members believe that state funding could help meet the remaining needs of students that the university alone cannot yet reach.
"We've been trying to pull together campus resources to address it now, but it would really help if we could get any state aid to fill in the gap," said Kevin Olsen, a senior human communications major and the SG director of community affairs.
The food insecurity proposal was consistently referenced together with the Sadowski Affordable Housing Trust Fund, which was designed to aid in the building of affordable homes. For the past two decades, the legislature has been depleting the funds for use in state emergencies, with the amount taken nearing $2 billion.
The item on the UCF agenda requested that these funds no longer be depleted, as it could equal to an additional $300 million per year for affordable housing.
"I think removing the contingency to allow the Sadowski Fund to be used in emergency situations is vital because housing is itself its own emergency," said Rachel Friant, a political science graduate student and the SG government affairs and policy chair.
Olsen said that aside from student housing and food security, lobbying to protect the Bright Futures Scholarship is equally as urgent.
"It's one of the most important things that we can do," Olsen said.
According to Olsen, the Bright Futures awards' standards have been continually changed and made more exclusive, which reduces the number of students who are eligible. Last year, 6,100 more students failed to meet the new standards to qualify.
The "Protecting Bright Futures State Scholarship Fund" item stressed the importance of the program and encouraged the legislature to protect it from any further depletion. 
Olsen said that thousands of students depend on Bright Futures to afford higher education, including over half of the students who attended the event, and that they need more and more students to attend Day at the Capitol every year.
"Putting faces to the issues, students in front of the legislators, really brings the problem down to Earth for them," Olsen said. "It will help so that when they vote on those measures, they will keep that in mind."
An item that was very popular among the students and the legislators was  the extension of house bill 297, "Adding EpiPens Onto University Campuses." Because it is legal in Florida for schools to provide grades K-12 with EpiPens in dining areas in case of allergic reactions, the item proposed that this same resource be extended to college students.
A pitch by Rob Gray, a freshman philosophy and economics major who is also a member of the SG Leadership Council, won over Rep. Javier E. Fernández, who co-sponsored the EpiPen bill on the spot after hearing Gray's responses.
Gray told the representative that many times, allergies are not found in people until early adulthood, which is precisely traditional student age. This means someone could go into anaphylactic shock, a potentially life-threatening allergic reaction, in a dining area on campus while unaware of their allergy condition. 
Gray said he went to the event to learn more about how the legislative process works, but never imagined he would watch his influence move the process along. He also witnessed with his group as Rep. Janet Cruz committed to also co-sponsor the bill right then and there.
"It was amazing," Gray said. "I knew what we were doing today was important, but I didn't think I'd get to see my influence impact the legislature."
Gray's group leader Austin Wilson, the SG supervisor of elections, said the experience students came for was enhanced by small victories like those and the bonds that were built throughout the 19-hour day.
PHOTOS: Students advocate for housing, food, scholarships, safety priorities at the Capitol
UCF students and SG members attended the UCF Student Government's Day at the Capitol in Tallahassee Tuesday. Students advocated what they said to be some of the biggest issues facing Florida universities.
"A lot of the students who were in the group said they wanted to connect with each other outside of this event," Wilson said. "I definitely feel like we didn't just come here to slay on legislation, but we also built lasting bonds with each other and new friendships."
Other proposals included "Open Academic Resources," supported by senate bill 602, which would provide a grant program that would require the Department of Education to administer funds for textbooks, or to at least offer affordable textbook options.
Another proposal requested that the Purple Heart Tuition Waiver be extended to veteran graduate students, and the students also proposed the "Energy 2040 Task Force," which shall recommend appropriate electric policies for the state legislature to adopt.
Knightro made a guest appearance and stayed all night, helping spread school spirit and reinforcing UCF's presence at the Capitol. He took pictures with state representatives like Rep. Anna Eskamani and Rep. Carlos Guillermo Smith, both UCF alumni and known staunch UCF supporters. 
Jeff Takacs, the clerk of the House at the Florida House of Representatives, who is also a UCF alumnus, said he loves seeing the UCF presence strong in the Capitol and only wishes more students would engage in the legislative process. 
"I am so honored, happy and excited to see you all here," Takacs said. "I want as many Knights involved in this process as possible. The more Knights in Tallahassee, the better."