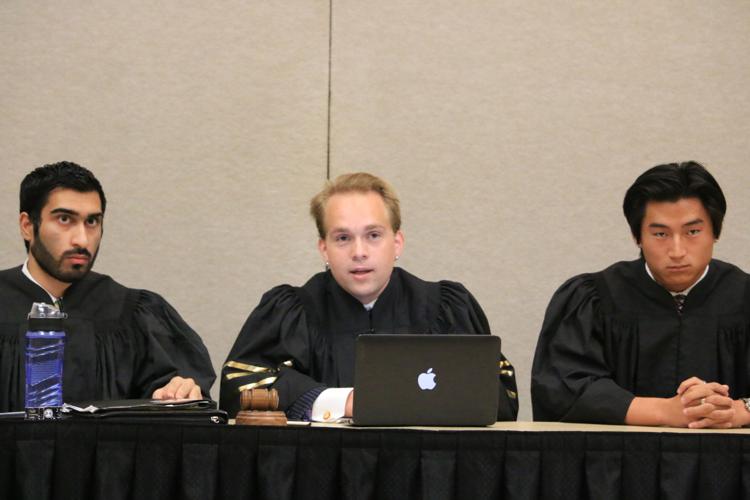 UCF Student Government Association senators John Tuley and Amanda Gilliland said they still have hope for future elections despite part of a bill proposing a ban on political parties to be unconstitutional during the first-ever judicial review hearing last fall.
Tuley — SGA's deputy pro tempore of legislative affairs and College of Arts and Humanities senator — presented a bill during a Sept. 20, 2018 senate meeting that featured a tiered system of election violations and consequences. 
Although the bill passed through senate with a 27-5 vote on Sept. 27, 2018, former Chief Justice Michael Soviak pulled the bill for review to determine if the specific amendments banning political parties were in violation of students' rights. 
The bill included a four-part tiered violation system, with violations ranging from campaigning before or after the allowed campaigning time, to knowingly giving false information to the election commission. Forming political parties fell under the fourth tier of violations. 
The SGA senate added the term "party" in its statutory definitions as a group that "attempts to form or take part in a government and shares a common platform," according to the Sept. 27, 2018 senate meeting recording. 
Tuley said the political party ban was mainly in response to the Black and Gold party. The Black and Gold party was run by senators within SGA and Tuley said productivity was halted and students were not running based on their own merits.
"In order to run with that party, you had to be invited by the speaker," he said. "So, it was primarily just sitting senators and friends of sitting senators."
Tuley drafted the bill over summer 2018 after being inspired both by his own experiences running on a ticket with SGA and the stories he heard from others running for major colleges, such as College of Sciences and College of Business. He said he was told that if you wanted to win, it would be best to join a party or ticket.

"For the major colleges, very few people that weren't a part of the official tickets were elected," Tuley said.
Tuley said SGA always needs to work for what's best for students, even if it's not what's easiest for the senate. He said he thinks that some were against the ban because political parties made it easier to get reelected. 
Despite having run with a political party in the past, Tuley said he believes banning political parties makes sure SGA's elections are as fair as possible.
"In my opinion, it was imperative that if we were to call ourselves fair, then we needed to back it up," Tuley said. "And that included banning these tickets and parties."  
In the hearing on Oct. 19, 2018, Soviak said that he didn't believe political parties did not influence any of the senate elections at UCF and removing them infringed on student's freedom of speech.
The purpose of the judicial branch, according to its website, is to protect student's rights through the interpretation of the student body constitution.
"There's no evidence of that happening," Soviak said during the judicial review hearing. "If political parties are such a perilous threat to student involvement in SGA, you can pass regulation and regulate political parties, [but] you cannot outright ban them." 
He also said the ban on political parties was unconstitutional, stating during the hearing that it was violation of students' freedom of association. Tuley has since voiced his disagreement with the decision. 
"I think that the students who may claim that they are having their freedom of assembly denied are overwhelmingly outweighed by the interest of students that are having their access to these positions denied," Tuley said.
While SGA has made moves to limit these parties under what Soviak said was constitutional, Tuley said that allowing these parties to stay in place at all is detrimental to the students.
Chief Justice Julian Mayorga was also one of two members of the judicial branch to write a dissenting opinion, or an opinion contrary to the majority opinion, against the ruling.
While he said he understands the ban would have given an inaccurate portrayal of political parties within the U.S., Mayorga said he believes it would have given students a fair and equal experience in SGA.
Mayorga — who recently became chief justice in February when Soviak resigned — said he will enforce the decision made by judicial council during the judicial review hearing on Oct. 19, 2018.
He said he does not plan to ban political parties unless a complaint is brought to him about lack of equality within the SGA senate. Mayorga said that would be a valid time to revisit the topic. 
"If the judicial council at that time, whatever it's composed of, decides to pick up this issue again, then I'd personally would be the one who's advocating the same arguments that I had in my previous dissenting opinion," Mayorga said.
Gilliland — SGA's Elections and Appointments Committee vice chair and College of Health Professions and Sciences senator — said she hopes she can change future elections for senate.
She said the committee is working to revamp Title VI to include the tiered violation system and reintroduce the party ban again for the senate and new chief justice.
Gilliland said she hopes that this will bring more people to SGA.  
"I want to see students who are determined and dedicated to really trying to get into SGA," Gilliland said. 
Tuley said he hopes the potential to ban political parties will show up again in senate. 
"Students suffer in the fact that they don't get fair and equal access to the seats that we fill," Tuley said. "All senate seats are very important. There's a lot of power associated with [the] position and every student who wants that should have access to that."