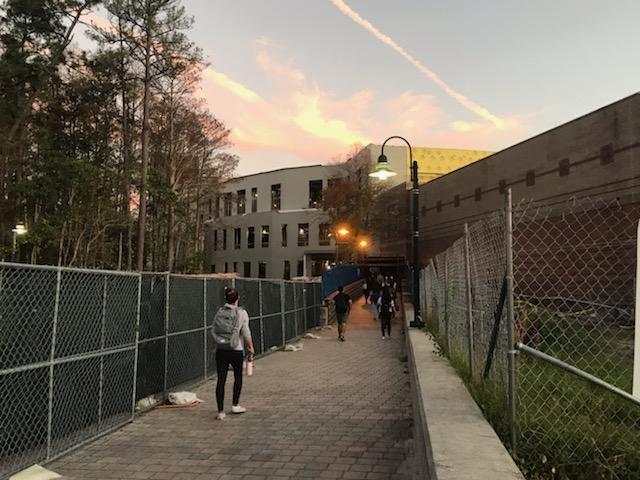 Phase 2 of the Student Union construction project is nearly completed. Rick Falco, director of the Student Union, said that students and faculty can expect to see the project completely done by summer of this year.
Falco said that though Phase 1 of the project opened later than expected, Phase 2 is on schedule to open on time.
"Since we started the construction, we are right on schedule", Falco said. "We have had a couple days delay from the hurricane last year but aside from that we are almost exactly on schedule that we had originally anticipated."
Once the construction is completed the Student Union will have an additional 350 seats inside the building and 50 more seats outside the building, doubling the original available seating. Students and faculty can also anticipate the second and third floor expansion to add two small conference rooms, a Student Government section with dedicate offices and cubicle space for professors and a Senate Chamber.
Falco explained that though the original blueprints of the project changed multiple times before construction started, there were many important factors that went into deciding what to include in the expansion.
"Since before we started construction people were sitting on the floor eating their lunches and we hated to see that and that was one of the biggest factors", Falco said. "Office space is an issue across campus so additional office spaces are always needed."
Sophomore marketing major Tori Contois said she is excited for the construction to be over so she can start benefiting from the expansion as she is always in the Student Union.
"I think that it's really great that they are starting to add more things to the Student Union because I think that a lot of kids hang out here and study here", Contois said. "Whether it is to eat or study we are always here so it's nice to have all these new, different things available to us."
Falco said that during the design process they looked at other large universities in the state such as Florida State University, University of Florida and University of South Florida to see what they had that UCF didn't. Falco said UF's Student Union was almost double the size of the UCF Student Union even though UF has less students.
George Pelayo, senior history major, said he is happy that the Student Union is finally starting to compare to what other universities are offering their students. 
"I was visiting UF, FSU, and USF the past couple of weeks and they are just way ahead of our union", Pelayo said. "Right now, it's just restaurants at the bottom, and there is so much more you could actually do with it like how they are adding the new offices for professors. I am excited that everyone who is staying at the University gets to enjoy the new areas."
Falco said that he is ready for larger traffic patterns in the Student Union to return to how they were before construction started.
"We are really excited, and I think campus is excited too", Falco said. "I think we are too the point where we came back from the break and we realize we are only 5 months away from opening so this is really happening."