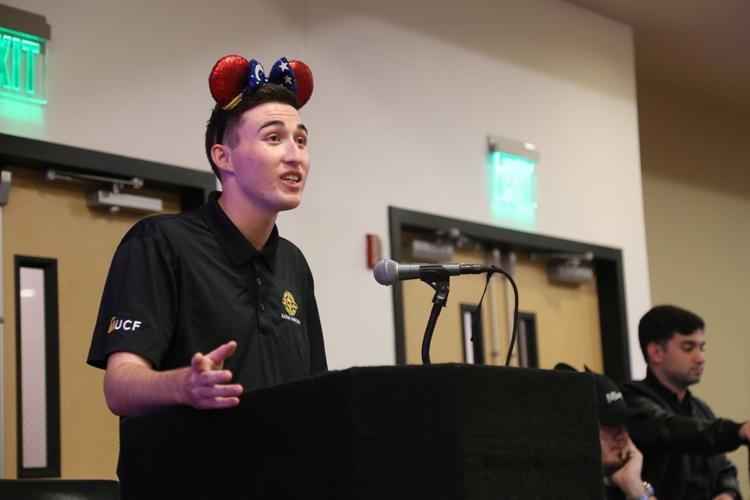 After reports of lack of leadership and the need for more advertising during campaigns, the Student Government supervisor of elections resigned Monday.
Julian Mayorga gave his resignation after he was subpoenaed by the members of the Elections and Appointments Committee earlier that afternoon. Mayorga chose to resign on his own accord.
UCF Student Government President Kyler Gray provided insight as to why Mayorga resigned, adding that Mayorga did not list personal reasons.
"He was very direct and forthright in saying that there was an apparent perspective in a lack of his leadership and he believed that if there was this apparent lack that he shouldn't be in the position," Gray said. "And so he resigned nobly and when he tendered his resignation on Monday to me, I gladly accepted."
Election Commissioner Emma Trittin voiced concerns about Mayorga during the Elections and Appointments Committee meeting. She listed failure to respond to statutory communication and a lack of leadership as two issues.
"Because there was a lack of leadership from the beginning, it definitely set us back a lot," Trittin said. "I voiced that we need a change so that we can move forward and really have a good election and have better future elections."
Internal Assistant Chief Justice Jacob Finegan spoke highly of Mayorga and said the position has historically been rigorous. He said the election commission sometimes looks for aggressive advertising for elections.
"It's just a tense position," Finegan said.
According to acting supervisor of elections Austin Wilson, 60 to 63 candidates are currently running for senate seats, although 71 total seats exist. Certain colleges, such as the College of Science, has about 15 people running for 10 seats, which is more competitive campaign than others. There is still an opportunity to run for office as a write-in candidate.
Campaigning starts on Monday, but before then, interested students may complete a "Write-In Declaration of Candidacy Form." Students must complete this form by Wednesday. 
Students can go on Knight Connect under "Forms" to submit it. Their name would not be placed on the ballot, but when students vote online they will be able to input names of write-in candidates for whoever filled out the form. 
Former Assistant Supervisor of Elections Wilson wants to adequately complete all his designated tasks as the new active supervisor of elections. They include advertising, ensuring there is a fair election, tabling, campaigning and organizing events such as the SG Candidate Forum. He wants students to know that they can still become candidates through the write-in candidate option.
"I wanted to extend an invitation of sorts to [students]…who want to get involved in student government and senate," Wilson said. "[They] do still have that opportunity."
At the senate meeting Friday, Wilson discussed that the Elections and Appointments Committee also decided to remove Election Commissioner Riyana Patel because of her failure to respond to attempts to contact her after she did not show up at her work place. The committee decided to formally recommend her removal Thursday before the senate meeting.
Senate President Christian Padron said there is an urgency to fill all the remaining senate seats if possible, but he is confident this election will go well.
"The [Election Commission] is going to do everything they can to make sure this is a flawless election. Everything's really been set up. So we have official days for everything," Padron said. "I think Austin Wilson is going to rise to the occasion and he's going to do all the work that he can possibly do to ensure that this election goes through."
Elections will take place Monday to Wednesday from 9 a.m. to 5 p.m. There will be polling stations at Memory Mall, Student Union and the downtown campus. He is still developing a plan for Rosen students, but they will be able to vote online if a polling location is not secured.
Polls will close Wednesday at 5 p.m. SG will announce Senate results in the Pegasus atrium that night at 8 p.m.