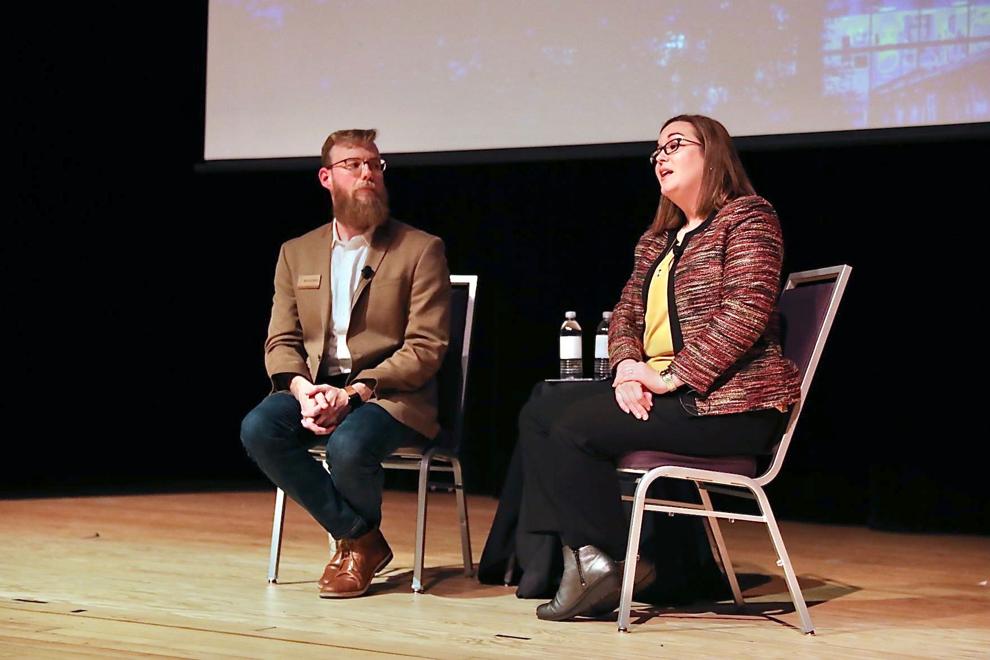 More than 100 UCF students, faculty, alumni and members of the Orlando community gathered at the Orlando Science Center to hear a discussion on social media and disaster communication Thursday night.
The event, part of a series called Knight at the Museum, featured speaker was Claire Connolly Knox, associate professor for UCF's school of public administration and the emergency management and homeland security program director.
Knox shared the results of her social media research on communication regarding disasters in the U.S.
She said social media has the "power to overcome concerns" when it comes to communicating to the public about natural and human-made disasters.
"This new medium has a new element: the inter-connectivity," Knox said. "The ability to do two-way communication that wasn't available in previous mediums."
Knox said her research consisted of studying disasters like Superstorm Sandy, the Boston marathon bombing, the 2016 Louisiana floods and hurricanes Irma and Michael and focused on the communication around them on social platforms like Facebook and Twitter.
Knox said that social media communication in disasters is important because there is a timeliness element associated with social media platforms that other information outlets such as newspapers can lack.
"Being able to have the information quickly presented in a two-way communication to multiple populations is essential when it comes to disasters," Knox said. "It's life-saving information."  
Kyle Martin, director of content development for the college of sciences, said he understood firsthand how important communication on social media was regarding disasters like hurricanes. 
Martin said that outside of using resources like the National Oceanic and Atmospheric Administration and the National Hurricane Center, he used social platforms like Mike's Weather Page on Facebook to keep up with weather reports, specifically around Hurricane Dorian.
"Mike's Weather Page is one that we went on all the time," Martin said. "The page had Facebook Lives and made updates every few hours that helped us figure out what was going to happen."
Mike's Weather Page is a website and weather fan page on Facebook run by Mike Boylan that "reports on every season, all year long." 
"Social media is a big part of our day-to-day lives and we realize that, but I think this talk gave a good picture of research-based facts and quantified the impact [of social media]," Martin said. "It made it real and less of a feeling or idea.
The event was coordinated by Anna-Bradley Lozier, assistant director for alumni engagement for the College of Sciences. 
Knight at the Museum kicked off a new partnership between UCF's College of Sciences and the OSC. Lozier said she wants to foster relationships between alumni and young professionals who have interest in science. 
Lozier said that this was the first part of a two-part series being held at the OSC, with the second part being held in April 2020.
"We wanted to bring this event to the downtown area where young professionals are," Lozier said. "We wanted to bring something to them that we thought would be relatable. Being in that demographic and getting my news from social media, I thought this topic was relevant and could speak to a broad audience."
Brandan Lanman, vice president of visitor experience at the OSC, said he wants this partnership to continue to grow and create a lasting experience for people who are interested in science.
"We want to create a place where people can come and learn about the science, the research and the unique happenings that are happening in our own backyard," Lanman said.
Knox, an annual member of the OSC, said she was "incredibly honored" to speak at the event and said she hopes that the general public, local and national governments can learn from the research done on disaster communication.
"I think it's going to make emergency managers and decision makers better," Knox said. "We're going to be able to communicate with our audiences better, but also start trusting them as the data points themselves in the decision-making process during a disaster."